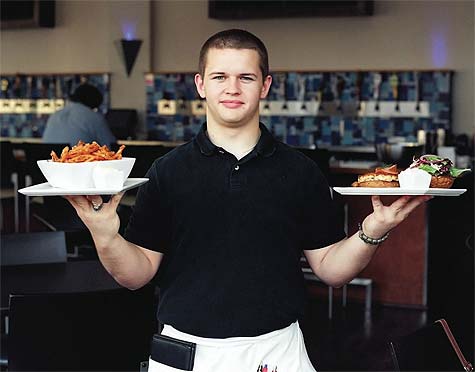 TREATS FROM THE KITCHEN OF SQUARE BURGER
A Foodie's Weekend
Photography by Melinda Ortley
Time was, McKinney seemed a world apart: just another tiny, forgotten Texas town rendered irrelevant by the conveniences and opportunities of city life. These days, city folk are circling back to enjoy a weekend away in this authentic small town replete with colorful characters, artists, chefs, regional food and that hard to define something many of us seek, a sense of connection.
Today, McKinney has gained Main Street status, a recognition conveyed by the Texas Historical Commission and the National Trust for Historic Preservation to cities bent on preserving their unique historic assets. A recent revitalization effort has placed trees and brick pavers around the downtown square. The old courthouse now hosts the McKinney Performing Arts Center.
New storefronts beckon from behind classic brick facades, offering something not found at the nearby shopping mall: owners on site, working their hearts out, selling local products not available at Amazon.com.
What are the bywords that fuel this evolution? Local, fresh, and natural. To give you a taste of what's brewing, we've checked out local lodgings, explored a farmers market set among historic homes, dined on local beef and beer and scouted discoveries in local shops. Enter this community for the chance to interact and learn a story, make it part of yours.
Friday—An Easy Escape
Your getaway begins with a short drive. Skip out early to avoid traffic and bring a cooler; you'll want to bring home some of your local, perishable finds. We explored two lodging options: one, the Tartan Thistle, is an historic B&B within walking distance of the main square. Arrive in time for afternoon snacks on the veranda and watch the world whiz by on broad Louisiana Street.
If you're not into the convivial atmosphere of a B&B, select The Grand Hotel. Renovated on a site that once housed the Heard Opera House and Mercantile Store, the hotel offers rooms richly appointed from nearby antique stores and has a fullystocked bar and restaurant. Upon arrival, find a seat at an outside table for a little afternoon people watching.
Before dinner, take a quick spin around the downtown square bounded by Virginia, Louisiana, Kentucky and Tennessee avenues. Those aching to stretch their legs a bit more can venture farther afield into the historic residential area nearby.
For dinner, make reservations at tiny Gregory's Bistro. Here, owner/chef Gregory Moreaux focuses on fresh and often locally sourced ingredients. Don't forget to BYOB if you're inclined towards wine. Just across the street, the newly opened McKinney Wine Merchant offers a variety of vintages in a range of prices. After dinner, a stroll along the square is de rigueur. To finish the evening, drop by the cozy bar at Rick's Chophouse, sink into a leather chair and listen to the sounds of the baby grand.
Saturday—To Market, To Market
Saturday starts early at the downtown farmers market nestled in charming Chestnut Square. The market runs from 8 am to 12 pm. Grab a cup of coffee and pair it with some of the cookies, breads and sweets sold by the vendors. Local musicians play in the background, and the market boasts an eclectic mix of local farmers and craftspeople.
Learn more about the history of Chestnut Square by visiting the Visitor's Center and Dixie's Store. There's a docent-led walking tour of the square that departs from the Dulaney House at 11 am. On the second and fourth Saturdays of each month, take a trolley tour through the city. Free stagecoach rides are scheduled periodically.
Another late morning option is a visit to Franconia Brewing Company. The brewery tour, which begins at 11 am, costs $5 and includes free tastings. Owner Dennis Wehrmann, who comes from a long line of German brewmasters, genially explains not only the brewing process, but also describes the steps the company has taken to become more green.
Lunch Stop
McKinney offers several options. Patina Green owner and classically trained Chef Robert Lyford creates a daily selection of sandwiches from the store's stash of locally sourced goods. On a recent visit there, I tried the Fischer's Ham Sandwich with ham from Muenster, TX, smoked cheddar and Luscombe jelly on jalapeño cheddar bread. Wrapped tidily in butcher paper and served with a white chocolate chip/cranberry cookie, it was a perfect companion at my outdoor perch overlooking the McKinney square.
For a more robust lunch option, head to Square Burger. Operated by Culinary Institute of America grad Brandon Horrocks along with Chef Craig Brundege, the restaurant features burgers made with freshly sourced meat from Local Yocal, a nearby market specializing in regional food items. For lighter fare, choose a salmon or tuna burger. I went out on a limb and tried the tasty lamb burger served with savory feta cheese and smothered in creamy tzatziki sauce. Accompaniments include tempting sweet potato fries and mini ice cream sandwiches for dessert.
While you're waiting for your meal, choose an artisanal brew from the arsenal of tap handles along the sidewall. Count the number of square objects you find inside the restaurant: chair backs, plates, napkins, ceiling tiles, sinks, ice cubes. You'll begin to wonder why the onion rings are round.
Afternoon Shopping
There's shopping galore around McKinney's historic square, with a stream of entrepreneurs opening new doors to freshen the retail mix. Beyond food, Patina Green sells decorative home items by local artisans as well as repurposed antiques. Mother-daughter team Kaci Lyford and Luann Van Winckel search antique fairs here and abroad for their treasures.
Fill your ice chest with food items from Local Yocal. Owners Matt and Heather Hamilton not only sell their own fresh (not frozen) Genesis grass-fed beef to nearby Square Burger, they also operate a retail market with a wonderful selection of organic meats, eggs, honey, dairy products and produce, all sourced from a 100-mile radius. Other local items include handcrafted soaps, Texas olive oil, lavender products and freshly milled grains and granola.
Diggin' It is a new organic nursery that also sells hip stuff for the home. Owner Tracey Collins packs her store with organic plants and creations by local artists. Located in the old Greyhound bus station, Diggin' It sells its own fresh herbs that locals say take root and grow faster than those bought at the big box stores. You can sign up for Saturday classes covering topics such as rainwater harvesting, organic gardening and making mosaic birdbaths with shattered ceramics.
If you're in the mood for a little pampering, ask for a demo of the all-natural, dermatologist-recommended skin care at Sharla's or go for a spa treatment with herbal wraps and organic pleasures at Spa Esoteric, located in a cozy little house just off the square.
Another Night On The Town
Late afternoon, head back to your lodging to freshen up. On the second Saturday of the month, stores stay open from 7-10 pm. The lively streets and strains of local music from jazz to rock will energize you for the night to come.
For dinner, saunter over to the Mediterranean-inspired Café Málaga, located in a refurbished 130-year old cottage. Order several of their tapas plates and relax under the spreading oaks in their lovely garden area. On weekends, there's music. Or head back to Rick's Chophouse, where owner Rick Wells harvests herbs from his own garden to flavor the dishes. Afterwards, listen to live music at Cadillac Pizza Pub, or alternatively, sit outdoors at Landon Winery and try a glass of their chocolate port for dessert.
Sunday Morning
Sunday morning sure looks fine from the outdoor patio at Spoons where waffles and the breakfast sandwich are popular picks. For a down-home breakfast, try Bill Smith's Café just north of downtown, serving country-style meals since 1956.
Most shops are closed on Sunday, but the wineries are open. Landon Winery opens at noon, where you can get a flight of five wine tastes for $5, and Lone Star Wine Cellars opens at one. Nature lovers can try the hiking trails at the Heard Natural Science Museum and Wildlife Sanctuary as they head out of town towards home.
A weekend spent apart from the daily cycle of life creates a new world; one that we knowingly inhabit for a short time. Experiences in an authentic place like McKinney provide a new perspective and fuel for the larger journey of our lives.
Top-shelf dining options in McKinney include
Café Málaga (top photo), Gregory's Bistro (right)
and Square Burger (left).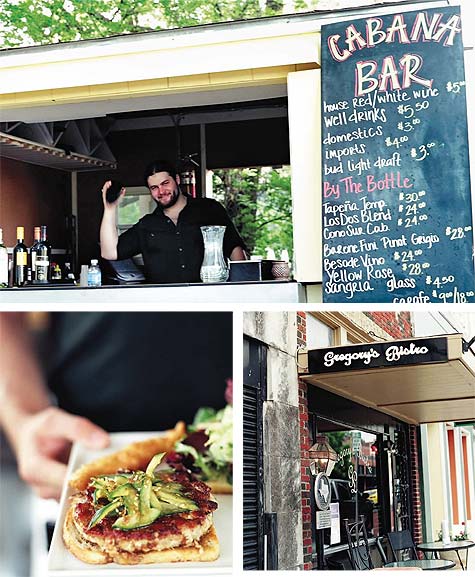 NANCY KRABILL is a native Texan and freelance writer, equally and possibly schizophrenically passionate about local food roots and Italian culture. In her other life, she organizes media trips to Tuscany and Le Marche with a focus on food and wine. Contact [email protected]