Autumn Road Trip to the East Texas Yamboree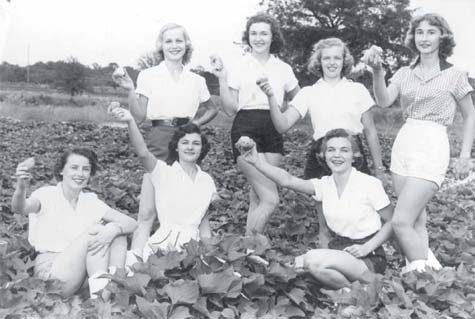 "Y'all come." It's an East Texas mantra, more declaration than invitation. It's part siren's call, part grandmother's voice, an autumnal urge to circle home. And Gilmer answers with the East Texas Yamboree, a homecoming with Piney Woods cuisine and a sweet potato at its heart. Or is it a yam?
Nestled in the Piney Woods a couple of hours east of Dallas, Gilmer celebrates all things yam at its Yamboree held October 20-23 this year, and you're invited. With fall color, food and traditions facing more South than Southwest, the Yamboree offers a slice of Texas culture that is as much like DFW as a Dip Cone is like Häagen- Dazs and just as satisfying. The festival has been going strong since 1935 when, inspired by the Texas Centennial and brash with oil boom money, small towns in East Texas created local festivals. Tyler had its roses, and Gilmer chose the yam. So what is a yam, and why? Back in the 1930s, the "Ag Extension Service" (known today as the Texas AgriLife Extension Service, powered by Texas A&M) set up a Sweet Potato Experiment Station in Gilmer a couple of miles south of town where the airport now stands. The idea was to develop an improved variety of sweet potato with a darker color.
To distinguish the new version from the traditional sweet potato, they called it a yam. According to the archives of Texas A&M, the word was derived from the African word "nyami" referring to the starchy, edible root of the Dioscorea genus of plants. But these rich-hued sweet potatoes we in the South call "yams" are actually from the morning glory family (Convolvulaceae). Although the terms are used interchangeably, the U.S. Department of Agriculture requires that farmers intending to market their sweet potatoes as yams must label them as both.
So why a yam as a festival theme? Yams at one time had been a major cash crop in Gilmer, but their shipment had been quarantined due to a weevil infestation. By 1935 the ban was lifted, and yams were back, firmly rooted in the Texas soil with a bumper crop. Inspired by nature's bounty in that year of the yam, the festival planners created the Yamboree.
Sarah Greene, retired publisher of The Gilmer Mirror and quintessential local, says, "It started big and just got bigger!" Now over 100,000 people come for a visit: for the food, the carnival, the street dance, the parade, the livestock show. They come to see beautiful local girls in sparkly dresses competing for the title of Queen Yam, enough carnival rides to make you dizzy for a month, earnest competition over livestock and yam pies and to hear tomorrow's country music stars. They come home.
It's a perfect weekend road trip. Whether East Texas is your home or not, small town festivals bring us together. If you're a people watcher, an amateur anthropologist or an extreme foodista, a weekend at the Gilmer Yamboree may go far to satisfy your uprooted city soul. So, to begin with, what exactly is Piney Woods cuisine?
First of all, no one in East Texas would call it that. It's just good home cooking. The food is southern-style with a few twists. With salt, sugar and butter as three of the major food groups here, it's unabashedly, enthusiastically outside the pale of what city slickers might think of as "healthy." Local cuisine is important in East Texas, and the first place to start during Yamboree season is the yam pie contest. What makes a pie "yam" good? The first thing is to ensure that it doesn't taste like a pumpkin pie. The idea is to bring out the yam flavor, so no fancy ingredients like coconut or raisins; no extra spices allowed. Pies are available for $8 after the judging is complete on Friday.
After the Queen's Parade Saturday morning, you can munch on good local barbeque at nearby Yamboree Park, while checking out the yam exhibits there, including the "Hill of Yams" competition, a judging of the best sweet potatoes still on the vine and the Decorated Yam Contest for children including "Yamimals" and "Yaman Beings." ("Yammy Faye Baker" was a one-time winner, complete with long eyelashes.) .
You can't leave Gilmer without a pilgrimage to two food meccas: one a longstanding icon and another folksy, friendly spot with tasty, satisfying fare. First, consider Doc's Hot Links (208 S. Wood St.), a time-honored favorite founded in 1969 featuring German-inspired all-beef sausages served with a vinegary, spicy hot sauce that is a perfect foil for the heavy meat and fat found in the sausage. This is not a specialty for the squeamish; when you taste this sausage, you taste the life of the animal that gave it to you. It is earthy with a variable texture and relatively mild spices; the "hot" is in the sauce. I ran into Bryan Davis tucking into his links when I was there recently, who told me that the two best things about Gilmer are the Yamboree and Hot Links. Bryan's father, his grandfather and great-grand-father all frequented Doc's, where links are available for dining inside at a U-shaped series of picnic bench-style tables, or to take out, cooked or raw. (Road trip alert: be sure to bring a cooler and fill with ice if you want to bring some home. No preservatives here!) Chris McElhaney, grandson of the founder, can be found there most days.
Lori's Eats and Sweets (1208 N. Titus) satisfies with rich country cooking featuring a daily lunch menu, and owner Lori Brown Metcalf presiding over the dining room. I tried the King Ranch Chicken featuring pulled chicken with sides of yellow corn with a nice pepper kick to balance the starch, and pinto beans that seemed almost caramelized. Yeast rolls were appropriately airy and chewy, and the chocolate cake with almost bitter icing sent me back to my grandmother's kitchen. In a perfect ending, I ran into Kaitlyn Tackett while there, who was dining with her mom, anxiously waiting to find out whether she had won the title of Queen Yam this year. Queen contestants vie to sell tickets to the Barn Dance and Coronation in a two-week period, and she who sells the most tickets wears the crown. Later on that afternoon, the results were in, and Kaitlyn had won.
For those of us who delight in the thought of European truffle festivals, Slow Food, simple farmers, generations rooted in the soil, why look farther than East Texas when you can find them close to home? It's all here – the distinctive food traditions, the focus on ingredients, the tie to the land. City-dwelling Texans are just now turning back to look over their shoulder, down the long corridor that is State Highway 80 and say "so that's where my food comes from"— or should. With Doc's Hot Links and a yam pie in the cooler, the memory of Lori's satisfying fare on your tongue, and maybe one last Dip Cone melting on your thumb as you hit the road, you can head out on the highway with a new view towards home. Turn around and wave goodbye and you can almost hear the mantra, verse two: "Y'all come back now, hear?"
RECIPE
Mrs. Janet Gipson Loyd's Sweet Potato Pie
For more information: www.yamboree.com
For information on the new Piney Woods Wine Trail: www.pineywoodswinetrail.com
Nancy Reed Krabill is a Gilmer grandchild. She spent many summers there with her grandparents Leone and Bob Gates, brother John and the "New Orleans" cousins. She and her husband Gary own Flavors From Afar, a gourmet boutique in Dallas. To read more about her childhood summers in East Texas, go to her June 2008 blog entry on www.flavorsfromafar.com
The title photograph on Page 19 is reprinted from the book Gilmer by local historian and photojournalist Mary Laschinger Kirby. The original cutline read— The Yamboree Association still enjoyed using the beauty of Gilmer girls to promote the coming festival. From left to right are (seated) LaJuan Sorrells, June Gunn, and Linda Dalrymple; (standing) Greta Cates, Sarah Sharp, Sandra Petty, and Jane Gaddis, majorettes and the drum major of the Buckeye Band when they gathered in a sweet potato field in September 1955. Arcadia Publishing is a leading publisher of local histories with a catalog of more than 6,500 titles. Gilmer is available online at www.arcadiapublishing.com or by calling 888-313- 2665. Gilmer may also be purchased from its author Mary Laschinger Kirby. Contact her at [email protected].
Editor's note: A special thanks to Mary Kirby for many delightful conversations regarding her hometown.
NANCY KRABILL is a native Texan and freelance writer, equally and possibly schizophrenically passionate about local food roots and Italian culture. In her other life, she organizes media trips to Tuscany and Le Marche with a focus on food and wine. Contact [email protected]