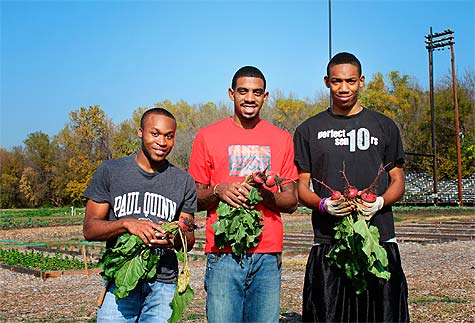 Photo: Nancy Krabill
A Growing Interest in Farming at Paul Quinn College
Photography by Richard Adams
In a state where football is king, Paul Quinn College dimmed the Friday night lights, transforming its football field into a two-acre farm and turning on a new kind of energy. Where cheerleaders once spiraled, crowds roared and helmets crunched, the field sits quiet but hardly idle. Plans and dreams for the farm shine brightly.
Farm Manager Andrea Bithell envisions chickens in the press box, bees beyond the scoreboard, aquaponic tanks set under the shade of the pecan tree and a greenhouse underneath the bleachers.
Bithell is already mapping out the field for this year's planting, dividing it into 96 plots of plants ranging from cantaloupe to corn to kohlrabi. Biology and Social Entrepreneurship classes will use seven additional test gardens to evaluate the effect of different planting methods on the look, taste, yield, nutrient value and environmental impact on the harvest. This gives a whole new meaning to a "kitchen stadium," pitting organic methods of soil enhancement against synthetic fertilizers; vs. Korean farming methods, grub compost, aquaponic fertilizer, blood meal amendments and compost alone. Which will perform best? Let the battle begin!
The farm, a brainchild of President Michael Sorrell, originated as a result of his frustrated attempts to bring affordable and attractive food to the community surrounding Paul Quinn College.
"People deserve better," says Sorrell, who believes that colleges should bring benefits to the communities that surround them. He initially offered to donate college land to any grocery store willing to set up shop on campus. His offer went unanswered. Next, through a relationship built with Dallas civic leader Trammell S. Crow, Sorrell forged ties with PepsiCo's Food for Good initiative that seeks to bring affordable nutrition, jobs and skills development to the community.
Now, Paul Quinn's Food for Good Farm operates as a fiftyfifty partnership with PepsiCo. "We don't want to be viewed as a charity," says Sorrell, who emphasizes the school's equal role in the project, from labor to staffing to supplies. Sorrell and his team worked fast. Beginning with discussions in January 2010 to groundbreaking in May to a final harvest at year-end, the farm has yielded 2,000 pounds of produce so far, with more on the way.
Teaching students about the food they eat can be humorous as well as challenging. Bithell recalls the students' development in this way: "At first, the students couldn't imagine eating a carrot without ranch dressing, but by the end of the semester, they were pulling them out of the garden and eating them from their hands." Arugula has been a popular new food for the students who find its bright green color and peppery bite to be particularly appealing.
On a clear December afternoon at the end of the fall harvest, three young men worked earnestly, pulling up the last of the turnips and collards from the soil and piling them into awaiting wheelbarrows. This is not a job that many students, even five years ago, would have accepted. However, with the current confluence of social trends, health concerns and a new respect for chefs and cooking, working on a farm can seem novel, even satisfying.
Ironically, college was once considered to be an escape from the farm. Quoted in Michael Pollan's The Ominivore's Dilemma, organic farmer Joel Salatin states, "The guidance counselors encouraged all the A students to leave home and go to college." Perhaps things have come full circle now. Students at Paul Quinn College can learn how to grow a farm from soup to nuts, from "seed to sell," as Bithell says. They can use the lessons to go into farming, if they choose, or use it as a case study and apply the lessons learned there to another field.
Elizabeth Wattley, Director of Service Learning at the college, emphasizes that outreach into the underserved community that surrounds Paul Quinn is a keystone of the college's philosophy: reaching out, giving back and receiving more. Paul Quinn requires all students to enroll in a Social Entrepreneurship program for one year that teaches students to become "servant leaders."
The intent is to teach the students how to break the cycle of poverty by teaching them, according to Sorrell, "how to generate wealth, then what you do with it:" connecting and giving back to the community. The Paul Quinn students enrolled in the Social Entrepreneurship curriculum plan a field trip this year to the nearest Minyard Food Store (a couple of miles away from the school) and Whole Foods Market (13 miles distant) to evaluate the marketing, product mix and profitability of each.
For this neighborhood that holds few food choices, Paul Quinn expects to provide affordable, nutritious food at its farmers markets this spring and summer. By participating in these programs, the students become teachers, allowing them to connect with other members of the community in new ways. The college also tithes 10% or more of the farm's yield to the community. Wattley reports that the actual percentage for the fall harvest was even higher.
Sorrell, Wattley and Bithell have big dreams to grow the presence and significance of the farm in the college and community in 2011. They plan to increase farm tours from last year's 295 and the number of volunteers from 110. A fundraising event will be held on April 14th featuring former professional basketball player, now urban farmer, Will Allen of the non-profit organization, Growing Power. Deemed one of Time Magazine's 100 Most Influential People, Mr. Allen has become recognized for his role in helping communities build sustainable, high-quality food systems that are affordable for all people regardless of income. He has worked closely with President and Mrs. Obama in launching the First Lady's "Let's Move!" campaign. Mr. Allen will be spending the day at Paul Quinn College sharing his vast knowledge with students, faculty and community members.
Further, as part of its goal to give back to the community, Bithell and Wattley plan to provide dinner at a church service held at the Well Community, a local ministry that reaches out to those suffering with mental illness. Their ambitious goal is to get the produce from farm-to-fork in four hours. The students' participation in the program is key: by serving others, they themselves will learn and be served.
Paul Quinn College decommissioned the football field in 2006 partly because it wanted to present role models to the students that differed from sports stars. According to Sorrell, he wants to debunk the myth that salvation comes in the form of athletic ability. In an interesting turn of events, some of the fruits (well, vegetables) of the harvest arrived at the Dallas Cowboys' dining table this past fall. Lucian LaBarba, President of Fresh- Point-Dallas, connected the farm with the Cowboys' Legends Hospitality Management group that allowed the school to sell their produce to the team. Paul Quinn students and faculty personally delivered the food to members of the Cowboys' culinary staff, who waxed enthusiastic about the quality and freshness of the produce. A new type of sports hero? Quite possibly.
The farm's produce is also a favorite at Bolsa, a standout Oak Cliff restaurant that focuses on fresh and local fare. Chef Graham Dodds reports that he found the students to be inspiring, and has enjoyed using the produce in dishes such as Twig and Branch Flatbread featuring the school's arugula along with local goat cheese and oven-roasted grapes. He is providing Bithell with input as she plans this year's harvest, hoping the school will respond to his request for baby veggies in the mix.
Even the students who aren't directly involved in the farm (whether from the work/study program, biology classes, or the Social Entrepreneurship program) can't avoid its presence. There will be a feature of the month at the school cafeteria, with placards on every table, introducing students to a new vegetable grown at the farm, encouraging them to step out and try something new. The Paul Quinn Food for Good Farm is keeping the gridiron close to the heart of its students, repurposing it in ways that can equip them with a heart for service and a mindset for health that will serve them well in the years to come.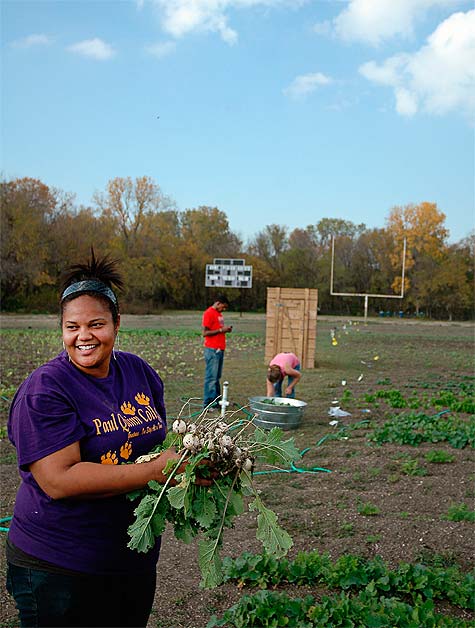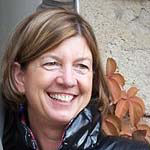 NANCY KRABILL is a native Texan and freelance writer, equally and possibly schizophrenically passionate about local food roots and Italian culture. In her other life, she organizes media trips to Tuscany and Le Marche with a focus on food and wine. Contact [email protected]