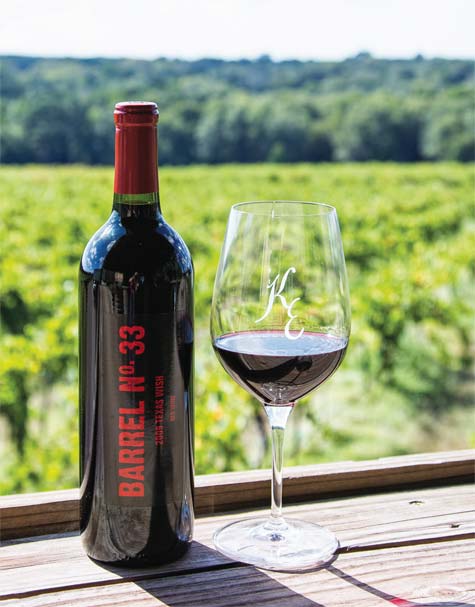 Photography by Kelly Doherty
NOT MY GRANDPARENTS' EAST TEXAS
Dreaming of your next wine tasting trip to Napa or even Europe? Maybe you can just envision the rolling hills, grapevines wriggling out of the ground, tastes of interesting wines and the chance to learn a little something new. Well, it's time to reprogram your GPS, get in your car and head to Kiepersol Estates Winery, just south of Tyler in East Texas. You may even experience a little bottle shock yourself as you exit a long, unremarkable stretch of I-20, then enter the winery's grounds where rows of grapevines stitch up and down gently rolling hills, a sight for any wine lover's sore eyes.
Nestled in the East Texas Piney Woods, there's something new going on at Kiepersol. There, members of the de Wet family, who made their way to Texas from South Africa 28 years ago, are making their mark on this virgin timberland, producing wines that clearly stand up to their California counterparts in taste. Far from being a local business that we "should" support because they're really trying, this is a full-fledged winery with products that you'll be proud to share with any of your friends, oenophile and neophyte alike.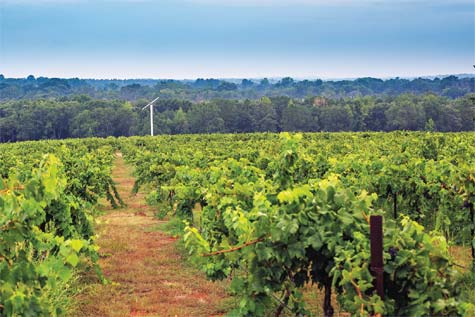 THE WINERY TOUR
The de Wet family has only been in the winemaking business since 1998 but they seem to be hitting all the right notes. Owner and dad Pierre de Wet generates the vision for Kiepersol Enterprises that includes not only the winery but also a digital recording studio and real estate development. Daughters Velmay and Marnelle take an active role in the winery: Velmay keeps the day-to-day business running as CFO, while Marnelle serves as Proprietor and Winemaker.
A visit to the Kiepersol cellar reveals all the classic elements of a traditional winery, and then some. Inside, the stainless steel towers (used for the first fermentation of grapes) rise in the rustic space. Just beyond lies the lab added in 2008 where enologist Michael Mc- Clendon quality tests the pH and alcohol level of each wine on site. Beyond, the stacked rows of chubby barrels sit silently, aging wines from the 2009, 2010 and 2011 vintages, waiting until the time is just right.
Begin a conversation with Marnelle and expect a rainfall of scientific facts. On the day we visited, unseasonably warm weather caused ice to form on the vats used for cold stabilization; a simple "What's that?" question earned us a quick lesson as Marnelle deftly explained the use of chilly temperatures for removing crystals from sweet sparkling wine.
Ask Pierre about the barrels used for aging, and you'll receive an earful of information. For example, they use American oak instead of French because it imparts a more intense flavor to the wine. The barrels are toasted by experts in Chile using a convection oven (rather than an open flame): a process that allows for a more precise level of toast. Pierre says toasting a barrel is like caramelizing an onion; the flavors change throughout the process so you need to carefully monitor the time and heat to get the amount of toast just right.
Wine with softer flavors needs barrels with a light toast: more toast conveys a peppery flavor that adds interest to balance the heavier flavors of wines such as Merlot.
Italians criticize Americans for making their wine "in the cellar:" using chemicals to flavor the wine and make up for deficiencies in a year's crop, rather than "in the vineyard," taking their lumps and blessings with the seasons. Where is Kiepersol's wine made? Most definitely in the vineyard. Marnelle says that they like to "taste the experiences (they) had in the vintage," so a 2008 wine will taste just like that year. When preparing the vines for a new season's growth, Kiepersol workers assess what they want the vine to do that year, then shape the vine with the pruning shears and finally bless the vine. According to Pierre, "the best fertilizer a farmer can put in a field is a footprint."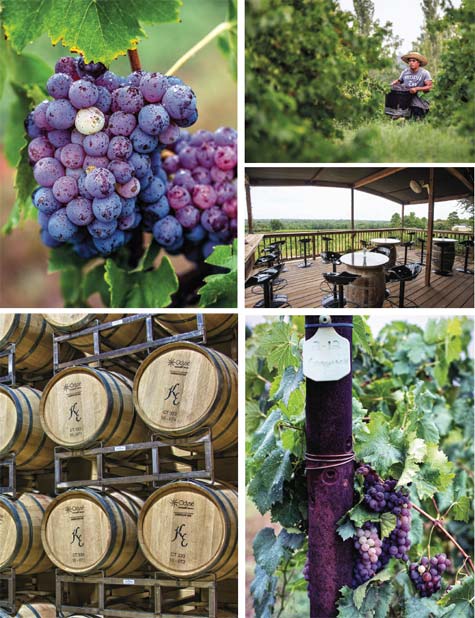 DOWN TO THE VINES
But let's get down to the vines. Stroll through the 65 acres of vineyards and you'll find a veritable United Nations of varieties: Merlot, Syrah, Cabernet Sauvignon, Viognier, Semillon…even the feisty Italian Sangiovese. Fifteen different varieties of grapes are cultivated in all; Kiepersol produces 14 varietal wines (wines with only one variety of grape) and eight blends (the blends give the winemaker a chance to have a bit more control over the structure); an impressive 22 labels in all. Kiepersol keeps production relatively small, with only 15,000 cases per year. Adding to the Mediterranean ambience of the place, the family is experimenting with producing their own balsamic vinegar and growing olives onsite.
For a tasting, head to the bar at the tasting room or sit outside. The tasting room is open Monday—Saturdays from 11 am until 5 pm. Tastes are available for $1 for a one-ounce pour. Settle in and follow Pierre's advice: "Relax and find something you really like. What would you like to sit on the veranda and sip?" In addition to traditional wines, you'll find some unusual choices at Kiepersol. We loved the crisp and complex barrel-aged Semillon and the dreamy, fresh unoaked "Stainless" Syrah. Marnelle believes that their Sauvignon Blanc best reflects the terroir; the warm East Texas climate is expressed in the tropical fruit flavors of the wine. You'll want to taste a variety of wines to appreciate the breadth and depth of Kiepersol's offerings.
One standout is Barrel 33, a blended complex red that represents the winemaker's creativity using the best of each vintage. Grape clusters are specially selected, cold soaked for a week, fermented slowly, and finally subjected to "extended maceration:" the wine sits with the grape skins for an extra two weeks after fermentation is complete. Marnelle explains that this not only adds depth to the flavor of the wine, but also increases the phenols, flavonoids, and resveratrol, all contributors to the health-giving benefits of red wine. Currently on offer is the 2009, a proprietary blend of 2009's best reds with a complex, fruity depth today that should increase as the wine ages ten years or more.
Many East Texans like their wines like their iced tea: on the sweet side. This provides an interesting challenge to the Kiepersol crew: how to create wines that locals will love without sacrificing the flavor balance. Introduced this year, the new Denim line of wines strives to satisfy the novice wine drinker with an easy flavor profile and low price point. As a measure of success, Marnelle says that locals look at the wines as "theirs," echoing the sentiments of the Slow Food movement.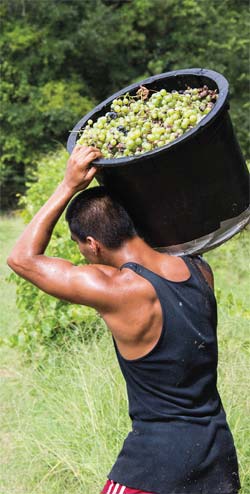 Where is Kiepersol's wine made? Most
definitely in the vineyard. Marnelle says
that they like to "taste the experiences (they)
had in the vintage," so a 2008 wine will
taste just like that year.
WHAT'S IN A NAME? THE NEW HOPE AVA PROPOSAL
Marnelle has long sought to distinguish the land around Kiepersol as the "New Hope" AVA (American Viticultural Area). An AVA designates a discrete grape growing microclimate where soil, geography, elevation, and physical features combine to create a distinctive wine. The idea is somewhat similar to the apellations in European wine. Examples of AVAs are Napa Valley and Sonoma Valley in California, along with the Texas Hill Country and Texoma in Texas. Once an area is designated an AVA, 85% of the grapes used in the wine must come from that area. Thus, wine-lovers who purchase AVA wines can rest assured that the "juice" contained in their wine isn't shipped in from other regions.
So what distinguishes Kiepersol as a unique wine growing terroir? The vineyard sits atop the Bullard Salt Dome, a dome-shaped concentration of salt that formed during the Jurassic Period when the Atlantic Ocean ebbed and flowed into the young Gulf of Mexico, concentrating salts on the Gulf floor. Fast-forward millions of years, and that salt has pushed up through layers of the earth's strata, bringing Jurassic soil with it, all of which now rests under the Kiepersol Winery in Tyler, Texas. Marnelle and Pierre believe that the vertical layers of Jurassic soil possess a different magnetic strength than the surrounding horizontal layers, causing the legendary Texas thunderstorms to split in two as they pass Kiepersol, and go around, rather than over, the vineyard. This phenomenon creates a milder climate for their vineyards. As evidence, Marnelle snapped a radar picture on her iPhone during a typical early morning spring Texas thunderstorm that clearly shows the rain pattern splitting on either side of the estate.
The U.S. Department of Treasury, in charge of granting appellation status, so far has passed on New Hope as an AVA. However, Marnelle and Pierre have not given up, and the campaign continues.
A WEEKEND AWAY
The best way to take in the Kiepersol experience is to spend a weekend onsite. The rooms in the five-room B&B are immaculate, furnished in plush Victorian décor and chock-a-block with amenities, including all king-sized beds and free Wi-Fi. Dining at Kiepersol Estates is not to be missed. The menu items present a dizzying array of cuisine, as diverse as the Kiepersol wine selections and locally sourced with produce in-season. Every mouthful we tried (from the crab cakes to the steak to the molten chocolate cake) was delicious and satisfying. The décor is clubby and rustic, encased in deep repurposed redwood paneling. Layers of rich detail surround you, from the dentil molding, to the generously padded leather chairs, finished with ornate and embellished wood. The view of the property from the dining room is superb.
Rising as the centerpiece of the space is a two-story wine cellar holding 3,300 bottles of wine not only from Kiepersol but from around the world. Longtime Dallasites may recognize some of the décor from the Old Spaghetti Warehouse—slowly turning palm leaf fans rotating sideways over the bar. From his vantage point at the end of the bar, Pierre keeps a watchful eye on the restaurant most evenings, greeting guests by name, many of whom regularly travel from DFW and Houston just for a meal.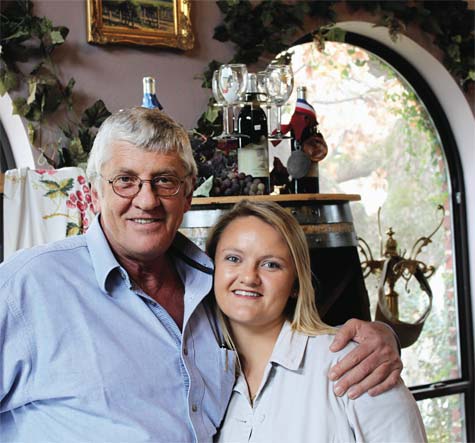 Vineyard owner Pierre de Wet and his daughter, Marnelle de Wet-
Durrett, Kiepersol's Winemaker and Estate Manager
A TOP-NOTCH CHOICE
Wineries are springing up across East Texas like hoppy toads after a heavy rain. There's even a Piney Woods Wine Trail (est. 2010) featuring 16 wineries (www.pineywoodswinetrail.com). Don't discount this new wine-growing area based on the fact that it's located far away from an urban hub in an area misperceived as lacking in sophistication. Chances are that Napa and Sonoma were once seen in the same light. And in your pursuit of top-notch local food and wine, a visit to Kiepersol should be at the top of your list.
IF YOU GO
Getting there: Kiepersol Estates Winery and Vineyards are located 11 miles south of Tyler, about two hours east of Dallas. For more information and a map: www.kiepersol.com.
Tasting Room: 903.894.8995
Open Monday – Saturday from 11am-5pm
Guided tours through the production facility are available on Saturdays at 2pm and 4pm for $5 per person. There is also a self-guided, one-mile walking trail through the vineyard. Restaurant or B & B reservations: 903.894.3300
Harvest Festival & Grape Stomp: To be held October 20th 10-6. Although the actual harvest takes place in August, the festival dates are timed to coincide with other Tyler activities such as the Rose Festival.
WHILE YOU ARE THERE
DISCOVER TYLER
Explore historic Tyler and the nearby area, replete with local farms, historic homes, even zip lines! For a taste of what's available, visit this website: www.visittyler.com
PINEY WOODS WINE TRAIL
Winding through lush East Texas, the scenic Piney Woods Wine Trail is divided into four wine roads with 16 stops, including Kiepersol Estates. For details: www.pineywoodswinetrail.com
NANCY KRABILL is a native Texan and freelance writer, equally and possibly schizophrenically passionate about local food roots and Italian culture. In her other life, she organizes media trips to Tuscany and Le Marche with a focus on food and wine. Contact [email protected]