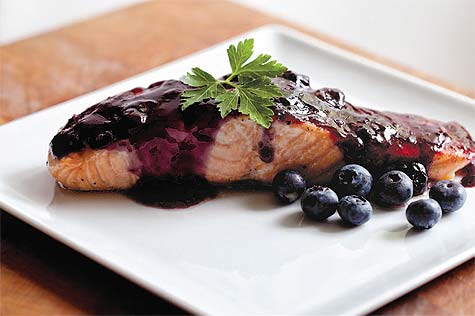 photo by Kelly Yandell
Chef Eva at The Greer Farm
Serves 6
Six 5-6 ounce skinless salmon fillets
1 tablespoon olive oil
Salt and freshly ground black pepper
Juice of ½ lemon
Blueberry Chipotle Sauce
2 cups fresh or frozen blueberries
1 chipotle pepper, seeded and chopped
½ cup agave syrup or honey
1 garlic clove, crushed
Juice of 1 lemon
2 teaspoons corn starch
1 tablespoon cold water
Salt and freshly ground black pepper
Oven-Fried Salmon
Coat a large cast iron or heavy ovenproof skillet with 1 tablespoon of olive oil. Place in a preheated oven at 400° for 10 minutes until the pan is very hot. Sprinkle the salmon fillets lightly with salt and pepper and lemon juice. When the pan is ready, place the salmon fillets presentation side down (side where the skin removed is up). Cook for 2- 3 minutes and turn over and glaze with the blueberry chipotle sauce. Bake for another 2-3 minutes or longer if desired. Remove and serve with additional sauce.
Blueberry Chipotle Sauce
In a medium saucepan, put the blueberries, seeded and chopped chipotle pepper, agave syrup, lemon juice and crushed garlic clove. On medium high heat, bring to a simmer and continue cooking for about 5 minutes or until the blueberries are soft enough to mash. Crush the blueberries and continue to simmer. Mix the corn starch with the cold water and add to the sauce. Bring to a low boil and continue for about 3 minutes. Season to taste lightly with salt and freshly ground black pepper. Remove and serve.
For a smoother texture, blend half of the sauce in a food processor and then return it to the original unblended sauce. Chef Eva Greer conducts private cooking classes at The Greer farm near Daingerfield. She will be giving a cooking demonstration at the Dallas Farmers Market on July 2 at 10 and 11 am. www.greerfarm.com
CHEF EVA GREER and husband Sid are the proprietors of Greer Farm, a unique rural retreat near Daingerfield. Guests can pick their own blueberries, blackberries, figs and plums and attend Chef Eva's monthly cooking classes. Four quaint log cottages are available for rent. For more information visit their website www.greerfarm.com.