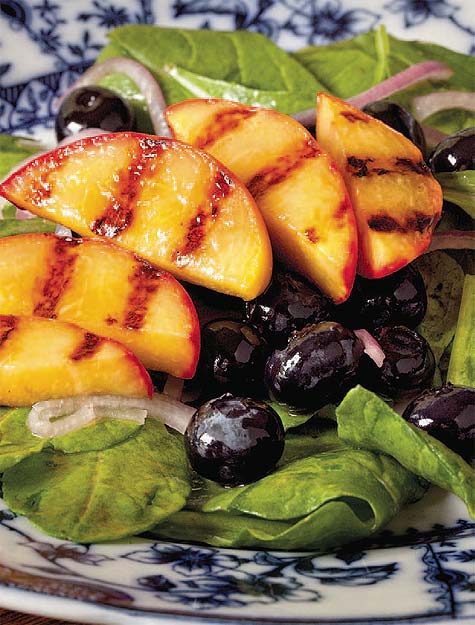 photo by Kelly Yandell
Chef Eva at The Greer Farm
Serves 6-8
¾ cup thinly sliced sweet red onion, salted
Kosher or sea salt
8 peaches, seeded and halved
5 tablespoons olive oil
2 cups fresh or frozen blueberries
½ cup sugar
2 cups white wine vinegar
1 package arugula
Brush peaches with 1 tablespoon olive oil and broil or grill until skins begin to brown, about 3 minutes. Cool and cut into ¼ inch slices then set aside.
In a blender, combine 1 cup fresh or frozen blueberries, ½ cup sugar and 2 cups white wine vinegar. Blend until pureed. Strain and refrigerate until ready to use. This will yield 1 cup of blueberry vinegar. Keep extra for future salads.
In a bowl whisk 4 tablespoons olive oil and 2 tablespoons of blueberry vinegar.
Rinse salted onions and drain. Toss arugula with dressing. Do the same with the onions, peaches and 1 cup blueberries. Arrange on plates to serve.
CHEF EVA GREER and husband Sid are the proprietors of Greer Farm, a unique rural retreat near Daingerfield. Guests can pick their own blueberries, blackberries, figs and plums and attend Chef Eva's monthly cooking classes. Four quaint log cottages are available for rent. For more information visit their website www.greerfarm.com.