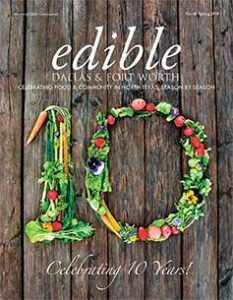 Let's EAT, DRINK, SHOP, and visit locally! The priceless support of these businesses and organizations helps to grow and sustain Edible Dallas & Fort Worth. Please make a point of supporting them.
ARTISINAL FOODS
JJ&B
972-786-3139
jjandb.com
SCARDELLO ARTISAN CHEESE
Oak Lawn–214-219-1300
Dallas Farmers Market
972-807-2658
ScardelloCheese.com
STOCKS & BONDY
Dallas – 214-973-9459
StocksandBondy.com
TEXAS HONEYBEE GUILD
Txbeeguild.org
TEXAS OLIVE RANCH
214-325-5787
texasoliveranch.com
TEXAS RANGE HONEY
Weston—972-567-2542
RangeHoney.com
BAKERIES
EMPIRE BAKING COMPANY
Dallas—214-350-0007
EmpireBaking.com
CREATIVE DIRECTION & DESIGN
JUIE BEALL
JulieBeallDesign.com
DESTINATIONS AND LODGING
CHESTNUT SQUARE HISTORIC VILLAGE
McKinney – 972-547-2660
ChestnutSquare.org
FOSSIL RIM WILDLIFE CENTER
Glen Rose—254-897-2960
FossilRim.org
GREER FARM
Daingerfield–903-645-3232
GreerFarm.com
HISTORIC DOWNTOWN MCKINNEY
DowntownMcKinney.org
KIEPERSOL WINERY & VINEYARDS
Daingerfield–903-645-3232
GreerFarm.com
EVENTS
A PEEP AT THE COOPS
May 5 in Dallas
aPeepAtTheCoops.org
THE 2019 GARDEN SHOW
March 16 & 17 in McKinney
CCMGATX.org/thegardensshow
DALLAS ARBORETUM FOOD & WINE FESTIVAL
March 21–A Grand Pasting
March 22–Vintners' Dinner
March 23–Roots on the Road Conference
DallasArboretum.org/foodwinefest
EARTHX TASTE
April 26-28 in Dallas
EarthX.org/Taste
EDOM LONG TABLE DINNER
May 11 in Edom
VisitEdom.com
LES DAMES D'ESCOFFIER
March 3 in Dallas
LDEDallas.org
MEET THE MAKERS
April 7 in Dallas
WeAreTastemakers.com
OAK CLIFF EARTH DAY
April 14 in Dallas
OakCliffEarthDay.com
FARMERS MARKETS
COPPELL FARMERS MARKET
coppellfarmersmarket.org
COWTOWN FARMERS MARKET
Fort Worth
Cowtownmarket.com
DALLAS FARMERS MARKET
dallasfarmersmarket.org
EDEN'S ORGANIC GARDEN & CSA FARM
Balch Springs
EdensOrganicFarm.com
FRISCO ROTARY FARMERS MARKET
FriscoRotaryFarmersMarket.com
GOOD LOCAL MARKETS—WHITE ROCK
GoodLocalMarkets.org
GRAHAM FARMERS MARKET
FB: Graham Farmers Market
GRAPEVINE FARMERS MARKET
FarmersMarketofGrapevine.com
HISTORIC McKINNEY FARMERS MARKET
ChestnutSquare.org
ROCKWALL FARMERS MARKET
RockwallFarmersMarket.org
SAINT MICHAEL'S FARMERS MARKET
SaintMichaelsMarket.com
VERNON FARMERS MARKET
VernonFarmersMarket.com
WICHITA FALLS FARMERS MARKET
FarmersMarketWichitaFalls.com
LOCAL FARMS—PICK YOUR OWN
LARKEN FARMS
Waxahachie—972-398-7150
LarkenFarms.com
FOOD DISTRIBUTORS
FRESHPOINT
Dallas—972-385-5800
Dallas.FreshPoint.com
GROCERS, MARKETS & CATERING
BURGUNDY PASTURE BEEF
Dallas – 972-707-7241
Fort Worth – 817-878-2722
Grandview— 817-866-2447
BurgundyPastureBeef.com
CELEBRATION MARKET & CATERING
Market: 214-352-0031
Catering: 214-351-2456
CelebrationRestaurant.com
HARVEST SEASONAL KITCHEN
McKinney – 214-726-0251
HarvestTX.com
MARKET PROVISIONS CO.
Dallas – 214-377-7612
Facebook: Market Provisions
PATINA GREEN HOME AND MARKET
McKinney—972-548-9141
PatinaGreenHomeAndMarket.com
POTAGERS OTHER STUFF
Arlington – 682-553-5811
PotagerCafe.com
RUBIAL'S ROSEMEADE MARKET
Dallas – 972-306-2899
RosemeadeMarket.com
TRINITY HAYMARKET
Dallas – 214-202-2163
TrinityHaymarket.com
HOUSEWARES & GIFTS
PATINA GREEN HOME AND MARKET
McKinney—972-548-9141
PatinaGreenHomeAndMarket.com
LANDSCAPE & GARDENING
NORTH HAVEN GARDENS
Dallas – 214-363-5316
NHG.com
PRESERVATION TREE SERVICE
Dallas – 214-528-2266
Fort Worth – 817-581-4502
PreservationTree.com
RUBIAL'S
Dallas—972-306-2899
Ruibals.com
RESTAURANTS & CAFÉS
CELEBRATION RESTAURANT
Dallas – 214-351-5681
CelebrationRestaurant.com
GARDEN CAFÉ
Dallas – 214-887-8330
GardenCafe.net
HARVEST SEASONAL KITCHEN
McKinney – 214-726-0251
HarvestTX.com
KIEPERSOL RESTAURANT
Tyler—903-894-3300
Kiepersol.com
PATINA GREEN HOME AND MARKET
McKinney – 972-548-9141
PatinaGreenHomeAndMarket.com
TACO y VINO
Dallas – 469-372-0022
TacoyVinoDallas.com
THE CAFÉ AT NORTH HAVEN GARDENS
Dallas—214-338-2233
NHG.com
WINE, BEER & SPIRITS
KIEPERSOL—WINERY & DISTILLERY
Tyler – 903-894-8995
Kiepersol.com
SPEC'S WINE, SPIRITS AND FINER FOODS
VisitSpecs.com for a location nearest you.
Edible Dallas & Fort Worth is a quarterly local foods magazine that promotes the abundance of local foods in Dallas, Fort Worth and 34 North Texas counties. We celebrate the family farmers, wine makers, food artisans, chefs and other food-related businesses for their dedication to using the highest quality, fresh, seasonal foods and ingredients.