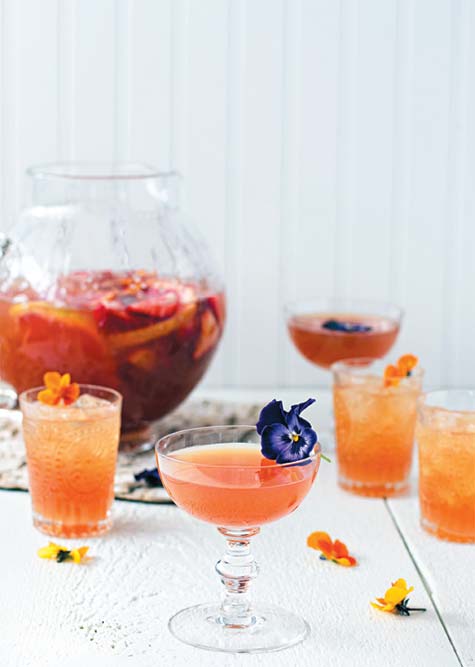 Recipes and Photography by Meredith Steele
When winter sheds her dry brown coat for the green blanket of spring, it's cause for celebration. Once the air turns warmer and the sun gleams brighter, I head out to the garden. I adore my tiny urban oasis when the redbuds are blooming and everything leafy takes over, bringing new life to my kitchen. And all of this edible gorgeousness just begs for one thing—a garden party.
Garden parties, whether a late-morning brunch or a laid-back dinner, can be as elegant or as casual as you like. Set up a long table in the middle of your garden, your yard or outside on the patio. I use a white tablecloth and dot it with bud vases or Mason jars filled with flowers from my daughter's butterfly garden. Create a runner or homemade placemats from burlap to echo the natural feel of outdoors. Finally, a bit of music and you're ready to join friends and family for a feast of fresh foods and a seasonal cocktail to toast the beauty of a North Texas spring.
RECIPES
Apricot and Curry Lamb Pastries
Grilled Garlic Scape-Ricotta Toasts
Watercress Soup with Roasted Beets and Goat Cheese
Crispy Shallot-Topped Deviled Eggs
Lemon Tarragon Shrimp and Orzo
Strawberry and Goat Cheese Popovers
MEREDITH STEELE is a recipe developer, food writer, food photographer and author of InSockMonkeySlippers.com, an award winning family food blog celebrating creative and fresh foods. Her recipe development and photography company, MBS Recipe Development specializes in multimedia recipe development for commercial and small business who's clients include everyone from Ziploc® to small wineries. Meredith's work has been published online, in various print media, and has been nominated for the SAVEUR awards. She can also be found across the pond writing a monthly column for JamieOliver.com. When Meredith is not in the kitchen, she's roaming Dallas, Texas with her husband, curly-headed pixie of a daughter, and big floppy-eared dog.