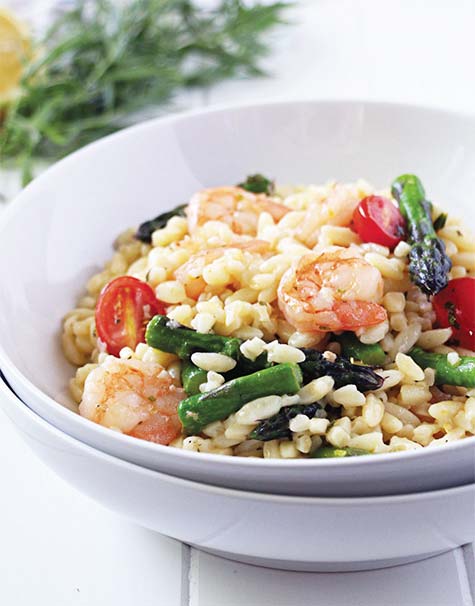 Recipe and Photography by Meredith Steele
Lightly dressed in lemon tarragon vinaigrette, this orzo pasta salad features sweet Gulf shrimp and fresh asparagus—a perfect spring pairing.
Serves 8
1/3 cup fresh lemon juice
1 teaspoon grated lemon zest
1 teaspoon Dijon mustard
1 tablespoon chopped fresh tarragon
1/8 teaspoon fine sea salt
1/8 teaspoon ground black pepper
½ cup plus 1 tablespoon extra virgin olive oil (divided use)
1 shallot, peeled and minced
1 pound (26-31 count) wild Gulf shrimp, peeled and deveined
1 bunch asparagus, sliced into 2-inch segments
½ cup cherry tomatoes, halved
5 cups cooked orzo
Salt and pepper to taste
In a large mixing bowl, combine lemon juice, lemon zest, Dijon mustard, tarragon, salt and pepper; whisk. While whisking, slowly add ½ cup olive oil. Whisk until combined and smooth. Set aside until needed.
In a large sauté pan, heat 1 tablespoon olive oil over medium-low heat. Add shallot and cook until soft , about 3 minutes. Season shrimp with a pinch of salt and pepper. Increase heat to medium-high and add shrimp, asparagus and 2 tablespoons of the lemon tarragon vinaigrette; stir frequently. Sauté until the shrimp are pink and opaque, about 3 minutes. Add tomatoes and toss to combine.
Add cooked orzo and shrimp to the lemon-tarragon vinaigrette and toss to combine. Taste and add salt and pepper if needed. Serve hot or chilled.
MEREDITH STEELE is a recipe developer, food writer, food photographer and author of InSockMonkeySlippers.com, an award winning family food blog celebrating creative and fresh foods. Her recipe development and photography company, MBS Recipe Development specializes in multimedia recipe development for commercial and small business who's clients include everyone from Ziploc® to small wineries. Meredith's work has been published online, in various print media, and has been nominated for the SAVEUR awards. She can also be found across the pond writing a monthly column for JamieOliver.com. When Meredith is not in the kitchen, she's roaming Dallas, Texas with her husband, curly-headed pixie of a daughter, and big floppy-eared dog.