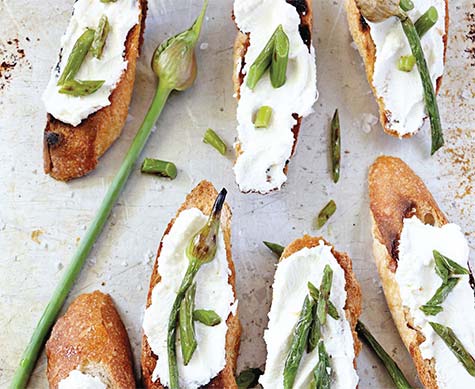 Recipe and Photography by Meredith Steele
Garlic scapes are the twisty green stems that grow from hardneck garlic plants. The edible young scapes are removed to redirect the plant's energy to its developing bulb. If garlic scapes aren't available at your local farmers market, green onion stems can be used as a substitute.
Serves 8
2 tablespoons olive oil
4 10-inch garlic scapes (or green onion stems)
1 16-inch baguette, cut in 1-inch thick slices
1 clove garlic, peeled
8 ounces ricotta cheese
Flaked sea salt such as Maldon
Preheat a gas grill to medium-high or light a charcoal grill (natural lump charcoal preferred) and allow fire to die down and coals to form a gray ash, takes about 20 minutes.
While the grill is preheating, brush olive oil on scapes and baguette slices.
Once the grill is preheated, grill the scapes for 8 to 10 minutes, flipping once, until charred and tender. The amount of time will depend on how thick the scapes are and the heat of your grill. Next, grill the baguette slices for 2 minutes, flipping once, until toasted and lightly charred. Again, the amount of time will depend on the heat of the grill, so keep an eye on it.
Lightly rub the garlic clove on one side of the toasted baguette slices and top each slice with a large spoonful of ricotta. With a knife, chop the grilled scapes into 1-inch segments and place the grilled scapes on top of the ricotta. Sprinkle each slice with a generous pinch of salt and a light drizzle of olive oil. Serve warm.
Note: If grill is unavailable, use an oven broiler to char the scapes and toast the baguette slices.
MEREDITH STEELE is a recipe developer, food writer, food photographer and author of InSockMonkeySlippers.com, an award winning family food blog celebrating creative and fresh foods. Her recipe development and photography company, MBS Recipe Development specializes in multimedia recipe development for commercial and small business who's clients include everyone from Ziploc® to small wineries. Meredith's work has been published online, in various print media, and has been nominated for the SAVEUR awards. She can also be found across the pond writing a monthly column for JamieOliver.com. When Meredith is not in the kitchen, she's roaming Dallas, Texas with her husband, curly-headed pixie of a daughter, and big floppy-eared dog.