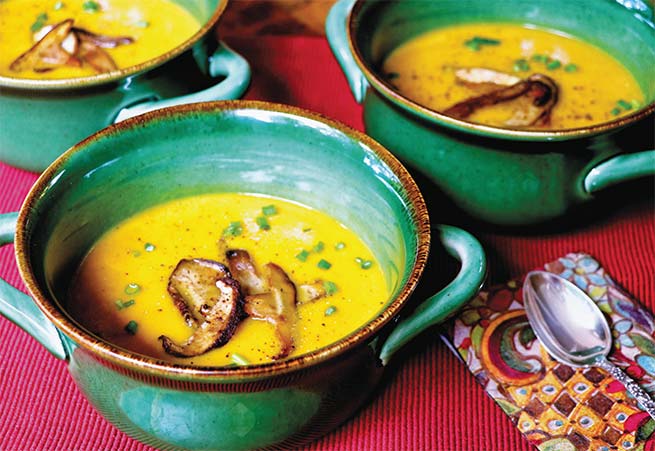 Photo by Lauren Coe
Warm whiskey flavors paired with the mellow sweetness of the squash make this an ideal starter to any holiday meal, or serve it solo on a chilly evening.
Makes 6-8 servings
1 (3-to-4-pound) butternut squash
Olive oil
Salt and pepper
Smoked paprika
4 tablespoons butter
6 sage leaves
1 small yellow onion, diced
2 medium carrots, diced
2 celery stalks, diced
4 cloves garlic, minced
½ teaspoon ground ginger
¼ teaspoon freshly grated nutmeg
½ cup Texas bourbon
4 cups chicken broth (divided use)
Roasted Mushrooms (recipe follows)
Chives
Cut ends off of squash, and cut in half lengthwise, then remove seeds. Place on aluminum foil-covered baking sheet.
Brush cut flesh with olive oil, then generously season with salt, pepper and smoked paprika. Roast for 1 hour, or until easily pierced with a knife. Scoop the flesh out of the skin and set aside.
Melt butter in large pot over medium heat and add sage leaves. Remove and discard the leaves after 3 minutes. Add onion, carrots, celery, garlic, nutmeg and ground ginger. Sprinkle salt and fresh ground pepper over vegetables, then cook for 10 minutes stirring occasionally.
Add bourbon and cook down for 3 minutes. Add butternut squash scooped from the skin, and then add 2 cups chicken broth. Break up butternut squash with a spoon, and stir everything together well. Reduce heat to medium low, cover and simmer for 30 minutes, stirring occasionally.
Remove from heat, and transfer contents to your blender (you might have to do this in batches). Blend until velvety smooth. Be careful working with hot liquids.
Return soup to stove with remaining chicken stock and bring to a low simmer, or until warmed to preference. Add salt and pepper to taste.
Garnish with Roasted Mushrooms, chives and fresh ground pepper.
Roasted Mushrooms:
Preheat oven to 400°F. Line a baking sheet with aluminum foil.
Toss 2 cups fresh sliced cremini or shiitake mushrooms in 1 tablespoon olive oil, ½ teaspoon salt and ½ teaspoon pepper.
Roast for 15 minutes.