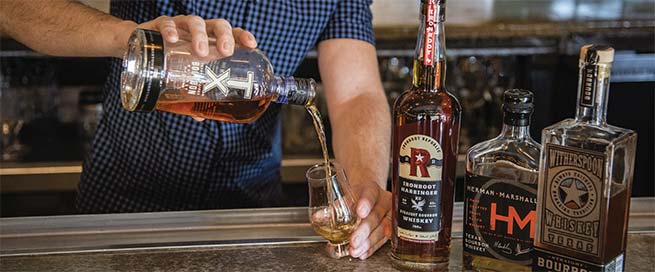 Pouring Texas bourbon at Feed Company
Story by Lauren Coe and Terri Taylor • Photography by Teresa Rafidi
No spirit makes a better fireside companion than bourbon. With its aromatic bloom of fresh-baked cookies, a dram of bourbon is warm comfort on a wintery night. Lucky for North Texans, local distillers have put down roots and are crafting our region's version of this American whiskey.
Though Texas is relatively new to the bourbon scene, the national story dates back to colonial times, when Scottish and Irish settlers crossed the Appalachian Mountains into the Ohio River Valley and began planting native maize for their moonshine.
Corn is a big part of what separates bourbon from a long list of other whiskeys, which loosely includes any distilled spirit made from fermented grain mash (rye, barley, wheat, corn). Most whiskey is aged in toasted or charred-oak barrels, which gives the spirit a distinctive amber hue.
To be labeled "bourbon," a whiskey must adhere to a list of requirements (see "What is bourbon?"), including the country where it's made. Just like Scotch whisky (without the "e"), Mexican tequila and French Champagne, bourbon is a spirit that can only be produced in one country. In this case, the United States. In 1964, the U.S. Congress declared bourbon "America's Native Spirit."
A common misconception is that bourbon must hail from Kentucky. Not so. Though Kentucky distillers create the lion's share, bourbon makers can now be found in every state except Hawaii, which has its own whiskey variation.
In recent years, Texas has become a hotbed of bourbon-making and, though we're maturing, the craft is still in its formative years. The state's first and oldest whiskey distillery, Garrison Brothers in the Hill Country, opened in 2005 and sold the first legally produced bottle of Texas bourbon in 2010. Waco's Balcones Distilling and others weren't far behind.
Making straight bourbon is a slow and costly process that takes patience and time—two years to be exact, though many are aged longer. How do Texas bourbons measure up to their Kentucky forefathers? With all due respect, Texas bourbons have been garnering accolades with a flavor profile unique to our state.
"The idea of terroir is very important for the flavor development of any whiskey," says Rob Arnold, the head distiller at Fort Worth's Firestone and Robertson Distilling. "We, by default, get flavors that are essentially the taste of Texas."
Varying factors in bourbon-making include the percentage and types of corn used, the mix of grains that create the mash, the yeast used in fermentation and the water source. Each maker has its own recipe and way of doing things.
During the aging process, local climate has the biggest impact. When barrels meet the heat of a Texas summer, the whiskey is pushed deep into the charred oak and distinct flavors are extracted. This wringing-in and -out during the aging process develops a bourbon's taste.
Will Texas bourbons win over long-time aficionados whose loyalties still lie with Kentucky? The tide is slowly turning, says Michael Hall, general manager of Feed Company in the Lower Greenville area. The eatery and bourbon lounge carries over 250 whiskey labels, 31 made in Texas. "Whether people already know a lot about whiskey, or are new to it," says Hall, "they love to hear the story behind it."
Bourbon-maker Jonathan Likarish of Ironroot Republic in Denison thinks "sense of place" is the best definition of terroir. "Our whiskey," says Likarish, "reflects not only who we are, but where we're from."
And that pride of place is something all Texans share. We're always eager to support things made right down the road.
Says Natasha DeHart of Witherspoon Distillery in Lewisville— "We want to band together with other local distillers and put Texas on the map. That way, we all win."

MEET YOUR MAKERS
FIRESTONE AND ROBERTSON DISTILLING COMPANY—FORT WORTH
TX Straight Bourbon
Yellow Dent Corn, Soft Red Winter Wheat
Aged 4 or more years
frdistilling.com
North Texas' first official bourbon makers, Troy Robertson and Leonard Firestone, along with head distiller Rob Arnold, have stunning new digs. F&R's 112-acre Whiskey Ranch in Southeast Fort Worth is said to be the largest bourbon-making facility west of the Mississippi. Their 50-foot-tall copper still is a sight to behold. The distillery's aged TX Bourbon first hit the shelves in 2017, after a fiveyear wait. During that time, F&R built a brand with their popular TX Blended Whiskey, which has won its share of awards. Arnold, who hails from Kentucky and studied molecular science, says their proprietary yeast strain, derived from a pecan nut and used in fermentation, is what gives their bourbon its unique flavor. TX Bourbon has a floral nose and tastes of dark fruit, sweet spice and oak.
HERMAN MARSHALL—GARLAND
Texas Bourbon Whiskey
77% Yellow Dent Corn, 23% Malted Barley
Aged 4 years
dallasdistilleries.com
Herman Beckley and Marshall Louis turned a long-time friendship into Dallas County's first whiskey distilling company. Their product line includes aged bourbon, rye and single-malt whiskeys. After years of experimenting, they opened their doors in 2012 and quickly gained recognition when their bourbon took a silver medal at the American Distilling Institute's 2013 Spirit Competition.
Their corn, sourced from the Texas Panhandle, is ground in-house, and the mash is fermented in open wood tanks that Beckley crafted himself from Louisiana swamp cypress. Their Scottish-style still has been built to their unique specifications. The bourbon is aged for four years and no longer. Says Beckley—longer aging would create wood notes too strong for their flavor profile. The nose is described as light wood with hints of gingerbread, caramel and apple. The mouthfeel is smooth and buttery.
IRONROOT REPUBLIC—DENISON
Harbinger Straight Bourbon Whiskey
95% Corn—Non-GMO Yellow Dent Corn, Bloody Butcher Corn, Peruvian Purple Corn, Flint Corn plus Rye
Aged 2 to 3 years
ironrootrepublic.com
The new kids on the block are the Likarish brothers, Jonathan and Robert, whose distillery has been racking up awards and notice. The name Ironroot is a nod to hometown hero, T.V. Munson, whose experiments with fungus-resistant rootstock helped save the vineyards of France just before the turn of the 20th century. Harbinger, the company's flagship bourbon, is made from non-GMO corn grown just 20 miles away in Sadler and milled in nearby Muenster. Heirloom varieties—Bloody Butcher corn and Peruvian Purple corn— are used as flavoring grains. Flint corn and rye round out the mash bill. The distillery's location near Lake Texoma, says Likarish, has a special microclimate, which creates unique aging conditions. When asked to describe Harbinger's flavor profile, he says: "I like to call it brunch. Imagine maple syrup being poured over buttered pancakes with a dollop of fresh red berries on top.
KIEPERSOL—TYLER
Jimmy's Straight Texas Bourbon
75% Corn, 25% Wheat, Rye, Malted Barley
Aged 4 years
kiepersol.com
Well known for their impressive Old World-style wines, Kiepersol in Tyler has added three distilled spirits to their 20-year success story. Their aged rum is named a er founder Pierre de Wet, their vodka after his father Dirk and their aged Texas bourbon after 95-year-old Jimmy Hines, a WWII torpedo bomber pilot who still farms with his wife Birdie in Jacksonville, Texas. (He is also a grandfather-in- law of Kierpersol's proprietor Marnelle Durrett.) Jimmy's corn and malted grains are sourced in Texas and aged for four years in charred white oak barrels. The whiskey has a deep bronze hue and a flavor reminiscent of toffee and vanilla with a dash of cinnamon. Most recent accolade: a gold medal at the 2018 North American Bourbon & Whiskey Competition.
WHISKEY HOLLOW DISTILLING—VALLEY VIEW
Whiskey Hollow Gold Bourbon
58% Yellow Dent Corn plus Wheat and 2-Row Malted Barley
Aged 2 to 3 years
whiskeyhollowdistillery.com
At $150 a bottle, Whiskey Hollow Gold is aptly named. The most expensive bourbon in Texas, it was deemed the best in the state last year by the executive chefs at the Gaylord Texan. Owner and head distiller Les Beasley says his attention to detail and his clean, local ingredients make the difference. "Bourbon is the hardest spirit in the world to make—if you're doing it right." A history buff, Beasley uses a "double thumper" method of distillation and says he's the only one using this early American technique. He describes his bourbon's flavor as extremely complex. "On first sip, there's a poof of alcohol that quickly disappears, leaving a gentle oak aftertaste. The second sip is caramel and vanilla. Each sip thereafter keeps you guessing." Bourbon, like good brandy, he says, should warm the heart.
WITHERSPOON DISTILLERY—LEWISVILLE
Witherspoon Straight Bourbon Whiskey
70% Yellow Dent Corn, 20% Rye, 10% Malted Barley
Aged at least 4 years
witherspoondistillery.com
Located in Lewisville's Historic Old Town, Witherspoon Distillery was founded by husband-and-wife Ryan and Natasha DeHart with Ryan's fellow U.S. Marine and friend, uentin Witherspoon. The DeHarts' interest in brewing and distilling began while the couple lived and worked in Germany. They experimented with recipes prior to opening their rst space in 2012, then in 2015 expanded to their current location. Once a Piggly Wiggly grocery store, the converted space is outfitted with state-of-the-art solar panels and has lots of room to engage the community. "Local isn't just a hipster tagline for us," says Natasha. Chris Garcia at MBS Seed Company in Denton sources their local grain, and they're working with TexMalt in Fort Worth on locally malted barley. Witherspoon Straight Bourbon is smooth and creamy, lightly spiced with a lingering warm finish.
You'll want to drink it neat.
RECIPES
FEED COMPANY'S OLD-FASHIONED WITH TEXAS BOURBON
BOURBON BUTTERNUT SQUASH SOUP WITH ROASTED MUSHROOMS
OLD FASHIONED TENDERLOIN WITH ORANGE-BOURBON
WHAT IS BOURBON?
Bourbon is a whiskey made in the U.S. from a mash that's at least 51 percent corn. It must be distilled at 160 proof or less, enter the barrel at 125 proof or less and bottled at no less than 80 proof. It must be aged in new, charred-oak barrels and cannot contain additives. Straight bourbon must be aged at least two years. If less than four, the age must be stated on the bottle.