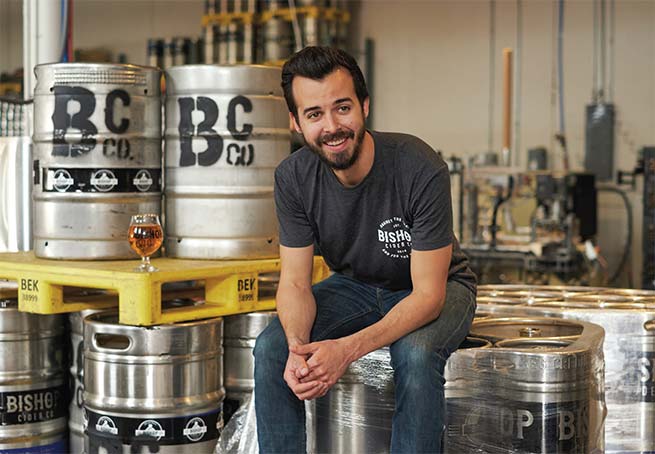 Bishop Cider Co. founder Joel Malone at his second location, Cidercade, where most of the cider-making is done. Photo: Courtesy of Bishop Cider Co
Texans tend to escort fall into their kitchens long before it's reflected in the landscape or seen dropping to the sidewalks in so many colors from the sweet-gum trees. The season is wholesome and brimming with warm, welcoming flavors akin to its most beloved fruit—the apple. Whether savored in nostalgic flaky-crusted pies or bobbed for in wooden barrels at Halloween carnivals, apples are intrinsically bound to both the season and our American heritage.
History books say that a cider press was aboard the Mayflower, a fact not lost on several trailblazing local beverage-makers who are helping revive our country's most historic and longstanding refreshment: hard apple cider. Igniting the local craft-cider revolution are Joel and Laura Malone of Bishop Cider Co., Alan Kunst, Jr. of Outlaw Cider Co. and Josh Price of the new Trinity Cider.
Say apple cider, and most people think of the sweet, spiced beverage found alongside eggnog at the grocery store throughout fall and winter. You might think mulled, or warm and steaming in a mug. But this vision is a far cry the original hard cider our country was founded on. The inaugural beverage that kept our forefathers satisfied for months at a time was dry, fruit forward and awash with effervescence.
What exactly is hard apple cider? Very simply: fermented apple juice. The process and results can be complex, but at its core hard cider is a blend of different apple varietals that undergoes fermentation. Through this process the sugars are turned into alcohol, then carbonation is added to create the fizzy mouthfeel. At around 4.5 to 6 percent alcohol on average, hard apple cider can be a less boozy choice when compared to wine or craft beer. Aging processes and flavors vary, but the overall result is a cider that's refreshing and gluten-free.
What exactly is hard apple cider? Very simply: fermented apple juice.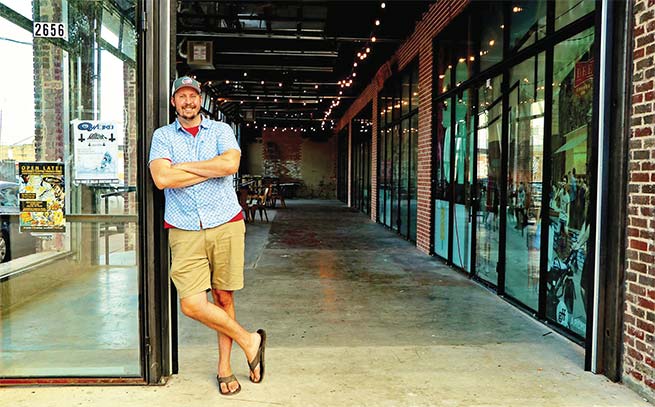 Trinity Cider's founding partner and head cider maker Josh Price at his new Deep Ellum cidery.
"This is a great opportunity for me to really get creative….We're not going to play it safe."
—Josh Price, Trinity Cider
When English settlers arrived on the Eastern seaboard in the early 1600s, the soil was lush and ideal for planting the apple seeds and saplings they'd brought along. Barley and other grains needed for beer production were more difficult to cultivate, so hard cider remained the drink of choice for early Americans. President John Adams was known to drink a tankard every day for breakfast.
There was even a diluted version called Ciderkin that was brewed for children, seeing as water was often unsafe to consume. Our country's first traveling nurseryman, the legendary Johnny Appleseed, took seeds westward in the early 1800s, spreading cider-love as our young nation hungrily expanded. In the latter 19th century, hard cider's popularity waned while the thirst for beer—the preferred drink of Irish and German immigrants—increased. The death blow was dealt in 1920 when Prohibition was enacted, and hundreds of acres of apple orchards were burned to the ground, bringing the once-flourishing industry to a halt.
For the first time in over 100 years, we're seeing a resurgence in cider-making take root here in North Texas. Like the craft beer scene, cider has evolved to include elaborate styles and recipes Because sprawling apple orchards are not prevalent in our region, local cider producers purchase fresh apple juice from orchards in the Northwest.
Bishop Cider Co. went against the grain and opened the first cidery in 2014 in Dallas' culturally charged Bishop Arts District. At the grand opening, a staggering 2,000 people showed up to the tiny, 704-square-foot space.
"Dallas was always very receptive of us," says Joel Malone, who opened Bishop Cider Co. with his wife, Laura. "It was just really cool to see everyone embrace something that was different." The pair took an interest in cider-making that evolved into a full-scale home project with 30 half-gallon tanks fermenting inside their pantry. "We were trying every cider we could get our hands on and doing a lot of home cider-making," Joel says. "That's when we started taking it more seriously."
Today, they've expanded to a second location, Cidercade, where they do the bulk of their cider production. Located in the Design District, the taproom combines the fun-loving attitude of youth, featuring over 165 arcade games, and the joys of adulthood with 24 ciders.
Bishop Cider Co. creates a wide selection of dry, semi-sweet and sour ciders with popular flavor combinations such as Crackberry (cranberry and blackberry) and Blood Orange. "Being able to bring together people who are like-minded has been our goal," adds Laura. "It's that little bit of culture and funk we think Dallas needs to be more diverse."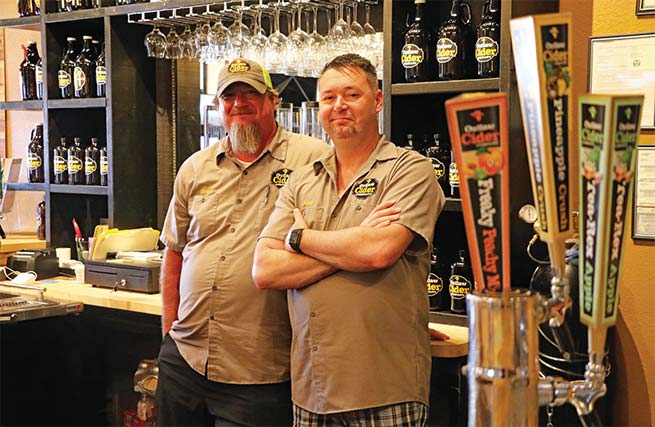 Photo: Lauren Coe
Veteran cider-maker Alan Kunst, Jr., of Outlaw Cider Co. in Grapevine brings a different set of skills to the table. Before scouring the orchards, he was master of the vineyards, and his years as an award-winning winemaker at Sloan & Williams Winery have instilled in him a knack for science and unique flavors. "My vision was 'let's start slowly, let's start local'," Kunst says, "and Shawn has been paramount."
In under a year, tasting-room manager Shawn Spangler has boosted the company's distribution to over 65 eateries, pubs and retail stores around North Texas.
With six core ciders and a few medals from the Seattle Cider Awards under the duo's belt, there's a bright future for this budding business. "I've designed ciders that I think appeal to a lot of different of people," Kunst says. "The way I craft cider is very similar to the way I craft wine." Kunst creates complex ciders with a "magical blend" of apples made up of seven varietals he steadfastly believes in. Together, Kunst and Spangler have created exotic flavors such as Tea-Rex, brewed with tea and wildflower honey. When asked about the future of cider in Dallas, the Outlaw team embraces the competition. "It's going to be phenomenal," Kunst says. "We're excited, we even carry (other) local ciders at (our tasting room). I'm not afraid to bring in other ciders from around the world because I think cider should be enjoyed."
Deep Ellum welcomes Trinity Cider in early fall. Head ciderist Josh Price returned to Texas after an eight-year stint in Napa Valley honing his skills as a winemaker. Now, with construction underway, Price is enthusiastic about bringing a new product to a neighborhood that's coming into its own. "Over the next few years, I feel like this area is just going to explode," Price says. "It's the perfect place for us to start this cider business, and the culture of Deep Ellum is basically the same culture we're trying to establish with Trinity Cider." He explains that this dream has been in the works for two years, and that he's anxious to bring a crisp, clean cider to the Dallas market with a finish similar to Champagne. "This is a great opportunity for me to really get creative," Price says. "We're not going to play it safe."
At the end of this year, Locust Cider, a transplant from Woodinville, WA, will stake out its first out-of-state location in Fort Worth's Near Southside neighborhood. That means by 2019, North Texas should have five functioning cideries, with Bishop overseeing two locations. All expect to release seasonal flavors and strive for expanding distribution. A common thread binding all is excitement over a growing cider culture in Dallas-Fort Worth.
"With the rising tide lifting all boats," says Joel Malone, "I think it's going to be great for everybody."
Look for local ciders at area liquor and grocery stores, and at bars and restaurants. For tasting room hours and options for online ordering, visit these websites:
bishopcider.com, cidercade.com
RECIPES
Cider-Marinated Pork Chops with Apples, Leeks and Thyme