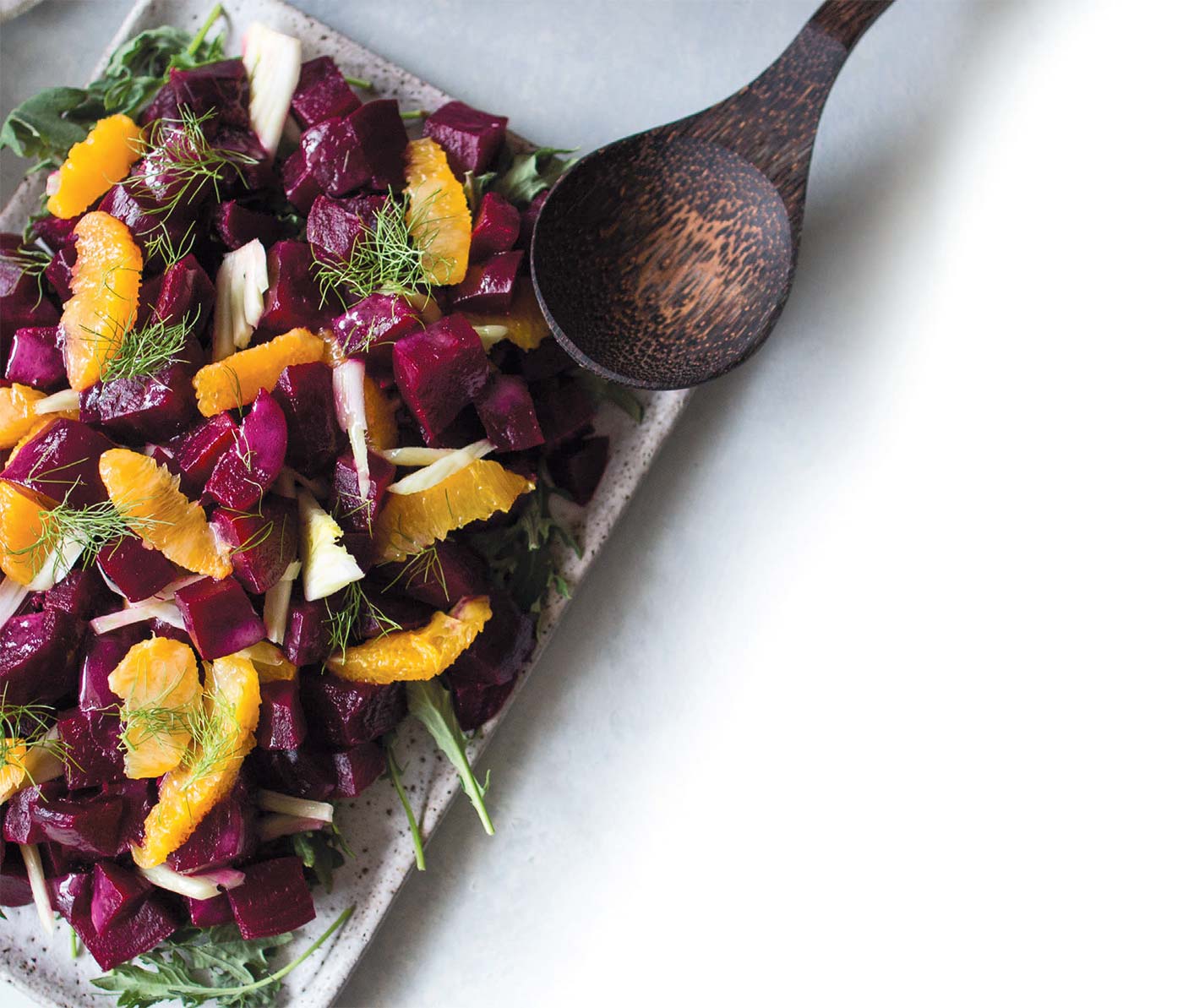 This beet salad uses winter citrus to create a transition into spring. Sweet roasted beets, fennel and orange come together with a savory and lightly sweet white-wine vinaigrette.
Makes 8 servings
8 medium-sized beets
1 shallot, peeled
1 tablespoon canola oil
2 tablespoons white wine vinegar
1 teaspoon honey
1 teaspoon Dijon mustard
¼ cup extra-virgin olive oil
1 medium-sized fennel bulb, sliced thinly
2 oranges, segmented
2 cups arugula
Preheat oven to 425°F. Place beets and shallot on a foillined baking sheet, rub with canola oil and cover with another piece of foil. Roast for 45 minutes, then remove the shallot. Roast beets 40 minutes longer or until fork-tender.
Once beets are slightly cooled, slice the ends off and remove the peel with your hands. Slice beets into bite-size pieces.
In a blender or food processor, place the roasted shallot, white wine vinegar, honey, Dijon mustard and olive oil. Puree until the vinaigrette is emulsified.
In a large bowl, combine beets, fennel, oranges and arugula with the vinaigrette and toss to combine. Alternatively, you can style on a serving plate and drizzle the dressing on top for a nicer presentation. The beets and vinaigrette can be made up to a day in advance.
MEREDITH STEELE is a recipe developer, food writer, food photographer and author of InSockMonkeySlippers.com, an award winning family food blog celebrating creative and fresh foods. Her recipe development and photography company, MBS Recipe Development specializes in multimedia recipe development for commercial and small business who's clients include everyone from Ziploc® to small wineries. Meredith's work has been published online, in various print media, and has been nominated for the SAVEUR awards. She can also be found across the pond writing a monthly column for JamieOliver.com. When Meredith is not in the kitchen, she's roaming Dallas, Texas with her husband, curly-headed pixie of a daughter, and big floppy-eared dog.