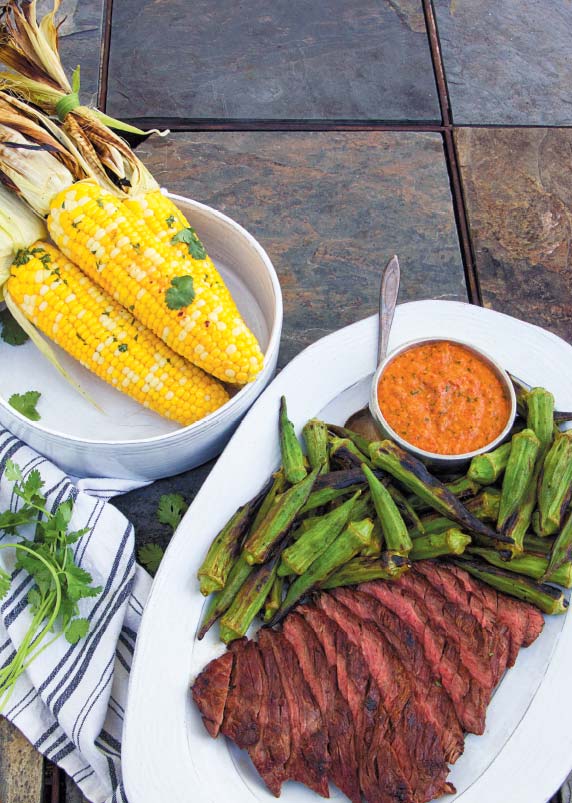 Skirt steak is the answer, when you're feeding a crowd. A citrus marinade helps tenderize the meat, then it's off to the grill for a quick sear. While the steak is resting, a unique chimichurri is made with roasted red bell peppers—a delicious accompaniment to an exquisite summer meal.
Serves 6
Prep Time: 20 minutes plus marinating
Cook Time: 8 minutes
For Skirt Steak
½ cup orange juice
1 tablespoon lime juice
2 tablespoons grapeseed or canola oil
1 tablespoon soy sauce
1 tablespoon honey
½ teaspoon chili powder
2 ½ pounds skirt steak (flank and flap steak can be used as well)
1 teaspoon kosher salt
For chimichurri
2 red bell peppers
⅓ cup extra-virgin olive oil
½ cup lightly packed parsley leaves
1 tablespoon fresh oregano leaves
1 tablespoon sherry vinegar
1 small shallot, minced
Salt and pepper to taste
Place orange juice, lime juice, oil, soy sauce, honey and chili powder in a blender, and blend for 30 seconds. Place flank steak in a rimmed baking dish and pour marinade over it. Cover and refrigerate for at least 3 hours or overnight.
Preheat a charcoal or gas grill to medium-high. Grill the red bell peppers for the chimichurri for 10 minutes or until charred. Transfer to a paper bag and seal, this will steam the peppers and help loosen the skins.
Remove the steak from the marinade, season with salt, and grill for 4 minutes on each side for medium-rare. Transfer to a cutting board, cover lightly with foil, and rest for 5 to 10 minutes.
While the steak is resting, peel the charred skin from the bell peppers, discarding the stem and seeds. Place the peeled peppers into a blender along with olive oil, herbs, vinegar and shallot, and pulse until pureed but with some texture. Add salt and pepper to taste.
When ready to serve, slice the steak against the grain into thin strips and serve with Red Bell Pepper Chimichurri.
Note: You can use the broiler to char the peppers. Blacken on all sides and then follow the remaining direction
MEREDITH STEELE is a recipe developer, food writer, food photographer and author of InSockMonkeySlippers.com, an award winning family food blog celebrating creative and fresh foods. Her recipe development and photography company, MBS Recipe Development specializes in multimedia recipe development for commercial and small business who's clients include everyone from Ziploc® to small wineries. Meredith's work has been published online, in various print media, and has been nominated for the SAVEUR awards. She can also be found across the pond writing a monthly column for JamieOliver.com. When Meredith is not in the kitchen, she's roaming Dallas, Texas with her husband, curly-headed pixie of a daughter, and big floppy-eared dog.