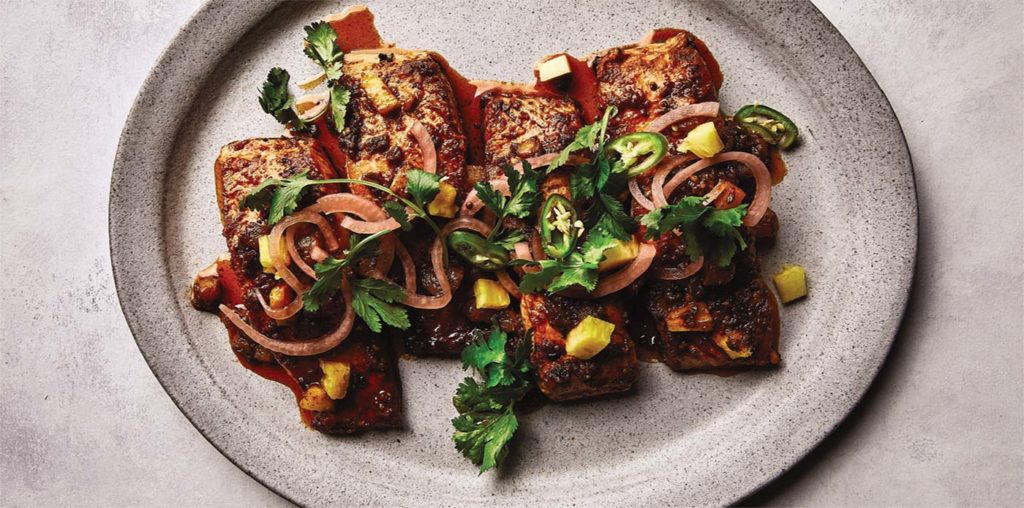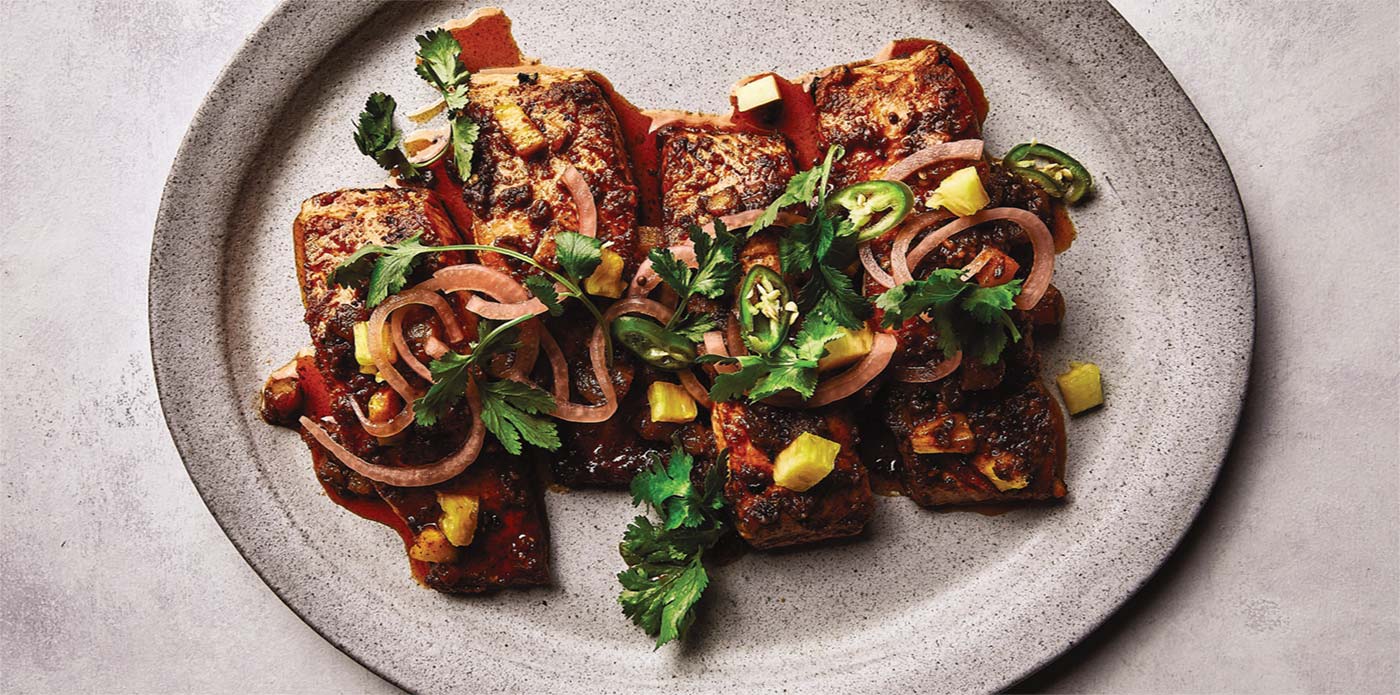 Makes 4 servings
2 garlic cloves, peeled
¾ cup small-diced fresh pineapple
1 teaspoon distilled white vinegar
2 teaspoons ancho chile powder or chipotle chile powder
1 teaspoon chili powder
¼ teaspoon ground cumin
¼ teaspoon dried oregano
¼ teaspoon ground cinnamon
2 tablespoons freshly squeezed lime juice (about 1 lime)
2 tablespoons freshly squeezed orange juice (about ½ orange)
¼ cup low-sodium chicken broth
¾ teaspoon kosher salt
2 tablespoons avocado oil
4 center-cut salmon fillets (6 to 8 ounces each)
¼ teaspoon freshly ground black pepper
Quick-Pickled Red Onions (You can find this recipe at edibledfw. com or on page 248 of Alex's Cookbook: The Comfortable Kitchen)
¼ cup roughly chopped fresh cilantro leaves, optional for serving
1 tablespoon thinly sliced serrano pepper, optional for serving
IN a food processor or blender, combine the garlic, ¼ cup of the diced pineapple, the vinegar, ancho powder, chili powder, cumin, oregano, cinnamon, lime juice, orange juice, broth, and ¼ teaspoon of the salt. Blend the pastor sauce until smooth.
IN a nonstick skillet, heat the avocado oil over medium-high heat. Season the salmon with the remaining ½ teaspoon salt and the pepper. Place the salmon in the hot skillet and cook until golden brown on each side, about 2 minutes per side. Reduce the heat to medium and pour the pastor sauce around the salmon in the skillet, along with the remaining ½ cup diced pineapple.
CONTINUE to cook the salmon, uncovered and simmering, until just cooked through, 3 to 4 minutes.
TRANSFER the salmon to a large serving platter and pour the sauce over the fillets. Top with the pickled red onions. If desired, garnish with cilantro and a few slices of serrano pepper if you're feeling extra spicy!
From The Comfortable Kitchen by Alex Snodgrass. Copyright © 2021 by Alex Snodgrass. Reprinted by permission of William Morrow, an imprint of HarperCollins Publishers.
Alex Snodgrass is the author of The Comfortable Kitchen (William Morrow Cookbooks). Read her blog (thedefineddish.com). Follow her on Twitter (@alxsnod) and Instagram (@thedefineddish).