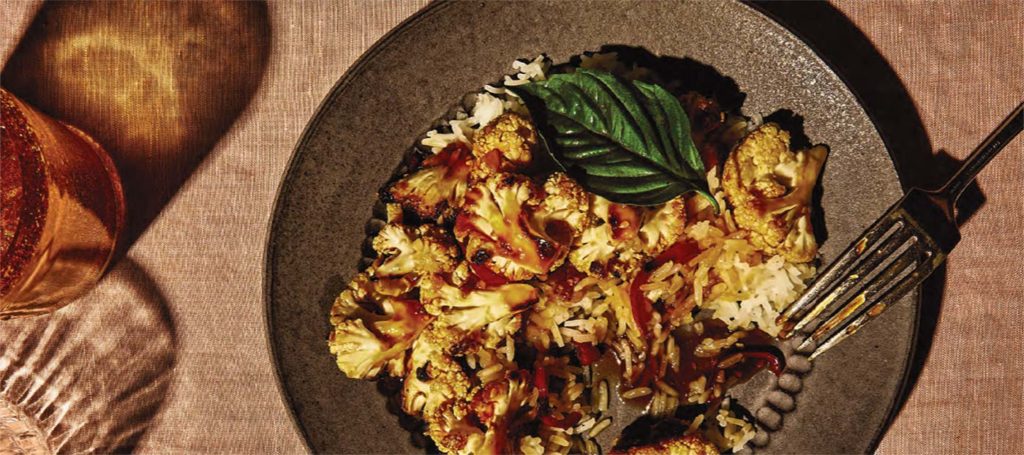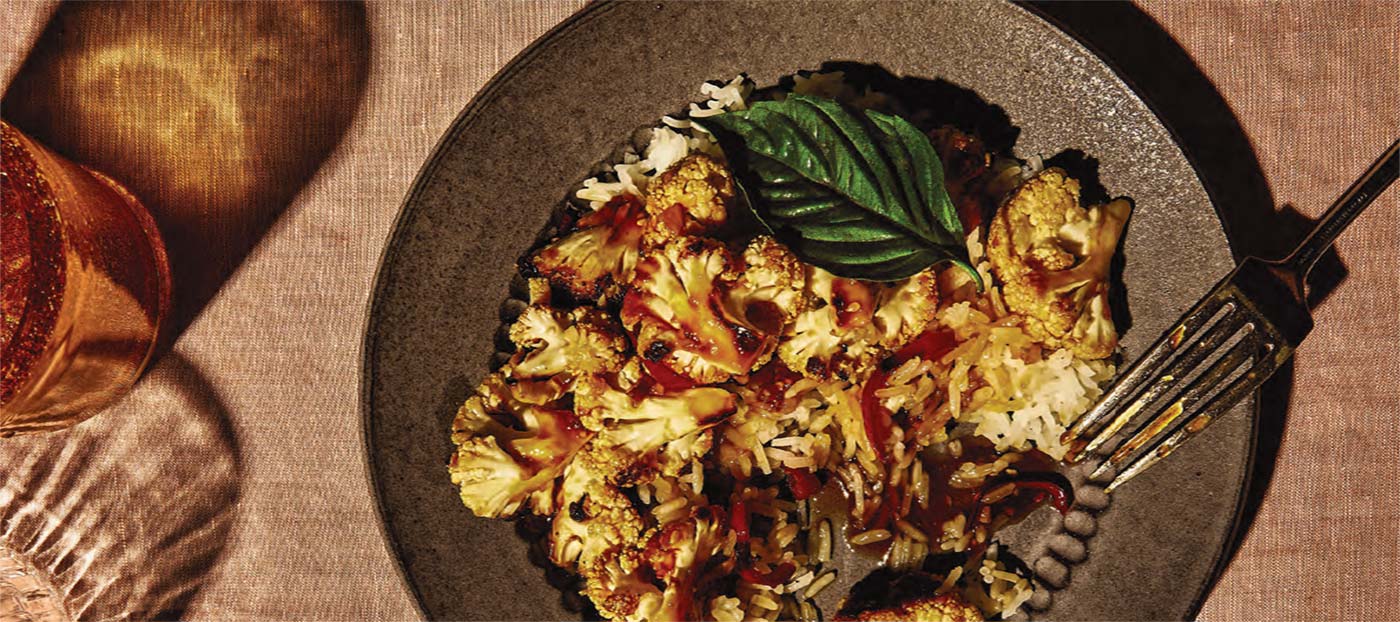 Makes 2 servings
In this meatless meal, cauliflower gets promoted from a side dish to the main dish! I love how easy and flavorful this sheet pan cauliflower "stir-fry" is. It's sweet, savory, and a little spicy from the Fresno chile. Served over a bowl of steamed rice, this is a veggie dish that any hungry foodie can get behind!
1 large head caulifl wer, cut into bite-size flo ets (about 6 cups)
¼ cup avocado oil
1 teaspoon kosher salt
1 teaspoon white sesame seeds, plus more for garnish
1 teaspoon toasted sesame oil
¼ cup coconut aminos
1 teaspoon fis sauce (optional; non-vegetarian)
1 teaspoon rice vinegar
¼ cup honey
¼ cup low-sodium vegetable broth
2 garlic cloves, minced
1-inch piece fresh ginger, peeled and grated
1 teaspoon arrowroot flou
¼ cup seeded and roughly chopped Fresno chiles (about 2 small chiles)
Steamed rice, optional for serving
2 tablespoons finel chopped fresh cilantro or Thai basil, for serving
PREHEAT the oven to 450°F. Line a sheet pan with parchment paper.
SPREAD the cauliflower on the lined pan. Drizzle with the avocado oil and sprinkle with the salt. Toss until the cauliflower is well coated in the oil. Spread into an even layer and roast for 10 minutes.
MEANWHILE, heat a small saucepan over medium heat. Add the sesame seeds and cook, stirring often, until the seeds are fragrant and lightly toasted, 1 to 2 minutes. Add the sesame oil, coconut aminos, fish sauce (if using), rice vinegar, honey, vegetable broth, garlic, and ginger and stir to combine.
IN a small bowl, make a slurry by combining the arrowroot flour and 1 tablespoon water. Whisk until well combined. While stirring the sauce, slowly add the slurry to the saucepan and cook, stirring often, until the sauce thickens, about 5 minutes. Remove from the heat and set aside.
ADD the Fresno chiles to the sheet pan with the roasted cauliflower and toss. Roast until the chiles are softened and the cauliflower is golden brown, 6 to 10 minutes.
POUR the sauce over the cauliflower mixture and gently toss until the cauliflower is well coated. Spread into an even layer and roast for 2 to 3 minutes to allow the sauce to caramelize over the cauliflower.
SERVE over rice (if using) and garnish with sesame seeds and cilantro or Thai basil. Serve immediately!
From The Comfortable Kitchen by Alex Snodgrass. Copyright © 2021 by Alex Snodgrass. Reprinted by permission of William Morrow, an imprint of HarperCollins Publishers
Alex Snodgrass is the author of The Comfortable Kitchen (William Morrow Cookbooks). Read her blog (thedefineddish.com). Follow her on Twitter (@alxsnod) and Instagram (@thedefineddish).