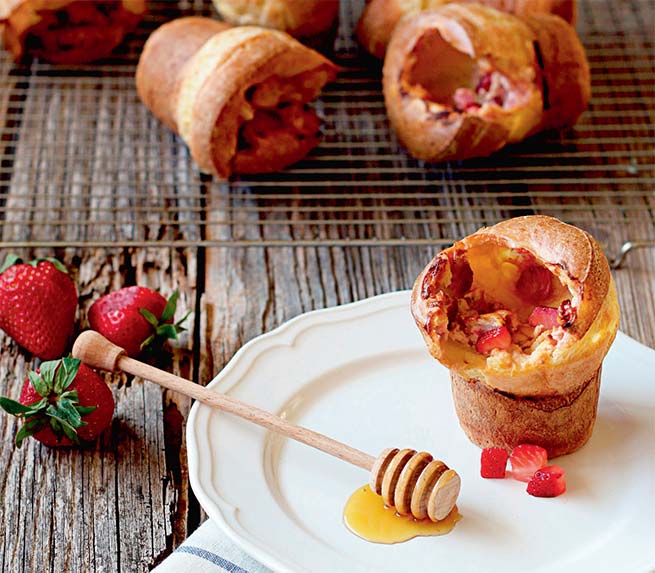 Crispy on the outside, airy on the inside with a surprise—a strawberry-and-goat-cheese center.
Makes 6 large or 12 small popovers
Butter
2 cups milk
2 cups all-purpose flour
½ teaspoon baking powder
¼ teaspoon sea salt
3 eggs, at room temperature
4 ounces fresh goat cheese
2 tablespoons honey
¾ cup fresh strawberries, diced
Preheat oven to 450°F. Prepare a 6-count popover tin or 12-count muffin tin by lightly coating the compartments with butter.
In a saucepan over medium-low, heat milk until warm to the touch, about 110°F.
In a bowl, sift together flour, baking powder and salt.
Using a stand mixer with a whisk attachment or electric hand mixer, beat the eggs on medium-high until pale and foamy—about 3 minutes. With the mixer still running, slowly add the milk. Next, add the flour mixture and combine until just incorporated. Be careful not to overmix. (It's fine if the batter is still lumpy.) Set aside.
In a medium bowl, combine goat cheese and honey and blend until smooth. Gently stir in strawberries.
Pour the batter into the prepared tin, filling three-quarters of each compartment. Next, add a spoonful of goat cheese-strawberry mixture to the center of each.
Bake for 15 minutes. Without opening the oven, reduce heat to 375°F and bake an additional 30 minutes, or until the popovers have risen and are golden. If you are using a smaller muffin tin, the cooking time will be reduced. Start watching after you reduce the heat and pull from the oven once golden.
MEREDITH STEELE is a recipe developer, food writer, food photographer and author of InSockMonkeySlippers.com, an award winning family food blog celebrating creative and fresh foods. Her recipe development and photography company, MBS Recipe Development specializes in multimedia recipe development for commercial and small business who's clients include everyone from Ziploc® to small wineries. Meredith's work has been published online, in various print media, and has been nominated for the SAVEUR awards. She can also be found across the pond writing a monthly column for JamieOliver.com. When Meredith is not in the kitchen, she's roaming Dallas, Texas with her husband, curly-headed pixie of a daughter, and big floppy-eared dog.