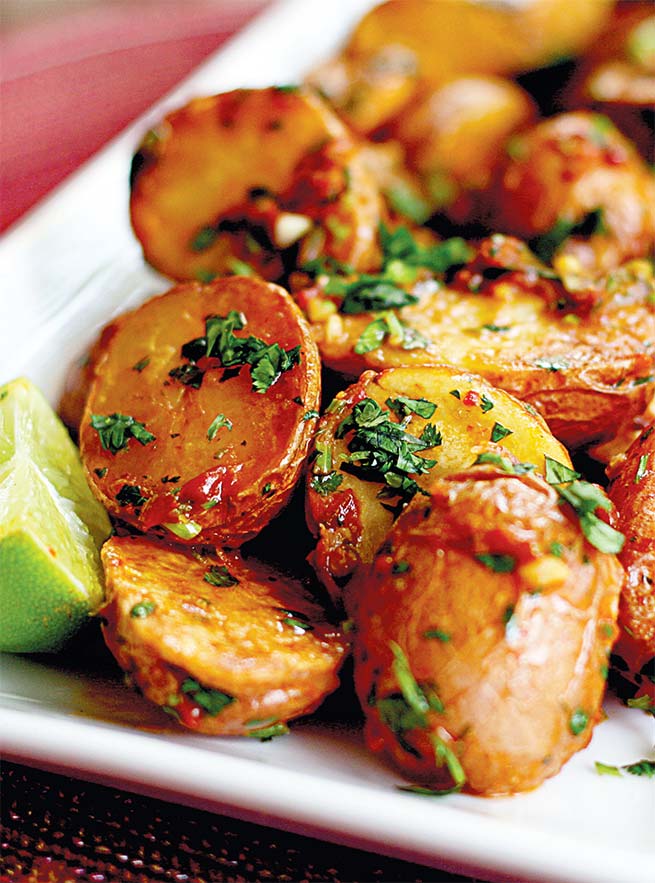 Smoky and spicy with a fresh hint of lime, these potatoes are the perfect lively side for a Fourth of July meal.
Serves 6
Prep Time: 15 minutes
Cook Time: 35 minutes
2 pounds small new potatoes, sliced in half
1 tablespoon plus 2 teaspoons extra-virgin olive oil (divided use)
½ teaspoon kosher salt
1 chipotle pepper packed in adobo sauce
2 teaspoons adobo sauce
1 garlic clove, minced
1 tablespoon lime zest
1 tablespoon fresh lime juice
2 tablespoons fresh chopped cilantro
Preheat oven to 400°F.
Place potatoes on a baking sheet and drizzle with 1 tablespoon of olive oil. Add salt and toss with your hands until the potatoes are thoroughly coated. Place in the oven for 35 minutes, stirring once halfway through, until golden and can be easily pierced with a fork.
While the potatoes are cooking, finely chop the chipotle pepper and place in a large bowl. Add adobo sauce (that the peppers are packed in), garlic, lime zest, lime juice and the remaining olive oil. Whisk everything together until combined.
Once the potatoes are roasted and still hot, pour them into the chipotle-lime dressing. Add cilantro and gently stir to combine. Serve.
MEREDITH STEELE is a recipe developer, food writer, food photographer and author of InSockMonkeySlippers.com, an award winning family food blog celebrating creative and fresh foods. Her recipe development and photography company, MBS Recipe Development specializes in multimedia recipe development for commercial and small business who's clients include everyone from Ziploc® to small wineries. Meredith's work has been published online, in various print media, and has been nominated for the SAVEUR awards. She can also be found across the pond writing a monthly column for JamieOliver.com. When Meredith is not in the kitchen, she's roaming Dallas, Texas with her husband, curly-headed pixie of a daughter, and big floppy-eared dog.