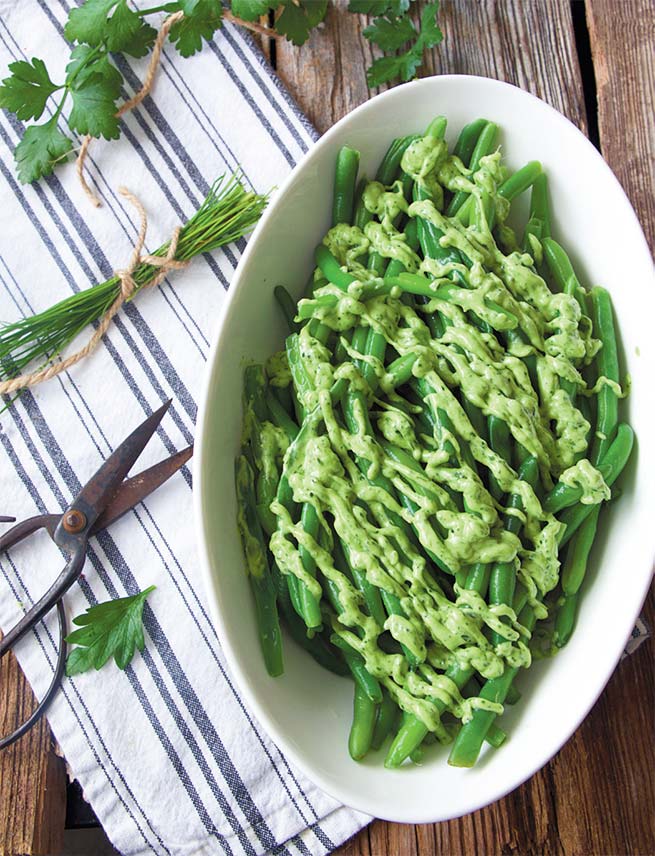 This is a gorgeous but simple side dish that screams summer. The green beans have been blanched and chilled with a flavorful creamy dressing using fresh garden herbs.
Serves 6
Prep Time: 20 minutes
Cook Time: 10 minutes
1 ½ pounds green beans, ends snapped off
1 teaspoon kosher salt
⅓ cup good quality mayonnaise
⅓ cup sour cream
2 tablespoons fresh lemon juice
2 tablespoons chopped chives
2 tablespoons chopped parsley
1 tablespoon chopped tarragon
1 anchovy fillet
1 small garlic clove
Salt and pepper to taste
Bring a large pot of water to a boil. Add green beans and salt, and boil for 8 minutes or until tender but still vibrantly green. Remove the green beans and immediately place in a bowl of ice water to stop the cooking process and chill. Once the green beans are cold, drain water, pat dry, and place in a serving dish.
In a food processor or blender, combine the remaining ingredients and puree until smooth. Add salt and pepper to taste. Just before serving, spoon dressing over the green beans.
Note: The green beans and dressing can be made a day in advance.
MEREDITH STEELE is a recipe developer, food writer, food photographer and author of InSockMonkeySlippers.com, an award winning family food blog celebrating creative and fresh foods. Her recipe development and photography company, MBS Recipe Development specializes in multimedia recipe development for commercial and small business who's clients include everyone from Ziploc® to small wineries. Meredith's work has been published online, in various print media, and has been nominated for the SAVEUR awards. She can also be found across the pond writing a monthly column for JamieOliver.com. When Meredith is not in the kitchen, she's roaming Dallas, Texas with her husband, curly-headed pixie of a daughter, and big floppy-eared dog.