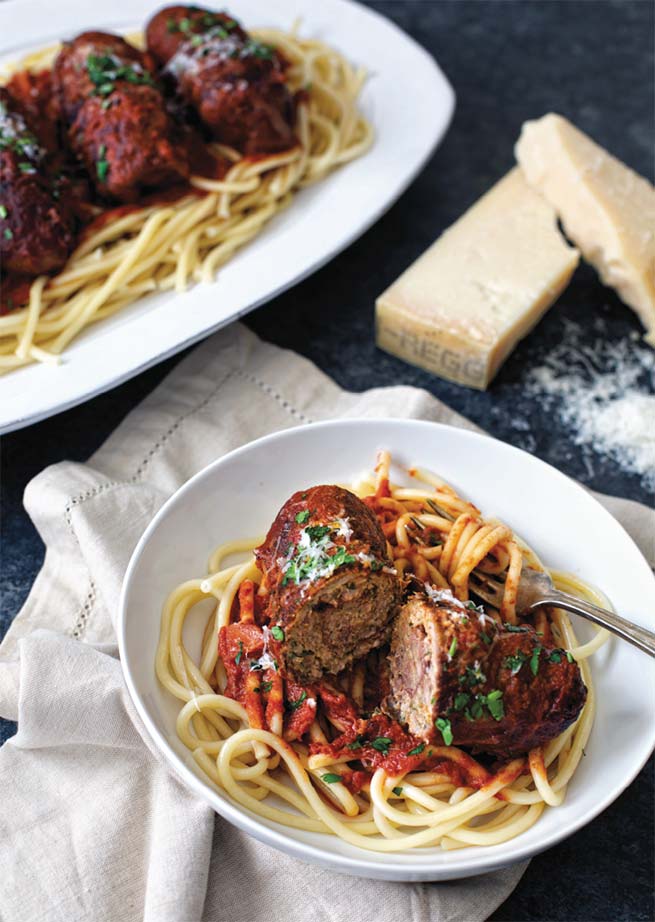 Beef and Sausage Braciole, thinly sliced sirloin wrapped around Italian sausage, is one of our go-to favorites when we have a snow day. When there's a possibility of being iced in, we head straight to Jimmy's Italian Food Store before the roads get bad. You can buy the ingredients anywhere for this meal, but no one else thinly slices the beef just right, and I have yet to find or make a better sausage than Jimmy's! Serve the braciole (pronounced bra-CHIO-leh) with buccatini or spaghetti for an impressive meal.
Serves 6
Prep Time: 40 minutes
Cook Time: 1 hour
1 pound mild Italian bulk sausage
1 cup grated Parmigiano Reggiano plus extra for garnish
1 large egg
¼ cup chopped parsley plus extra for garnish
2 slices white bread, cubed
⅓ cup milk
1 pound (or 6 slices) sirloin tip, thinly sliced to ⅛-inch thick
1 teaspoon kosher salt
2 tablespoons canola or grapeseed oil
3 garlic cloves, roughly chopped
2 shallots, roughly chopped
1 carrot, diced
1 celery stalk, diced
1 anchovy fillet
3 cups dry red wine, like Chianti Classico
1 (28-ounce) can crushed tomatoes
1 cup water
1 tablespoon tomato paste
2 bay leaves
In a large bowl, combine sausage, 1 cup Parmigiano Reggiano, egg, and ¼ cup parsley. In a smaller bowl, work bread and milk together with your hands until the milk is absorbed and the bread is slightly broken down. Add the bread mixture to the sausage and work in with your hands until combined.
Working with your fingertips, lightly and evenly press ½ cup of the mixture onto the center of a slice of sirloin, leaving a 1-inch border around the edges. Fold the 2 outer sides of the sirloin, just overlapping the filling. Then roll from the bottom up, creating a rolled package shape. Secure the package by tying 2 pieces of cooking twine around the roll on both ends. Alternatively, you can also secure it with a toothpick at the seal. Repeat with the remaining sirloin slices. Season with kosher salt.
In a large, heavy-bottom braising pot or Dutch oven, heat oil over medium-high heat. Once the oil is hot, sear the rolled meat until browned on all sides, about 2 minutes a side. Do this in batches of 3 if your pot is not large enough to avoid overcrowding.
Remove the meat rolls from the pot, reduce heat to medium and add garlic, shallots, carrot, celery, anchovy and a pinch of salt. Sauté until the anchovy has disintegrated, about 2 minutes. Add wine and stir to release the browned bits off the bottom of the pot. Cook for 5 to 10 minutes until the wine has reduced by half, then add the tomatoes, water, paste and bay leaves. Bring to a boil, then reduce to a very low simmer. Return the meat rolls to the pot, cover and simmer for 1 hour.
Once finished, remove the twine or toothpicks from the braciole. Transfer the braising liquid to a blender and puree until smooth. Taste, and add salt and pepper, if needed. Return the sauce to the pot along with the meat rolls and keep warm until ready to serve. Serve with cooked buccatini or spaghetti and garnish with fresh parsley and grated Parmigiano Reggiano.
MEREDITH STEELE is a recipe developer, food writer, food photographer and author of InSockMonkeySlippers.com, an award winning family food blog celebrating creative and fresh foods. Her recipe development and photography company, MBS Recipe Development specializes in multimedia recipe development for commercial and small business who's clients include everyone from Ziploc® to small wineries. Meredith's work has been published online, in various print media, and has been nominated for the SAVEUR awards. She can also be found across the pond writing a monthly column for JamieOliver.com. When Meredith is not in the kitchen, she's roaming Dallas, Texas with her husband, curly-headed pixie of a daughter, and big floppy-eared dog.