Photography by Teresa Rafidi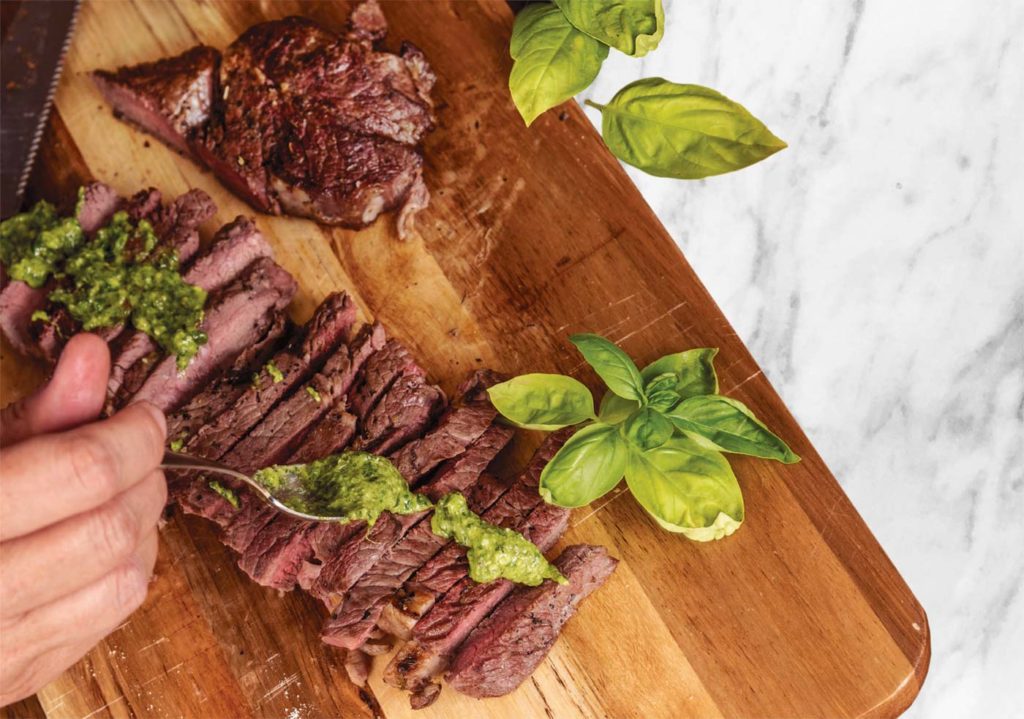 This recipe is for one steak, but it's easy to scale up for more.
Makes 1 steak
1 8-ounce steak
3 tablespoons butter
Salt and pepper
Herb Butter (recipe follows)
Garlic Pesto (recipe follows)
Remove the steak from the fridge 30 minutes before cooking.
Preheat the oven to 425°.
Place the skillet in the oven for 5 minutes to heat the skillet. Remove carefully and place on the stovetop over medium-high heat. Salt and pepper both sides of the steak. Place 3 tablespoons of butter in the skillet. Bring to high heat. Place steak in a skillet. Sear for 2 to 3 minutes, then fl ip and sear the other side for 2 to 3 minutes. Transfer immediately to the oven and use a thermometer to determine doneness.
Remember, the cooking time will vary depending on the thickness of the steak. Here are some cooking time estimates:
Medium Rare: 125° (cook 5 to 6 minutes)
Medium: 135° (6 to 7 minutes)
Medium Well: 145° (8 to 9 minutes)
Remove from skillet and allow to rest 7 to 10 minutes before slicing. Serve with Herb Butter and Garlic Pesto.
HERB BUTTER
Besides the pan-seared steaks, this goes great on potatoes, steamed veggies, roast chicken or rice.
Makes 1 pound
1 pound of butter
1 garlic clove, minced
2 tablespoons fresh rosemary, chopped
2 tablespoons fresh thyme, chopped
1 tablespoon fresh basil, chopped
Bring the butter to room temperature. Whip it with an electric mixer. Add the garlic and herbs and whip again. Roll the butter in plastic wrap to form a log. Refrigerate. Can be made a day ahead.
GARLIC PESTO
Makes 2 cups
2 cups packed fresh basil
3 to 5 garlic cloves (depending on size and taste)
3 tablespoons pine nuts
4 tablespoons lemon juice
¼ cup parmesan cheese, grated
3 tablespoons olive oil
Water as needed
Salt and pepper for taste
In a food processor, combine basil, garlic, pine nuts, If the pesto is too thick, add a little warm water to loosen. Transfer lemon juice and parmesan. Blend well. Add the oil slowly into the food processor while it's running to a bowl. Add salt and pepper to taste and mix well.