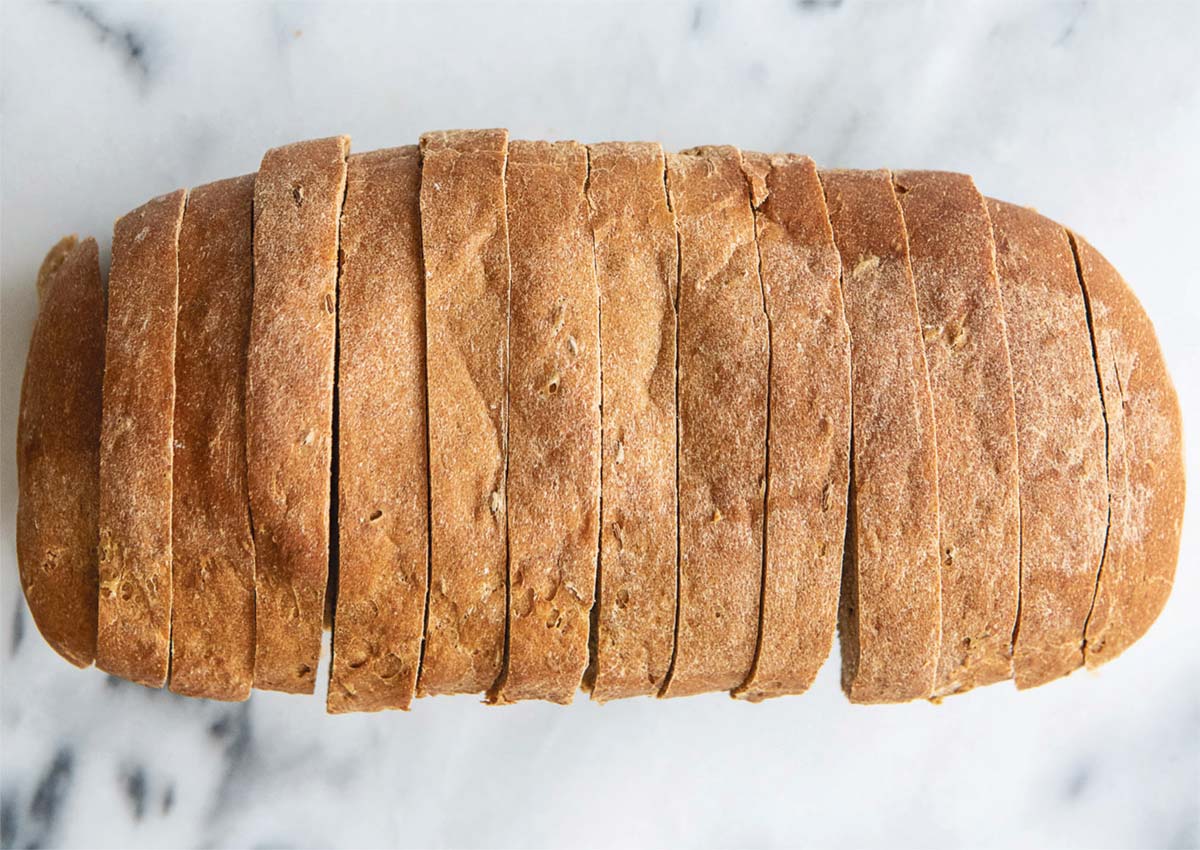 This is a straightforward yeast loaf that will produce rye bread in a couple of hours. Using half all-purpose or bread flour will result in a proper rise, but you may substitute in any Barton Springs Mill hard-red wheat flour, if you wish. The loaf will be squatter and denser.
Makes 1 loaf
1 c. warm water
1½ c. all-purpose or bread flour
1½ c. Barton Springs Mill whole-grain rye flour
2¼ t. (1 packet) instant yeast
2 T. molasses
2 T. soft butter
1½ t. salt
2 t. caraway seeds
Add all ingredients except the caraway seeds into the bowl of an electric mixer fitted with a hook attachment. Knead on low speed for 6 minutes. Increase the speed to medium for 2 minutes. Add the caraway seeds and knead 1 minute more on medium. The dough will be sticky and some of it may stick to the bottom of the bowl— this is okay. (If mixing by hand, add all the ingredients except the caraway seeds into a medium bowl and mix until everything is hydrated.
Turn the dough out onto a clean surface and knead by hand for 10 minutes—being careful not to incorporate too much extra flour into the dough. It will be sticky. Add the caraway seeds and knead just to incorporate.) Gather the dough into a ball, place in a greased bowl, cover with plastic wrap and let rest in a warm spot for 1 hour or until doubled in size. Turn out the puffy dough onto a lightly floured surface. Gently pat it into a rectangle roughly 8" x 6" using the flat palms of your hands and extended fingers. (Do not stretch or pull the dough; it will go as far as it wants to. Rye has a much more delicate gluten structure, so this dough is at greater risk of tearing.) Starting from the shorter edge, roll the dough away from you like a yoga mat, ending with the seam down on the counter. Rock the rolled dough back and forth to create an even log, equal to the length of your loaf pan. Spray the pan with cooking spray and transfer the log into it, seam-side down. Cover and allow the dough to proof for 45 minutes to an hour, until it rises to about an inch above the sides of the loaf pan. Meanwhile, heat the oven to 375°. If you'd like, brush the loaf with butter before baking.
Bake for 35 minutes, or until the internal temperature reaches 200°. Turn the loaf out of the pan and cool on a cooling rack.