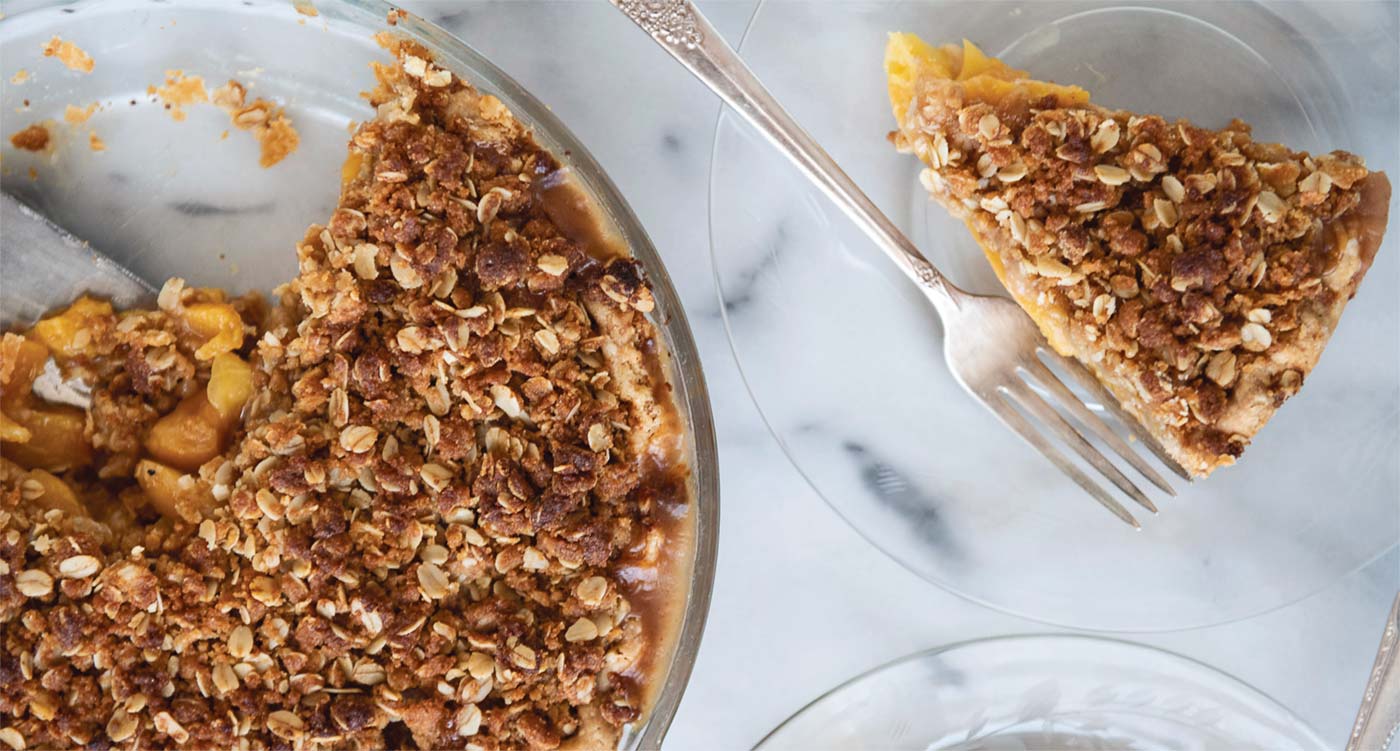 I have worked with Barton Springs Mill flours to develop a multi-duty, all-purpose flour. It requires the mixture of two different types of wheat: hard-red and soft-white. Barton Springs Mill offers many types of hard-red wheat—Rouge de Bordeaux, Marquis, Red Fife, Turkey Red and TAM 105—all will do here. There is only one soft-white wheat, Sonora, and it's a beaut. Both should be used in their '00' form, which is to say, the form in which as much of the bran has been sifted out as possible. If you'd like, you can simply use all of one type of flour. It will still come out beautifully.
Makes one 8-inch pie (with an extra disc of dough for later)
FOR THE PIE DOUGH
1¾ c. Barton Springs Mill hard-red wheat flour, type '00'
¾ c. Barton Springs Mill Sonora wheat flour, type '00'
1 T. sugar
¼ t. salt
1 c. cold butter, cubed
6 T. ice water
Toss together the flours, sugar and salt. Add the butter and rub it into the flour mixture until coarse crumbles remain. Add the water and mix by hand until the dough just comes together. Divide in half, form into 2 discs and wrap tightly in cling film. Refrigerate for at least an hour or up to 2 days. The dough may also be frozen at this point for up to 2 weeks.
FOR THE OAT-CRUMB TOPPING
½ c. Barton Springs Mill hard-red wheat flour
¼ c. Barton Springs Mill Sonora wheat flour
1 c. rolled oats (not instant)
1 c. brown sugar
1 t. salt
4 oz. butter
Mix together all the dry ingredients in a medium bowl. Melt the butter and pour over the top—tossing to combine. The mixture should form clumps when you squeeze it. Set aside.
FOR THE PIE
2 lb. peaches or other ripe, in-season fruit
1 c. sugar
1 t. salt
1 chilled pie-dough disc
3 T. Barton Springs Mill Sonora wheat flour
1 recipe oat-crumb topping
Ice cream, for serving
Pit and slice the peaches. Toss with the sugar and salt and allow to macerate for 30 minutes. Meanwhile, roll the chilled pie disc into a 10-inch round. Carefully transfer the dough to a pie plate, crimp the edges and freeze for 15 minutes. Heat the oven to 425°. Toss the macerated peaches with the flour, then transfer to the frozen pie shell by lifting them with a slotted spoon and letting the excess liquid drain off. When all the peaches are in the shell, scoop out about ¼ cup of the juice left in the macerating bowl and drizzle over the pie. Top with the oat crumble—making sure to go all the way to the edges. Set the pie on a baking sheet and bake for 15 minutes. Reduce the heat to 325° and bake an additional hour. If your pie plate is glass, check for doneness by looking at the underside of the pie. Cool completely (or as long as you can wait) before cutting and serving with ice cream.