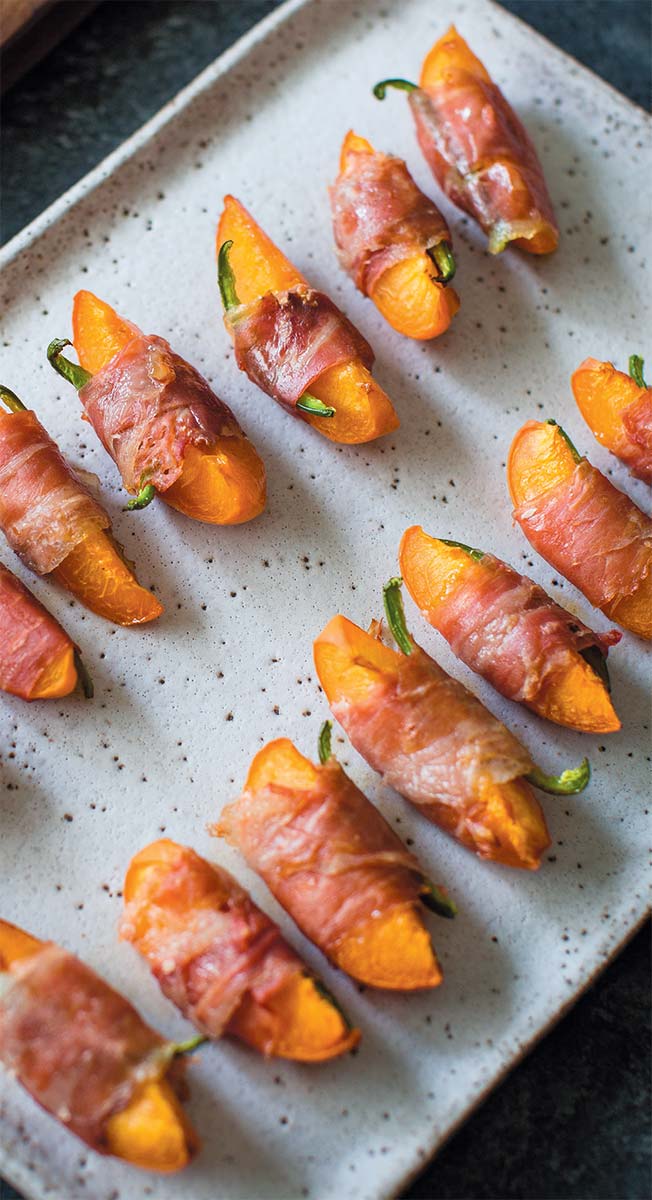 from Game Day Grub for Locavores
This recipe comes from the kitchen of my motherin- law, Mary Ann Steele, and has been a fall appetizer at her house for many, many years. Trust me, these sweet, salty, and spicy bites will go fast at your next game-day party.
Makes 16
2 Fuyu persimmons
8 slices prosciutto, sliced lengthwise (to make 16)
1 jalapeño, thinly sliced into strips
Preheat the oven to 400°F. Peel the persimmons and cut each one into eight slices.
Place a slice of persimmon and a slice of jalapeño at one end of a prosciutto slice and tightly roll to the other end. Repeat with remaining persimmons.
Place wrapped persimmons on a parchment-lined baking sheet, then into the oven. Bake for 20 minutes or until the prosciutto is golden and crisp. Serve warm or at room temperature.
Can be made a day in advance without baking. Keep tightly wrapped or in an air-tight container until ready to bake.
MEREDITH STEELE is a recipe developer, food writer, food photographer and author of InSockMonkeySlippers.com, an award winning family food blog celebrating creative and fresh foods. Her recipe development and photography company, MBS Recipe Development specializes in multimedia recipe development for commercial and small business who's clients include everyone from Ziploc® to small wineries. Meredith's work has been published online, in various print media, and has been nominated for the SAVEUR awards. She can also be found across the pond writing a monthly column for JamieOliver.com. When Meredith is not in the kitchen, she's roaming Dallas, Texas with her husband, curly-headed pixie of a daughter, and big floppy-eared dog.