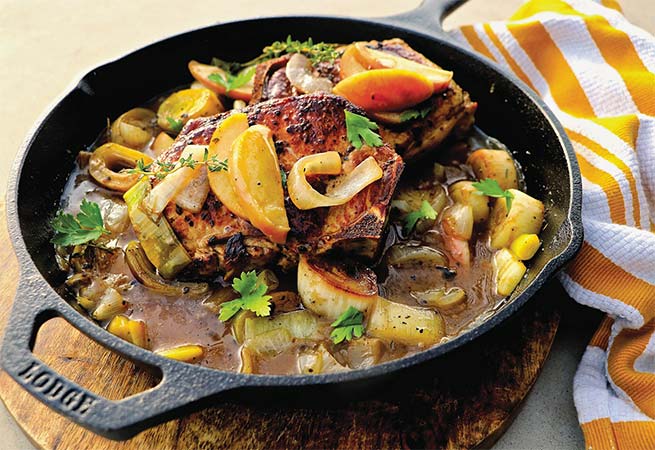 Makes 2 servings
2 (1½-inch) center-cut, bone-in pork chops
Brine (recipe follows)
Salt and pepper
1 tablespoon canola oil
½ bottle (¾ cup) Outlaw Tea-Rex (or hard cider of your choice)
3 cloves of garlic, smashed
2 teaspoons thyme leaves plus a few sprigs for garnish
2 leeks, sliced into rounds and cleaned
1 small yellow onion, sliced
1 tablespoon flour
1 small Gala apple, cored and sliced
1 cup chicken stock
1 tablespoon chopped Italian parsley for garnish
Place the pork chops in the brine. Make sure both chops are completely submerged in the liquid. Refrigerate for 6 to 8 hours.
Preheat oven to 375°F. Remove pork chops and pat dry with paper towels. Discard the brine. Let pork chops come to room temperature, then salt and pepper liberally. Make sure the chops are very dry before seasoning, as this will ensure a proper sear.
Heat a cast-iron skillet to medium high over medium-high heat and add canola oil.
When the oil is hot, add pork chops, and sauté on each side for 3 to 4 minutes until brown. Then remove from skillet and set aside under a foil tent to help keep warm.
Deglaze the skillet with the cider, and use a wooden spoon to loosen the bits on the bottom. Turn heat to medium and let simmer down for 5 minutes.
Add garlic, thyme, leeks, and onion, then sauté for 5 minutes. Add flour slowly and evenly over the top, stir in and let cook for 2 more minutes.
Add apples and chicken stock, then let everything come to a simmer for 3 minutes.
Return the chops to the skillet, and place everything in the oven. Cook 8 to 10 minutes in the oven until the internal temperature reaches 145°F.
Garnish with chopped parsley and whole sprigs of thyme.
Brine: Dissolve 2 tablespoons kosher salt in 1 cup warm water in a shallow dish or sealable brining bag. Then add 1 tablespoon whole pepper corns, 1 teaspoon chile flakes, 1 tablespoon whole-grain mustard, 8 to 10 sprigs fresh thyme, 1 (12-ounce) bottle Outlaw Tea-Rex cider (or hard cider of your choice), blending all ingredients.