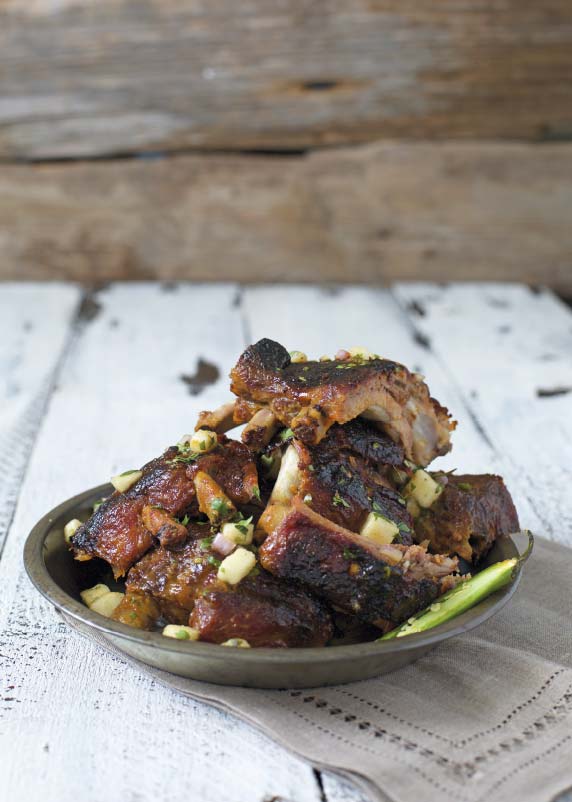 Pears are one of those rare fruits that can actually be grown in every region of Texas. With all of that bounty, they're bound to make their way into a salsa at some point—this is Texas aft er all. In this recipe, tender fall-off -the-bone baby back ribs are coated in a tangysweet mustard glaze with a hint of cumin and topped with a bright pear salsa for the ultimate fall-inspired meat dish.
Serves 6
Prep Time: 20 minutes plus marinating
Cook Time: 1 hour 50 minutes
RIBS
2 tablespoons ground mustard
2 tablespoons paprika
1 teaspoon garlic powder
1 teaspoon ground black pepper
1 tablespoon kosher salt
2 racks baby back ribs (about 5 pounds)
¼ cup Dijon mustard
2 tablespoons apple cider vinegar
2 tablespoons honey
1 tablespoon brown sugar
1 teaspoon ground cumin
SALSA
3 cups peeled and diced Bosc pears (or any European variety)
3 tablespoons fresh lime juice
2 tablespoons minced shallot
1 tablespoon minced cilantro
1 serrano pepper, seeded and minced
1 teaspoon honey
1/4 teaspoon ground black pepper
1/8 teaspoon kosher salt
In a small bowl, combine ground mustard, paprika, garlic powder, pepper and salt. Rub the mixture over the ribs. Place ribs on a rimmed baking sheet, cover with food-grade plastic wrap and refrigerate for at least 3 hours or up to overnight.
Set the ribs out at room temperature for 30 minutes before cooking. Preheat oven to 350°F. Discard plastic wrap and fi ll the pan with ¼ inch hot water. Cover tightly with foil and bake for 1 hour and 30 minutes or until the ribs are fork tender.
While the ribs are cooking, create the glaze by combining Dijon mustard, vinegar, honey, sugar and cumin.
Remove ribs and increase oven temperature to 425°F. Brush with half of the glaze and return to the oven uncovered. Cook for 10 minutes until glaze is set.
Preheat a gas or charcoal grill to medium-high heat. Brush the remaining glaze on the ribs and grill for 2 to 3 minutes per side until the glaze is caramelized and lightly charred. Although a grill is preferred, you can alternatively fi nish off the ribs under the broiler instead of the grill for 3 to 4 minutes per side until lightly charred. Slice ribs.
Before serving, place all ingredients needed for the salsa in a medium bowl and toss to combine. Serve with ribs.
MEREDITH STEELE is a recipe developer, food writer, food photographer and author of InSockMonkeySlippers.com, an award winning family food blog celebrating creative and fresh foods. Her recipe development and photography company, MBS Recipe Development specializes in multimedia recipe development for commercial and small business who's clients include everyone from Ziploc® to small wineries. Meredith's work has been published online, in various print media, and has been nominated for the SAVEUR awards. She can also be found across the pond writing a monthly column for JamieOliver.com. When Meredith is not in the kitchen, she's roaming Dallas, Texas with her husband, curly-headed pixie of a daughter, and big floppy-eared dog.