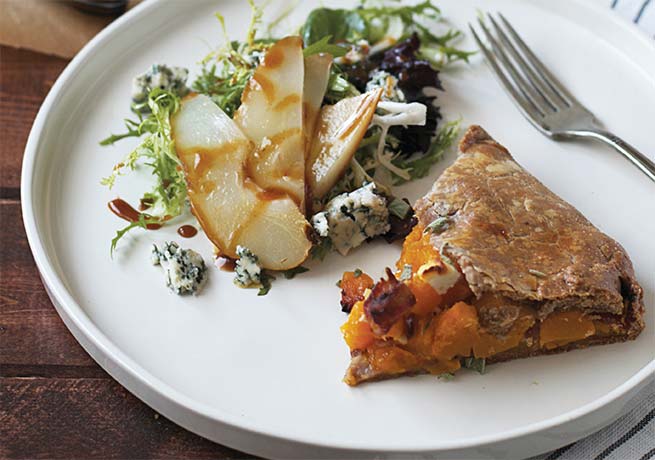 Sweet butternut squash, savory bacon, fresh sage and tangy goat cheese are wrapped in a nutty whole-wheat golden crust for an epically delicious fall meal.
Serves 6
DOUGH
1 ¼ cups whole-wheat flour, plus more for rolling
1 stick cold unsalted butter, cubed
1 teaspoon kosher salt
4 tablespoons ice-cold water
1 egg, beaten
FILLING
1 (2-pound) butternut squash
3 slices hickory-smoked bacon, cut into ½-inch slices
2 cloves garlic, minced
1 tablespoon olive oil
Pinch salt and pepper
1 tablespoon chopped fresh sage
4 ounces soft goat cheese, crumbled
In a food processor, pulse flour, butter and salt until the mixture resembles a coarse meal. Drizzle water, a tablespoon at a time, over mixture while pulsing until mixture begins to stick together and forms a ball of dough. Be careful not to overmix or dough will be tough. (You can alternatively place the flour and salt into a large bowl and cut the butter in with a fork until it resembles course meal.
Then slowly add water until the dough sticks together by pressing it together with your fingers.) Press the dough into a disk and wrap with plastic wrap. Refrigerate until firm, at least 1 hour.
Preheat the oven to 450°F.
Peel the butternut squash (microwaving the squash for 1 minute before peeling and slicing will make this easier). Then slice in half, discard the seeds, and cut into 1-inch cubes. You should have 4 cups of squash.
Place on a large rimmed baking sheet in a single layer. Add bacon, garlic, olive oil and season with salt and pepper. Toss until combined and roast for 35 to 40 minutes until bacon just begins to crisp and squash is tender. Remove from oven. Toss with sage.
Reduce oven temperature to 400°F.
On a well-floured surface, roll the dough into a 13-inch circle. It doesn't have to be exactly round just close to it. Transfer the dough onto a baking sheet. Spoon the mixture onto the center of the dough, leaving about a 3-inch edge. Top with the crumbled goat cheese then fold the dough edges on top of the filling creating a purse-like structure. Brush the dough with the beaten egg and bake for 40 to 45 minutes, until the dough is golden. Allow to rest for 10 minutes before slicing and serving.
Note: Dough and filling can be made 1 day in advance before constructing and baking.
MEREDITH STEELE is a recipe developer, food writer, food photographer and author of InSockMonkeySlippers.com, an award winning family food blog celebrating creative and fresh foods. Her recipe development and photography company, MBS Recipe Development specializes in multimedia recipe development for commercial and small business who's clients include everyone from Ziploc® to small wineries. Meredith's work has been published online, in various print media, and has been nominated for the SAVEUR awards. She can also be found across the pond writing a monthly column for JamieOliver.com. When Meredith is not in the kitchen, she's roaming Dallas, Texas with her husband, curly-headed pixie of a daughter, and big floppy-eared dog.