Recipe and Photography by Meredith Steele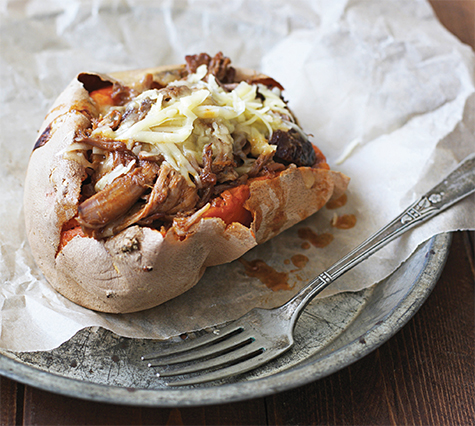 When days are jam-packed with school, work and the dreaded 1,000- foot laundry pile, it seems there's not enough time to make dinner. On days like these, a simple stockpile of potatoes in your kitchen can save you from a hungry family mob. Stuffed potatoes are the ultimate meal saver, and if you think ahead and rely on your slow cooker to do the work, you're in business. For this kid-friendly recipe, nutritious sweet potatoes are packed with enticing slow-cooker pulled pork simmered in traditional barbecue spices for a no-hassle family meal.
Serves 6
Prep Time: 15 Minutes
Cook Time: 4 hours on High or 8 hours on Low
3 pounds pork shoulder, bone-in or boneless
3 garlic gloves, peeled
1/3 cup tomato paste
1/4 cup apple cider vinegar
2 tablespoons dark brown sugar
2 teaspoons smoked paprika
1 teaspoon kosher salt
1 teaspoon ground mustard
1/4 teaspoon ground cinnamon
1/4 teaspoon ground cumin
1/4 teaspoon ground black pepper
6 sweet potatoes
White cheddar cheese, shredded
Place pork shoulder and garlic in a slow cooker. In a bowl, combine tomato paste, vinegar, sugar, paprika, salt, mustard, cinnamon, cumin and black pepper; stir and pour over pork. Cover and cook on High for 4 hours or on Low for 8 hours until the pork is fallapart tender. Shred pork with a fork into bite-sized pieces and stir to coat with cooking liquid.
An hour before serving, preheat oven to 400°F. Prick sweet potatoes a few of times with a fork and bake for 50 minutes until tender and can be pierced easily with a fork.
With a knife, slit potatoes without cutting all the way through and gently pull open with your hands. Season potatoes with salt and pepper, if desired. Place potatoes on a baking sheet, stuff with a serving of pulled pork, and top with a large pinch of cheese. Place under the broiler until cheese is melted. Serve.
Note: Various toppings work with this recipe. For the more adventurous eaters, try chopped red onion, cilantro, grilled corn kernels, broccoli or even avocado.
MEREDITH STEELE is a recipe developer, food writer, food photographer and author of InSockMonkeySlippers.com, an award winning family food blog celebrating creative and fresh foods. Her recipe development and photography company, MBS Recipe Development specializes in multimedia recipe development for commercial and small business who's clients include everyone from Ziploc® to small wineries. Meredith's work has been published online, in various print media, and has been nominated for the SAVEUR awards. She can also be found across the pond writing a monthly column for JamieOliver.com. When Meredith is not in the kitchen, she's roaming Dallas, Texas with her husband, curly-headed pixie of a daughter, and big floppy-eared dog.