KID-FRIENDLY MEALS FOR SCHOOL DAYS
Recipes and Photography by Meredith Steele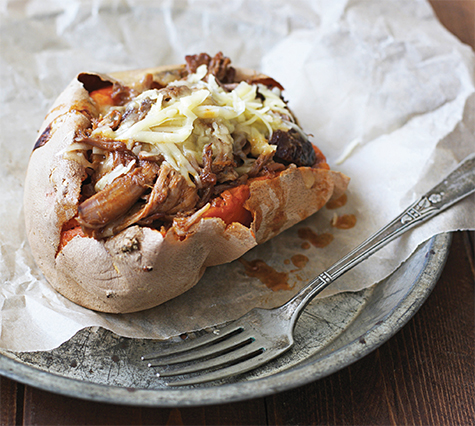 The carefree days of summer are over, and the old routines of school days fall on us like a ton of bricks. Sure—in time, we all dive back into the hustle and bustle, but to make the transition easier, I start with what I know best—food. Back-to-school nights need easy, simple meals that everyone will love. Meals that require little time to prepare so we can get on to more important matters—like buying the correct shade of pink school supplies.
Breakfast is easy: eggs, toast, fruit, and everyone is out the door. Lunch: throw a sandwich or leftovers in a lunch box, and you're golden. But dinner is always the hardest to figure out. I'll admit, I've succumbed to picking up a fresh pizza from the local pizzeria a time or two, but we all know the importance of good, well-balanced meals and family dinners. If there is one thing I've learned from my time developing family-friendly recipes, it's that gathering around the table and sharing our day over a delicious meal is the single biggest key to a healthy lifestyle. There's nothing like the oasis of a relaxed, distraction-free dinner to reconnect and slow down. (No phones at MY table!)
So let's make it effortless. Break out the slow cooker for a crazy simple, no fuss dinner. One-pot/pan meals are certainly your friend. And it's no secret that a little prep work, like washing and dicing vegetables on the weekend or making a meal plan for the week, can get you on the right track.
I rely on four seasonal meals as my family shifts from summer into fall. They're based on the top kid-friendly ideals of cooking: stuffed potatoes, tacos, soup and anything in mini-muffin form. There are others like pizza and mac-and-cheese, of course, but you get my drift.
At my house, sweet potatoes, stuffed with saucy, slow-cooked pork and a choice of toppers, send everyone elbowing for their place in line. On Veggie Taco Night, when I sauté early fall vegetables and wrap them in a warm tortilla with queso fresco, everyone is happy. Everything is better with bacon in my book, and crumbling crispy bacon and roasted pepitas over butternut squash soup is the sweet-and- salty combo that my child craves. Then there's the ultimate kid-friendly finger food, Mini Corn Dog Muffins—a taste of the Texas State Fair in every bite.
RECIPES
SLOW-COOKER PULLED PORK STUFFED SWEET POTATOES
VEGGIE TACOS WITH QUESO FRESCO
ROASTED BUTTERNUT SQUASH SOUP WITH BACON AND PEPITAS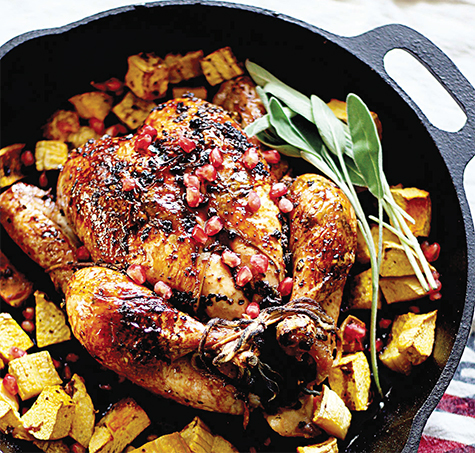 FALL-INSPIRED CHICKEN RECIPES
Recipes and Photography by Meredith Steele
The sweltering days of the Texas summer are starting to fall behind us, bringing in waves of cooler breezes and the unmistakable urge for autumn flavors. Abundant apples, pears, pumpkins and squash are invading our kitchens. I know when the fall produce starts to fill my shelves it's time to break out our family's favorite chicken meals, because nothing says fall better than a tender, slow-cooked chicken with the season's best produce.
I'm not quite sure why my family loves chicken so much. Don't get me wrong—this Texas girl loves a good flame-kissed steak or a venison backstrap any day of the year, but we go through an abnormally large quantity of chicken.
When our family was starting out in Waco, we lived in a neighborhood overrun by a large family of feral chickens (no, really). I spent my days chasing them down alleys in hopes of catching enough to start a coop in my backyard. I went so far as to run out in my robe one morning to try to catch one that had wandered into my front yard! (Looking back, this may have been why I was known as the crazy chicken lady in certain circles.)
Needless to say, they were tricky little feathered outlaws, and I never achieved my dream of having my own family of chickens. Now that we're back in Dallas, I've got a reputation to uphold and running down the streets in a robe would most likely land me in jail. So, I'm sticking to letting my favorite farmers do all the hard work, and I'm picking up my chicken and eggs at the local market.
A versatile meat, chicken beautifully lends itself to the earthy sweetness of fall flavors. Apple and chicken is a classic pairing, and when these dynamic flavors come together, as in Honey-Glazed Chicken Thighs with Apples and Acorn Squash, a fantastic meal is born. Of course, on crisp, chilly days, my family loves a comforting soup, and Chicken, Butternut Squash and Wild Rice Soup is the one we cook often.
Another must-have fall chicken recipe is a whole roasted bird. Roast chicken, my daughter's absolute favorite meal, makes an easy dinner, especially when you pair it with vegetables. Butternut squash, Brussels sprouts, cauliflower and potatoes are great additions to the roasting pan. Top your chicken dish with a sparkling glaze, just like Sage and Garlic Roasted Chicken with Pomegranate Black Pepper Glaze, and you will certainly impress.
RECIPES
CHICKEN, BUTTERNUT SQUASH AND WILD RICE SOUP
HONEY-GLAZED CHICKEN THIGHS WITH APPLES AND ACORN SQUASH
SAGE AND GARLIC ROASTED CHICKEN
WITH POMEGRANATE BLACK PEPPER GLAZE
MEREDITH STEELE is a recipe developer, food writer, food photographer and author of InSockMonkeySlippers.com, an award winning family food blog celebrating creative and fresh foods. Her recipe development and photography company, MBS Recipe Development specializes in multimedia recipe development for commercial and small business who's clients include everyone from Ziploc® to small wineries. Meredith's work has been published online, in various print media, and has been nominated for the SAVEUR awards. She can also be found across the pond writing a monthly column for JamieOliver.com. When Meredith is not in the kitchen, she's roaming Dallas, Texas with her husband, curly-headed pixie of a daughter, and big floppy-eared dog.