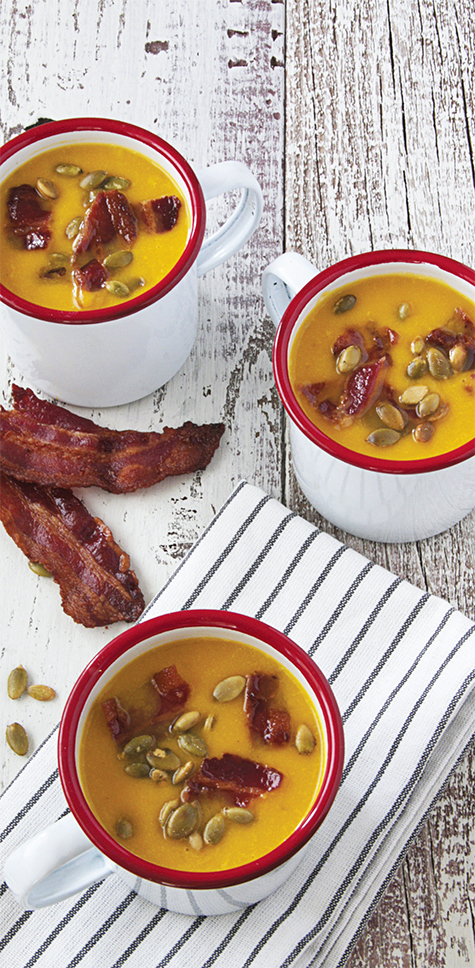 Photography by Meredith Steele
When the hot days of summer give way to fall's wisps of cool air, winter squash bursts from our markets in abundance. Take advantage of this seasonal favorite by turning it into a kid-friendly soup sprinkled with crumbled bacon and salty roasted pumpkin seeds. This easy recipe is made in three steps, making it a fabulous weeknight meal. For a twist, try other delicately sweet and creamy squash varieties, like delicata or kabocha, which also work well with this recipe.
Serves 6
Prep Time: 15 minutes
Cook Time: 1 Hour
2 pounds butternut squash
1 yellow onion, peeled and quartered
1 tablespoon + 1 teaspoon extra virgin olive oil
Salt and ground black pepper
1 head of garlic
6 cups quality chicken or vegetable stock
1 tablespoon butter
5 slices uncured bacon
1/4 cup roasted and salted pepita (pumpkin) seeds
Preheat oven to 425°F.
With a sharp knife, slice the butternut squash lengthwise and scoop out (and discard) the seeds.
Place onion quarters and squash halves on a rimmed baking sheet and drizzle with 1 tablespoon of oil, evenly coating both vegetables, and sprinkle with salt and pepper. (Bake squash cut-side down.) With a knife, slice off the very top of the garlic, exposing the cloves. Pour remaining teaspoon of oil over the garlic, wrap the entire head tightly in foil, and place on the baking sheet with onions and squash. Bake for 45-50 minutes, until the squash is fork tender.
Lay bacon slices flat on another rimmed baking sheet and place in the oven. Bake for 10-15 minutes until cooked through and golden brown. Transfer to a paper-towel-lined plate to cool. Cut into bite-sized pieces.
While the bacon is cooking, scoop the butternut squash away from the peel with a spoon and place into a blender along with the onions. Remove the foil from the garlic and squeeze from the base to release the roasted cloves; add cloves to blender. Add 4 cups of stock and butter and puree until smooth, about 1 minute. (This may need to be done in batches.)
Transfer to a large pot over low heat and add remaining stock for preferred consistency. Add salt and pepper to taste. Serve and garnish each serving with bacon and pepitas.
Note: Butternut squash can be quite hard to cut. Place it in the microwave for 1 minute to make cutting this tough squash a bit easier.
For more recipes, follow Meredith at insockmonkeyslippers.com.
DON'T WASTE THOSE SEEDS
Pumpkin and squash seeds make a tasty, nutritional snack, and they're easy to make. Preheat oven to 275°F. Separate seeds from pulp; discard pulp. Rinse seeds in a colander. (Some pulp may still be attached.) Place seeds in medium saucepan with several cups of water and boil for 10 minutes. Place on cloth or paper towels and dry thoroughly. Toss seeds in a medium bowl with a pinch of salt and little olive oil, enough to lightly coat. Transfer to baking pan and roast for 1 hour, stirring every 15 minutes, until golden brown.
MEREDITH STEELE is a recipe developer, food writer, food photographer and author of InSockMonkeySlippers.com, an award winning family food blog celebrating creative and fresh foods. Her recipe development and photography company, MBS Recipe Development specializes in multimedia recipe development for commercial and small business who's clients include everyone from Ziploc® to small wineries. Meredith's work has been published online, in various print media, and has been nominated for the SAVEUR awards. She can also be found across the pond writing a monthly column for JamieOliver.com. When Meredith is not in the kitchen, she's roaming Dallas, Texas with her husband, curly-headed pixie of a daughter, and big floppy-eared dog.