Recipe and Photography by Meredith Steele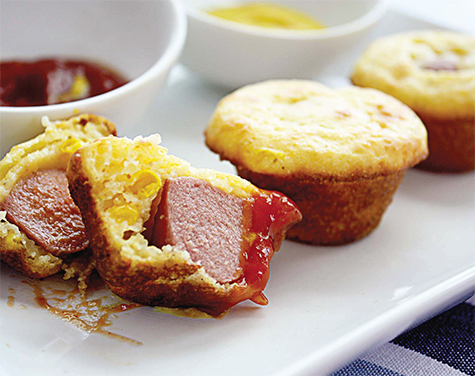 When the banners on the light posts around town announce the State Fair, I become filled with childlike excitement! Like my six-year-old daughter, who is the world's biggest Fletcher's Original State Fair Corny Dog fanatic. That's why, four years ago, we created a healthier spin on the corn dog for her to chow down on. A savory beef hot dog wrapped in a blanket of slightly sweet baked cornbread, make these homemade Mini Corn Dog Muffins a perfect snack or meal for everyone— not just the kiddos.
Makes 24
Prep Time: 20 minutes
Cook Time: 15 minutes
Butter, room temperature, for pan
1/2 cup all-purpose flour
1/2 cup yellow cornmeal
2 and 1/2 tablespoons sugar
1 teaspoon baking powder
1/2 teaspoon salt
1/4 teaspoon baking soda
1 large egg
3/4 cup low-fat buttermilk
3 tablespoons Greek yogurt
1 cup fresh or frozen corn kernels
4 beef hot dogs
Preheat oven to 425° F. Generously butter a 24-count mini muffin pan.
In a large bowl, combine the dry ingredients: flour, cornmeal, sugar, baking powder, salt and baking soda. In a medium bowl, combine the wet ingredients: egg, buttermilk and Greek yogurt. Mix well.
Once the wet ingredients are combined, add the corn kernels and stir. Add the buttermilk mixture to the flour mixture and stir until just incorporated, being careful to not overmix. Spoon the batter into the muffin cups, filling 3/4 full.
Slice the hot dogs into 1-inch segments. Place a hot dog segment in the center of each muffin cup. Bake for 10 to 15 minutes until golden and toothpick inserted into the muffin comes out clean.
Carefully remove the corn dog muffins from the muffin cups and place on a cooling rack to cool. Serve with ketchup and mustard. Refrigerate (for up to three days) or freeze any leftovers. Reheat in the oven for best results.
MEREDITH STEELE is a recipe developer, food writer, food photographer and author of InSockMonkeySlippers.com, an award winning family food blog celebrating creative and fresh foods. Her recipe development and photography company, MBS Recipe Development specializes in multimedia recipe development for commercial and small business who's clients include everyone from Ziploc® to small wineries. Meredith's work has been published online, in various print media, and has been nominated for the SAVEUR awards. She can also be found across the pond writing a monthly column for JamieOliver.com. When Meredith is not in the kitchen, she's roaming Dallas, Texas with her husband, curly-headed pixie of a daughter, and big floppy-eared dog.