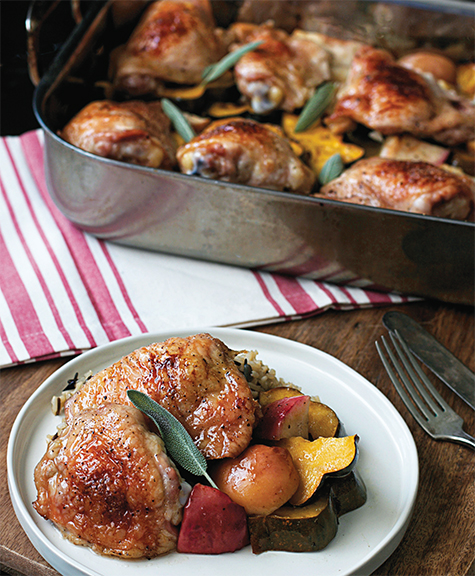 Recipe and Photography by Meredith Steele
Serves 6
Prep Time: 10 minutes
Cook Time: 60 minutes
2 acorn squash
3 small Gala apples
2 tablespoons extra virgin olive oil
Salt and pepper
8 chicken thighs
3 tablespoons butter
3 tablespoons honey
1 tablespoon apple cider vinegar
Garnish: fresh sage
Preheat oven to 400°F.
Slice each acorn squash in half, discard the seeds, and then cut again into 1-inch thick slices. Core the apples and cut into 2-inch segments. Place the squash, apples, 1 tablespoon of oil and a pinch of salt and pepper into a roasting pan or a rimmed baking dish and toss to coat. Pat dry the chicken thighs, drizzle with remaining oil, and season each thigh with a heavy pinch of salt and pepper. Lay the chicken thighs, skin side up, on top of the squash and apples and roast for 40 minutes.
While the chicken is roasting, combine butter, honey and vinegar in a small pot over medium heat. Stir to combine and remove from heat once everything has melted and is well mixed. Pour the glaze over the chicken, then return to the oven and roast for an additional 15-20 minutes or until the chicken is a nice golden brown. Garnish with fresh sage, if desired. Serving size varies between 1-2 chicken thighs per person.
MEREDITH STEELE is a recipe developer, food writer, food photographer and author of InSockMonkeySlippers.com, an award winning family food blog celebrating creative and fresh foods. Her recipe development and photography company, MBS Recipe Development specializes in multimedia recipe development for commercial and small business who's clients include everyone from Ziploc® to small wineries. Meredith's work has been published online, in various print media, and has been nominated for the SAVEUR awards. She can also be found across the pond writing a monthly column for JamieOliver.com. When Meredith is not in the kitchen, she's roaming Dallas, Texas with her husband, curly-headed pixie of a daughter, and big floppy-eared dog.