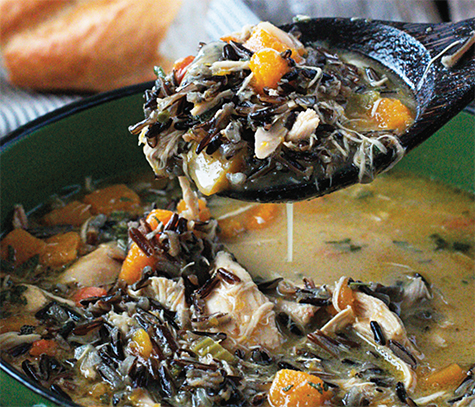 Recipe and Photography by Meredith Steele
Serves 8
Prep Time: 20 minutes
Cook Time Stock: 3 hours 20 minutes
Cook Time Soup: 50 minutes
Filled with tender chicken, sweet squash and nutty brown rice, this soup will wrap you in comforting warmth better than a blanket and a fire. What makes it truly spectacular is the homemade stock that can be made up to two days in advance. It might seem a little labor intensive, but with your first spoonful, you'll agree it was worth it.
FOR THE CHICKEN AND STOCK
1 four-pound chicken
2 celery stalks
2 carrots
1 yellow onion, quartered
1 head of garlic, split in half
1 small bunch of parsley
1 sprig sage
1 bay leaf
1 tablespoon black peppercorns
1 tablespoon kosher salt
FOR THE SOUP
1 tablespoon extra virgin olive oil
1 yellow onion, peeled and diced
2 celery stalks, diced
2 cloves garlic, minced
1 cup wild rice
3 cups diced butternut squash
8 cups chicken stock
3 cups chicken
1/4 cup warm heavy cream
1 tablespoon sherry vinegar
1 tablespoon chopped fresh sage
Salt and pepper
MAKE THE STOCK AND CHICKEN
In a large stockpot, place all ingredients for the stock. No need to peel the onions, garlic or carrots, as you will discard (or compost) them. Fill the pot with water, covering the ingredients by 3 inches. Bring to a boil, then reduce heat and gently simmer for 1 hour and 20 minutes. Remove the chicken and carefully pull the meat from the bones. Transfer the meat to a sealed container and store in the refrigerator until needed. Return the bones and skin back to the stock and simmer for another 2 hours. Strain the stock and use immediately or store in the refrigerator for up to 2 days. Freeze any unused stock for up to 1 month.
MAKE SOUP
In a large pot, heat oil over medium-low heat. Add onion, celery, garlic, a pinch of salt and simmer until the onions are translucent, about 5 minutes. Add rice, butternut squash and the 8 cups of chicken stock and bring to a boil. Reduce heat and simmer for 35 minutes. Add chicken and simmer for an additional 10 minutes. Next, add cream, vinegar and sage. Stir and simmer for an additional minute. Taste, and add salt and pepper as needed. Serve.
Note: Butternut squash can be hard to cut. Place it in the microwave for 1 minute to make peeling and cutting this tough squash a bit easier.
MEREDITH STEELE is a recipe developer, food writer, food photographer and author of InSockMonkeySlippers.com, an award winning family food blog celebrating creative and fresh foods. Her recipe development and photography company, MBS Recipe Development specializes in multimedia recipe development for commercial and small business who's clients include everyone from Ziploc® to small wineries. Meredith's work has been published online, in various print media, and has been nominated for the SAVEUR awards. She can also be found across the pond writing a monthly column for JamieOliver.com. When Meredith is not in the kitchen, she's roaming Dallas, Texas with her husband, curly-headed pixie of a daughter, and big floppy-eared dog.