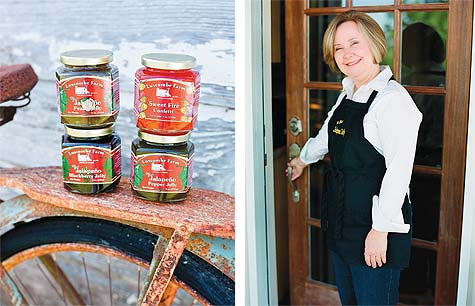 Photos by Melinda Ortley
What do you do when life gives you peppers? You make pepper jelly, of course. Though Leslie Luscombe had pies in mind when she opened her commercial kitchen at her farm in Anna, it was her pepper jelly, made from an old family recipe, that people came clamoring for.
Luscombe is of the fourth generation to live and work on her family's farm, and she claims that wholesome fresh food runs in her veins. Luscombe's grandmother had an egg business and her grandfather harvested grain and raised cattle. Her cousin sells pecans right across the road, and buyers drive up from Dallas to buy her aunt's irises in the spring.
Continuing the family tradition, Luscombe began marketing Luscombe Farm gourmet jellies in 2007. Today she uses fresh, local produce from a nearby farm owned by a pharmacist with a green thumb. They began a working relationship last year, and the farm has added rows upon rows of new pepper plants for the sole purpose of making Luscombe's jalapeño jellies. A robust supply of blackberries prompted her to add blackberries to her line-up of flavors.
Made with handpicked peppers, onions, berries and one secret ingredient Luscombe keeps under tight wraps, her flavors include Jalapeño Pepper, Jalapeño Blackberry, Jalapeño Peach (a concoction born after an invitation to a peach festival) and Sweet Fire, an award-winning spread the color of sunset, made with apricots, purple onions, habaneros and red peppers.
Though Luscombe Farms pepper jellies are sold in over 100 stores nationwide, Leslie Luscombe can still be found at the McKinney Chestnut Square farmers market every Saturday donning her apron and winning over the public with her bubbly smile and delectable samples of her wares. When asked why she continues to do the farmers market, she says she enjoys meeting her patrons. Luscombe keeps up with demand by cooking four days a week with the help of her assistant, Silvia Hernandez. Together, they chop, mash, taste, stir, taste again, can and label. In a world where products strive to reach national household status, Luscombe continues to make small, artisan batches. This is what makes her jellies so enticing for local chefs like Robert Lyford from McKinney's popular Patina Green. He says his sandwiches made with Luscombe's jellies are always the ones that sell out first.
Luscombe credits past generations for her entrepreneurial spirit, and in turn, she has passed on those same traits to her son Samuel who is studying landscape architecture at Oklahoma State University. On a recent trip home, he showed Luscombe where he plans to build his house, high on a picturesque hill overlooking pastures. "He'll raise cattle," she says with a contented smile. Like the big shade tree outside her kitchen window, Luscombe has deep roots that anchor her to this farm, and she's proud that her son feels those same ties. Besides creating jellies, Luscombe is working on a cookbook that intertwines recipes with her family history.
RECIPE
Smoked Cheddar Biscuits with Luscombe
Farms Jalapeño Jelly and Ham
MELINDA ORTLEY is a Fine Art Photographer who believes that every image should stand alone as a work of art. Using the classic medium of film, her goal is to create vibrant, original images that go beyond her client's expectations, whether that client be a blushing bride, growing family, business owner or magazine editor. You can view her portfolio at www.melindamichelle.com.