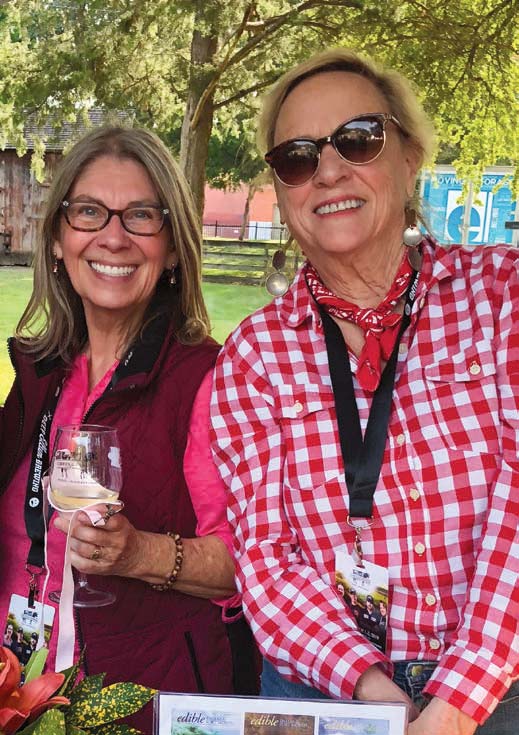 As we navigate uncertainty around the ongoing virus, we face even more basic uncertainties…holidays with family, school closures, meeting with friends at a local restaurant or returning to work. It makes me think fondly about the happy times we cherish from events like Chefs for Farmers. This photo was taken at that event in 2019 — it's me and Maria Whitworth, who has become a major factor in pulling together the complex pieces that bring you each seasonal issue of our magazine. Additionally, she's an instrumental force in connecting our larger Edible DFW family through social media, digital communications and events. It is fitting that we were both at the inaugural 2011 Chefs for Farmers event… it seems like only yesterday. Many of our writers, photographers and editors were there as well and have remained an important part of our magazine over the past 10 years. The many friendships we made that day will last forever.
We at Edible have a great time and take serious efforts coming up with stories and planning photo shoots as we think about the next season. As you can imagine, publishing a print magazine in the middle of a pandemic is not an easy task. Photos and one-on-one interviews have become a little tricky. We are happy to say that our Winter issue came together well. "A Story of Land and Lineage" features brothers Jonathan and Jason Jackson at Berkshire Farms, and comes to us from one of our new talented writers, Dalila Thomas. Welcome Dalila to the Edible team! Teresa Rafidi, one of our favorite photographers, again did an excellent job capturing the sense of pride, determination and patience the Jackson brothers share.
"Horticulture's Helping Hands" has Daniel Cunningham (otherwise known as the guy whose smile never ends and "The Plant Guy") beautifully highlights what nonprofits are doing to get food on our neighbors' tables during the pandemic. GROW North Texas, The Oak Cliff Veggie Project, The Poor People's Campaign and Harvest Project Food Rescue are just a few examples of the many organizations that are doing just that. Wish we could have named them all. Assembling photos for this piece was tricky — so in advance, if we did not recognize you as the photographer, please let us know and we will update our digital version immediately.
We are excited to feature a first-peek at the latest project coming out of South Dallas' Bonton Farms, in collaboration with The Jelly Queens. We'll be following The Preservatory's important work and bringing you updates as they develop. Many of us are cooking at home, so we've included plenty of recipes that are perfect for cold days ahead.
Although we are spending more time in our kitchens, let's remember to continue supporting our local neighborhood restaurants and food producers who need us now, more than ever. We live in a wonderful, connected world. Taking care of it, our families and our community should always remain our first priority.
Nanci Taylor, Publisher
NANCI TAYLOR is a third generation Texan whose family came to the state in the 1800's to pursue cattle ranching and Texas has remained her home. She was born in San Antonio, but ended up in North Texas where she nurtured her Texas roots while attending college and raising two sons in Dallas. Proudly following in her parent's footsteps, Nanci plants and harvests the bounty of her own backyard garden in Old East Dallas. She keeps a busy calendar attending local food and ecology events, and on weekends she spends her time visiting with growers and food artisans at farms, shops and farmers markets around North Texas.