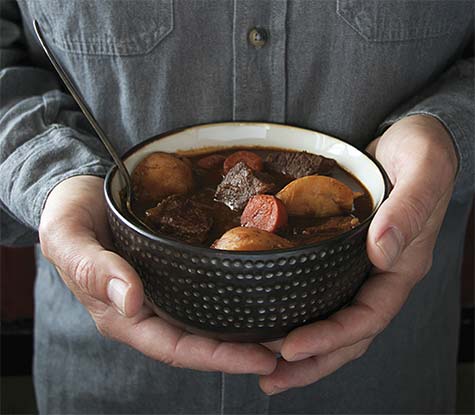 Recipes and Photography by Meredith Steele
When winter descends upon us with its cold breath and gloomy skies, all it takes is a steaming pot of homemade stock to warm the soul and fight off the blustery blues. A soothing broth can be a healthy, stand-alone sipping drink or it can provide the base for something more elaborate.
Slow-cooked stocks and broths are fundamental tools when cooking, the difference between a good meal and a truly memorable one. They bring a level of flavor and nutrition to recipes that can't be duplicated with boxed and canned versions. Although they require extended simmering times, the process of making them is simple. In winter months, I like to kick back on Sundays and watch football games while my stockpot simmers on the stove.
So what's the difference between a stock and a broth? It's a little like "to-MAY-to" versus "to-MAH-to." Between culinary instructors and professional chefs, the answer teeters on the line of opinion. Without going into heavy detail, the simplest way of explaining this (and the way I was taught) is to say that broths are made by simmering meat or vegetables for a relatively short period of time to produce a clear flavorful liquid. In contrast, a stock is made by simmering bones and connective tissue for a prolonged period of time, creating a denser liquid that has the consistency of gelatin when cold or at room temperature. That's my simplified opinion. I'm not the kitchen police so if you want to call a stock a broth, don't let me stand in your way.
When you simmer vegetables or bones, you extract vitamins and minerals that your body can easily process. With meat bones, gelatin is also extracted which is fabulous for joint health. See, your mother was right by fixing you homemade chicken soup when you were sick. Essentially, stocks are a super food that can't be ignored. Here are some of my favorites along with corresponding recipes for taking each broth or stock to another level, cozy dishes to be enjoyed beside frosty windows and a roaring fire.
RECIPES
TURKEY STOCK, TURKEY AND PARMESAN-HERB DUMPLINGS
MUSHROOM BROTH, SWISS CHARD NOODLE SOUP WITH EGG
SHRIMP STOCK, THAI SHRIMP SOUP
VEGETABLE BROTH, TORTELLINI EN BRODO
WITH ROASTED ROOT VEGETABLES
MEREDITH STEELE is a recipe developer, food writer, food photographer and author of InSockMonkeySlippers.com, an award winning family food blog celebrating creative and fresh foods. Her recipe development and photography company, MBS Recipe Development specializes in multimedia recipe development for commercial and small business who's clients include everyone from Ziploc® to small wineries. Meredith's work has been published online, in various print media, and has been nominated for the SAVEUR awards. She can also be found across the pond writing a monthly column for JamieOliver.com. When Meredith is not in the kitchen, she's roaming Dallas, Texas with her husband, curly-headed pixie of a daughter, and big floppy-eared dog.