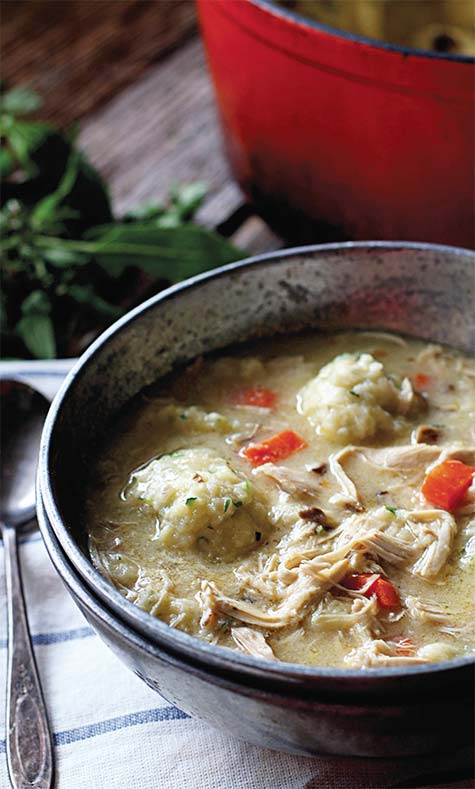 Post-Thanksgiving stock is a great way to let nothing go to waste. I use the entire turkey carcass—bones, skin and all—to make a rich stock for winter soups and chilis. One of my absolute favorite ways to use the leftover meat is to make the comfort classic, chicken and dumplings, swapping out turkey for chicken. A big bowl of this hearty dish will cure every ounce of winter blues.
TURKEY STOCK
Prep Time: 5 minutes; Cook Time: 5 hours
Makes 2 ½ quarts (10 cups)
Turkey carcass (with usable meat removed)
2 carrots
2 celery stalks
1 large yellow onion, unpeeled and quartered
1 head of garlic, sliced in half exposing the cloves
1 small bunch of fresh parsley, thyme and/or sage
1 bay leaf
1 teaspoon kosher salt
1 teaspoon black peppercorns
Place ingredients in a large stockpot and fill with water to 1 inch above ingredients (about 5 quarts). Bring to a boil. Reduce heat and simmer for 5 hours (until reduced by half), periodically skimming foam. When finished, strain out solids and let cool. Store stock in an airtight container in the refrigerator for up to 4 days or in the freezer for up to 3 months.
TURKEY AND PARMESAN-HERB DUMPLINGS
Prep Time: 20 minutes; Cook Time: 20 minutes
Serves 6
1 cup plus 2 tablespoons all-purpose flour (divided use)
2 teaspoons baking powder
½ teaspoon salt
1 egg
½ cup milk
½ cup grated Parmesan cheese
1 tablespoon chopped fresh parsley
½ tablespoon chopped fresh sage
1 teaspoon chopped fresh marjoram or thyme
1 tablespoon olive oil
¼ pound cremini mushrooms, stems removed, diced
2 cloves garlic, peeled and minced
2 medium carrots, peeled and minced
1 shallot, peeled and minced
3 tablespoons Cognac
7 cups turkey stock
2 to 3 cups shredded leftover turkey
2 tablespoons heavy cream, warmed
In a large bowl, combine 1 cup flour, baking powder and salt; stir. Create a well in the center and add egg, milk, Parmesan and herbs. Incorporate the wet ingredients into the flour, stirring until combined. The dough will be sticky. Set aside.
In a large heavy-bottomed pot, heat olive oil over medium-low heat. Add mushrooms, garlic, carrots and shallot. Sauté until softened, about 8 to 10 minutes. Add Cognac and cook until most of the liquid is reduced, about 5 minutes. Sprinkle with 2 tablespoons flour, stir and cook for an additional 2 minutes.
Add stock and turkey and bring to boil. Reduce heat to a rapid simmer over medium-high heat. Using a spoon or small scoop, drop dough into the soup one spoonful at a time. The dumplings will increase in size as they cook. Use larger or smaller spoons depending on the size of dumpling desired. Allow dumplings to simmer for 5 minutes, until cooked through. Gently stir in cream until incorporated and serve.
MEREDITH STEELE is a recipe developer, food writer, food photographer and author of InSockMonkeySlippers.com, an award winning family food blog celebrating creative and fresh foods. Her recipe development and photography company, MBS Recipe Development specializes in multimedia recipe development for commercial and small business who's clients include everyone from Ziploc® to small wineries. Meredith's work has been published online, in various print media, and has been nominated for the SAVEUR awards. She can also be found across the pond writing a monthly column for JamieOliver.com. When Meredith is not in the kitchen, she's roaming Dallas, Texas with her husband, curly-headed pixie of a daughter, and big floppy-eared dog.