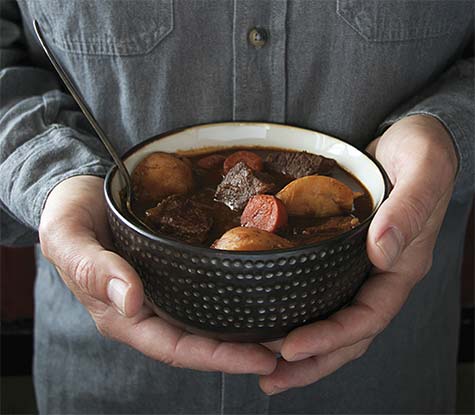 Beef bones, full of marrow and gelatin, yield the perfect base for creating impressive stews and soups, and the stock makes a great binder for charcuterie. Our hearty Texas stew, made with local stout and red wine, is a cross between the classic Irish version and my grandmother's recipe.
Prep Time: 15 Minutes; Cook Time: 8 hours
Makes 3 quarts (12 cups)
BEEF STOCK
5 pounds meaty beef bones, such as beef shanks
1 large yellow onion, sliced in half
2 carrots
2 celery stalks
1 head of garlic, sliced in half exposing the cloves
6 sprigs parsley
3 sprigs thyme
1 bay leaf
1 teaspoon kosher salt
1 teaspoon black peppercorns
Preheat oven to 425˚F. Place bones and onion on a rimmed baking sheet and roast for 45 minutes, until browned. Transfer to a large stockpot and add remaining ingredients. Add at least 5 quarts water (enough to cover vegetables) and bring to a boil. Reduce heat and simmer for 7 hours, until reduced by half. The longer the simmer, the richer the stock. Strain out solids and cool. Store stock in an airtight container for 4 days in the refrigerator or in the freezer for up to 3 months.
HEARTY BEEF STEW
Prep Time: 20 Minutes; Cook Time: 2 hours
Serves 6
3 tablespoons canola oil
1 ½ pounds beef stew meat, cut into 2-inch cubes
1 yellow onion, peeled and diced
2 cloves garlic, peeled and minced
1 ½ cups (12 ounces) Texas-brewed stout
1 cup Texas dry red wine
5 cups beef stock
2 tablespoons tomato paste
½ teaspoon kosher salt
¼ teaspoon ground black pepper
1 ½ pounds red potatoes, quartered
3 carrots, sliced ¼-inch thick
3 sprigs thyme
1 bay leaf
1 tablespoon all-purpose flour
In a large pot, heat 1 tablespoon of oil over high heat and sear the beef in small batches, adding more oil as needed, until all pieces are browned. Set aside meat and reduce heat to medium. Add onions and garlic and sauté until softened. Add stout and wine to deglaze the pan, scraping cooked bits with a wooden spoon. Simmer until reduced by half, about 5 minutes. Add stock, tomato paste, meat, salt and pepper; stir and bring to a boil. Reduce heat and simmer for 1 hour. Add potatoes, carrots, thyme and bay leaf, and simmer for another hour until potatoes are fork tender. Remove 1 cup of stock from the stew and add flour. Whisk until smooth then return mixture to the stew. Simmer 5 minutes until slightly thickened. Salt and pepper to taste before serving.
Notes: Dallas is home to some amazing stouts. For this recipe: Lakewood Brewing's Temptress or Deep Ellum Brewing Company's Double Brown Stout. Wine choice: Perdernales Cellars GSM or a Texas Tempranillo from Red Caboose Winery or Brennan Vineyards.
MEREDITH STEELE is a recipe developer, food writer, food photographer and author of InSockMonkeySlippers.com, an award winning family food blog celebrating creative and fresh foods. Her recipe development and photography company, MBS Recipe Development specializes in multimedia recipe development for commercial and small business who's clients include everyone from Ziploc® to small wineries. Meredith's work has been published online, in various print media, and has been nominated for the SAVEUR awards. She can also be found across the pond writing a monthly column for JamieOliver.com. When Meredith is not in the kitchen, she's roaming Dallas, Texas with her husband, curly-headed pixie of a daughter, and big floppy-eared dog.