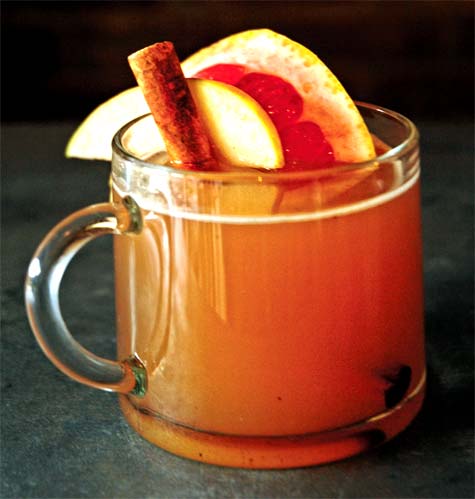 Photo by Tressa Vasquez
From Jordan Swim, Vestals Foods and Food Creates Community, Dallas
Served in warmed mugs, this steaming apple cider, spiced with cinnamon, ginger, and dark agave, will warm the coldest night. Created by Jordan Swim of Vestals Foods, it is a winter soother laced with two Texas favorites: Treaty Oak Rum and grapefruit juice. Th e official fruit of Texas, the red grapefruit was first planted in the Rio Grande Valley nearly 100 years ago. Experts agree that it is among the sweetest in the world. Jordan has traveled all over the world, but he learned the art of entertaining from the generations of Southern cooks ahead of him. He learned the lesson of seasonal from his grandparents' flourishing kitchen garden. He operates Vestals Foods, a creative food company focused on memorable hospitality. A passionate advocate for culinary education, Jordan is involved in educating a broad slice of emerging hospitality students.
4 Servings
4 cups unfiltered organic apple cider
2 cinnamon sticks, broken
6 whole cloves
1 tablespoon diced fresh ginger
¼ cup fresh grapefruit pulp, seeds removed
1 tablespoon grapefruit zest
1 tablespoon dark agave syrup
4 ounces rum (Treaty Oak Platinum Rum preferred)
Thin apple slices and freshly grated nutmeg for garnish (optional) Combine the cider, cinnamon sticks, cloves, ginger, and grapefruit pulp and zest in a medium saucepan over medium-low heat and simmer, covered, for 20 minutes.
Warm 4 (10-ounce) mugs with warm water. Strain the mulled cider into a pitcher through a fine-mesh strainer and blend in the agave syrup and rum. Divide evenly among the warm mugs and garnish each with an apple slice and a grating of fresh nutmeg, if you like.
Reprinted with permission from Edible Dallas & Fort Worth: The Cookbook © 2012 by Edible Communities, Sterling Epicure, an imprint of Sterling Publishing Co., Inc.