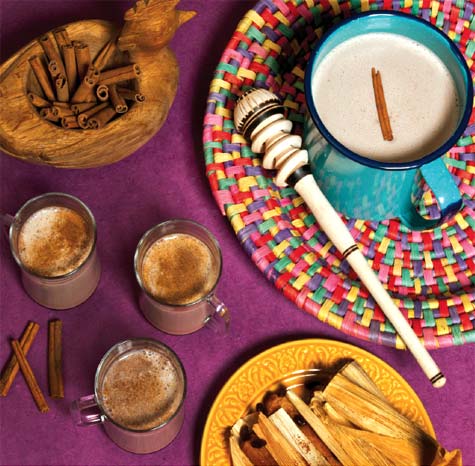 by Dotty Griffith from The Texas Holiday Cookbook
While tamales are almost always present on holiday tables in households with Mexican origins, a special kind of tamale shows up at Christmas: the sweet tamale. The tamale dough is flavored with cinnamon and sugar; then it is filled with pecans and raisins. Sweet tamales are particularly good with hot chocolate. Traditionally, Mexican chocolate is stirred in a pitcher or large mug with a molinillo, a decoratively carved wooden beater resembling a pestle. Twirling the tool between the palms makes for a dramatic presentation.
6 (8-ounce) Servings
3 (1-ounce) squares unsweetened chocolate
6 cups milk
¼ cup sugar
2 teaspoons ground cinnamon
¼ teaspoon salt
2 teaspoons vanilla
6 cinnamon sticks, optional
Using a sharp knife, break up chocolate squares into smaller pieces. In a medium saucepan, combine chocolate, milk, sugar, cinnamon, and salt. Heat and stir until chocolate melts and milk is very hot. Do not allow to boil. Add vanilla and beat until frothy with a rotary beater or with an electric mixer on low speed.
Pour into mugs. Garnish each with a cinnamon stick.
Reprinted with permission from THE TEXAS HOLIDAY COOKBOOK – Second Edition ©2013 by Dotty Griffith, Taylor Trade Publishing, an imprint of The Rowman & Littlefield Publishing Group, Inc. Photographs by Rick Turner.
Dotty Griffith is the author of THE TEXAS HOLIDAY COOKBOOK - Second Edition ©2013, Taylor Trade Publishing.