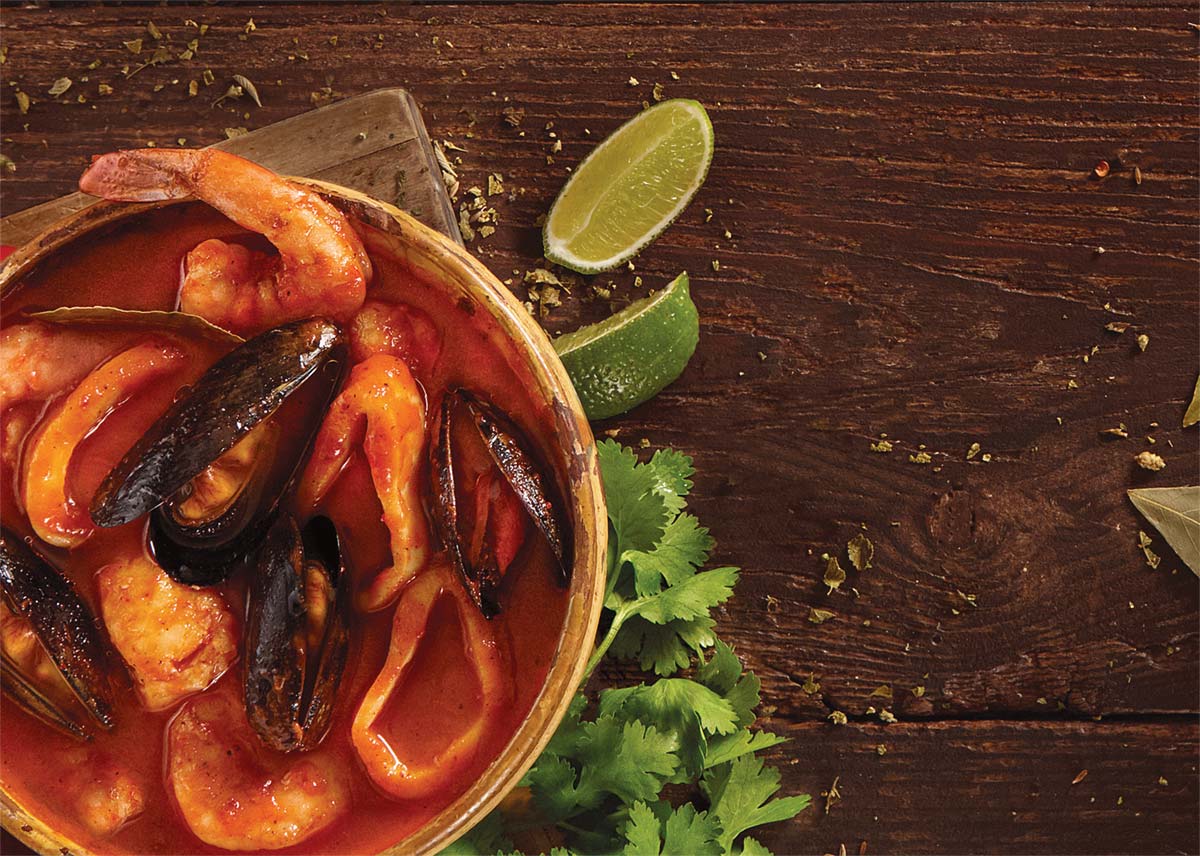 Cioppino and bouillabaisse lovers rejoice. This is the Mexican version of tomato seafood soup, with a pan-roasted chile base to give it a unique spice factor. To make ahead, prepare the broth and refrigerate. At mealtime, heat the broth; add shellfish and white fish just before serving. Don't overcook.
Makes 8 servings
1 pound cleaned squid, optional
6 cups water, fish, chicken or vegetable broth
1 small white or yellow onion, peeled, optional
2 whole cloves of garlic, optional
1 (15-ounce) can diced fi re-roasted tomatoes
2 cups coarsely chopped white or yellow onion
2 cloves garlic, coarsely chopped
3 chiles guajillo (plus 2 chiles arbol for more heat as desired), rinsed, stems and seeds removed
2 tablespoons vegetable or extra-virgin olive oil
1 pound potatoes, unpeeled, cut into bite-size pieces
3 bay leaves
3 sprigs of cilantro
1 ½ teaspoons salt or to taste
1 pound mussels or 2 pounds clams in shells
1 pound white fish fillets, such as cod, grouper, snapper, etc., cut into 1-inch cubes
1 pound shrimp, peeled and deveined
Garnishes: chopped avocado, chopped white onion, chopped cilantro, lime wedges
If using squid, rinse well and cut into 1-inch sections. Halve large tentacles. In a large stockpot or Dutch oven over high heat, combine the squid, water or stock, whole onion and garlic cloves. Bring to a boil. Reduce the heat and simmer, partially covered, for 25 minutes or until the squid is tender.
After liquid has cooled slightly, strain the broth into a clean container. Reserve the squid. Discard the onion and garlic. Wipe the pot clean and use to finish the soup. In a blender, combine the tomatoes, chopped onion and chopped garlic. Tear or cut the dried chiles into small pieces and add to the blender. Process for 2-3 minutes or until smooth.
In large stockpot or Dutch oven over medium heat, warm the oil until it shimmers. It should be hot enough that a drop of water sizzles and splatters. Add the chile puree all at once, stirring vigorously. Cook for 5-6 minutes or until darkened in color and thickened to the consistency of tomato paste.
Measure the reserved squid cooking liquid. If less than 6 cups, add enough water or broth to make 6 cups. Or use 6 cups fish stock, chicken or vegetable broth. Stir the stock into the tomato mixture. Add potatoes, bay leaves, cilantro and salt, stirring to dissolve salt. Reduce the heat to low and simmer for 10 minutes or until the potatoes are soft when pierced with a fork.
Just before serving, raise the heat to medium high.
Add mussels or clams and cook for 3 minutes or until bivalves open. Add squid, if using, fish and shrimp. Remove from heat and let sit with the lid on for 4 minutes to finish cooking. Remove the bay leaves. Garnish individual servings with avocado, onion and cilantro. Serve with a lime wedge to squeeze into the soup.
Dotty Griffith is the author of THE TEXAS HOLIDAY COOKBOOK - Second Edition ©2013, Taylor Trade Publishing.