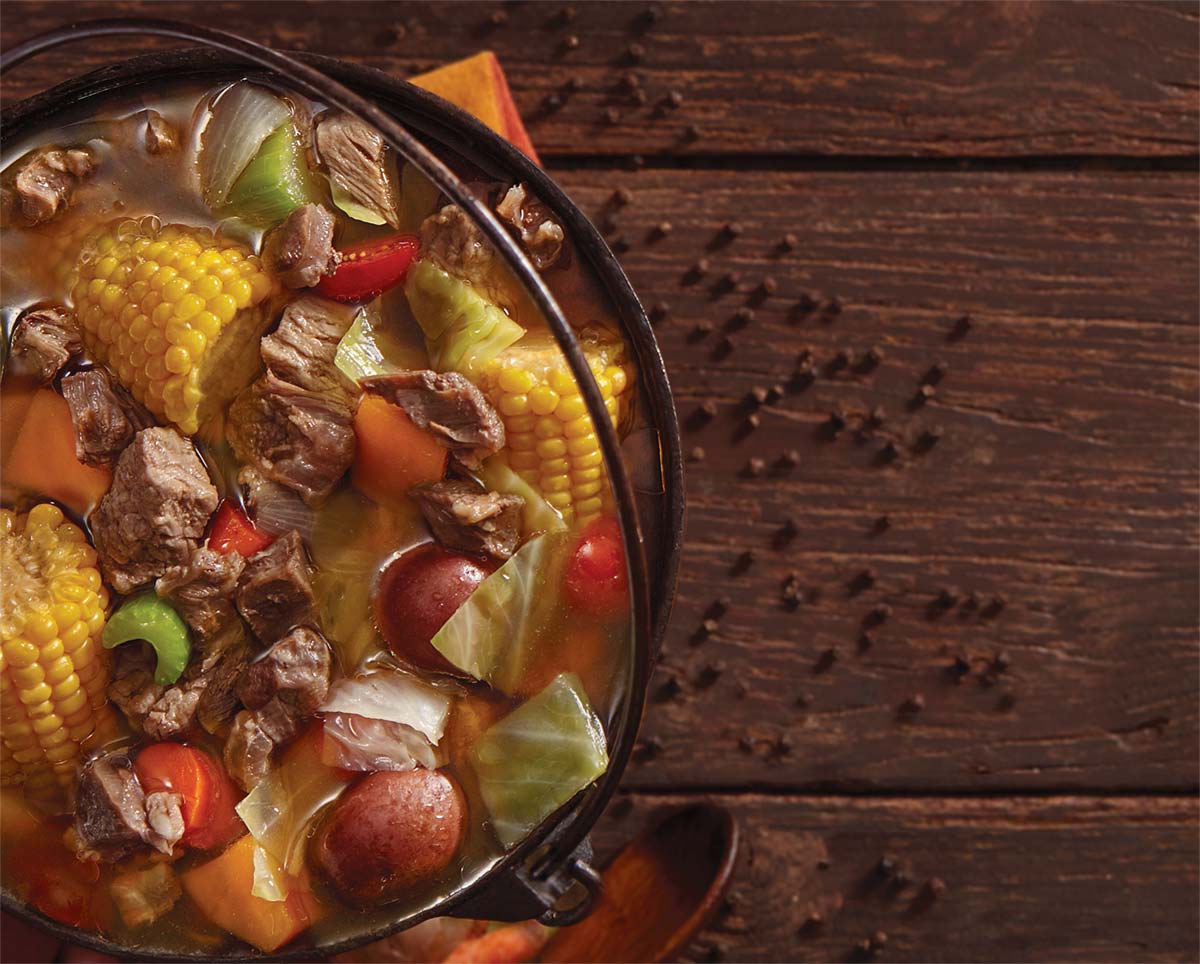 Pick the season's best vegetables for this soup. For the cold months, we used butternut squash instead of zucchini or calabacitas. Mix and match depending on what you've got and what you like. Remember to use the marrow from the beef shanks in the broth. If your bowl gets one of those flavorful morsels, consider yourself lucky and savor it.
Makes 8 servings
1 pound beef shank, sliced 1-inch thick
2 pounds beef stew meat, cut into 1-inch pieces
2 quarts beef broth or water
2 tablespoons beef or vegetable base or 3 to 4 beef or vegetable bouillon cubes
1 cup coarsely chopped white or yellow onions
3 cloves of garlic, finely chopped
2 teaspoons salt or to taste
2 teaspoons ground black pepper or to taste
2 bay leaves
1 pound (about 12) unpeeled small red potatoes or peeled and coarsely cubed sweet potatoes
1 cup coarsely chopped green cabbage
1 cup grape tomatoes, cut in half
1 cup celery, cut into 1-inch pieces
1 cup carrots, peeled and cut into 1-inch thick rounds
1 cup zucchini, calabacitas, butternut or pumpkin squash
2 ears of corn cut into 2-inch lengths
Garnishes: chopped fresh cilantro, dried Mexican oregano, finely chopped white onion, lime wedges
In a large stockpot or Dutch oven over high heat, combine the sliced beef shank, stew meat, beef broth or water, beef base or bouillon, onions, garlic, salt, pepper and bay leaves. Bring to a boil. Reduce heat, cover and simmer, for 2 hours or until the meat is very tender. Occasionally during cooking time, skim any foam or scum that accumulates at the edges of the pot or the surface of the soup.
Allow to cool slightly. Remove beef shanks from soup and cut or tear meat from the bone into bite-size pieces. Return to the pot.
Add the potatoes, cabbage, tomatoes, celery and carrots. Simmer for 10 minutes. Add the squash and corn. Cook for another 5 minutes or until the potatoes are soft when pierced with a fork.
To serve, ladle beef and vegetables into large soup bowls with plenty of broth. Garnish individual servings with oregano, onion and cilantro. Serve with a lime wedge to squeeze into the soup.
Vegetarian: Use vegetable broth and bouillon cubes. Omit beef. Add 16 ounces sliced mushrooms with other vegetables.
Dotty Griffith is the author of THE TEXAS HOLIDAY COOKBOOK - Second Edition ©2013, Taylor Trade Publishing.