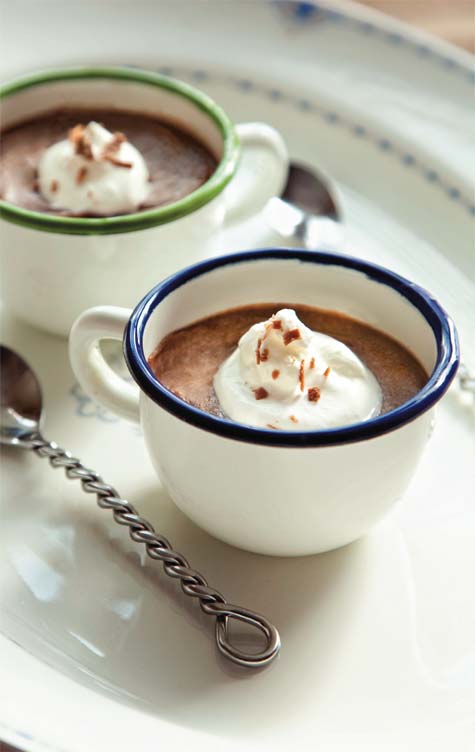 From SWEET ON TEXAS: LOVEABLE CONFECTIONS
FROM THE LONE STAR STATE
by Denise Gee
Serves 6
Denise Gee writes that some of her favorite coffee and conversation have been enjoyed at the family run Good Luck Café in El Paso.
"You know how cowboys tell when a big pot of coffee's ready, dontcha?" a fellow café diner once asked her. "They throw a horseshoe in it," he answered with a sly smile. "If it don't sink, it's ready to drink." Yes, Texans like their coffee strong. From her latest cookbook, here's Gee's light, fluffy and chocolatey homage to keeping that horseshoe afloat.
2 ½ cups heavy whipping cream
8 egg yolks
¼ cup superfine sugar (see Note)
½ cup strong brewed coffee (see Note)
¾ cup chopped good-quality bittersweet or semisweet chocolate
2 teaspoons unflavored gelatin
Garnish: Whipped cream, chocolate shavings
In a medium saucepan, heat the cream over low heat for about 4 minutes, or until hot (do not boil).
In a large bowl, whisk the egg yolks and sugar to combine. Very slowly whisk in the hot cream, whisking constantly until both mixtures are well combined. Pour the custard mixture back into the saucepan. Cook over low heat, stirring constantly, for 15 to 20 minutes, or until the custard thickens and just begins to bubble.
Combine the coffee and chocolate in a heat-proof, microwave-safe bowl. Microwave, uncovered, on high for 1 to 2 minutes, stirring every minute until melted and smooth. Stir into the custard mixture.
In a small, microwave-safe bowl, whisk the gelatin and 1 tablespoon water to combine. Microwave, uncovered, on high for 30 seconds or until melted. Whisk until the mixture is clear. Stir the warm gelatin into the warm coffee custard.
Pour the custard into six 2/3-cup ramekins and cover with plastic wrap. Refrigerate for 6 to 8 hours, or until set. Garnish with whipped cream and chocolate curls, if desired, and serve.
Note
To make strong coffee, make a small batch and increase the scoop to 1½ times what you'd normally use, or about one-quarter more coffee beans than you'd normally grind.
2Superfine sugar allows for quick absorption and a less grainy texture than granulated sugar. If you don't want to pay more for it, use a coffee grinder or small food processor to break down the regular chunkier version into a finer product. Just let the sugar dust settle for a few minutes before opening up the holding container; you'll be glad you did.
Reprinted with permission from Denise Gee, SWEET ON TEXAS: Lovable Confections From the Lone Star State, Chronicle Books (2012). Photographs by Robert M. Peacock
Denise Gee is the author of PORCH PARTIES-COCKTAIL RECIPES AND EASY IDEAS FOR OUTDOOR ENTERTAINING, Chronicle Books ©2009 and SOUTHERN COCKTAILS: DIXIE DRINKS, PARTY POTIONS & CLASSIC LIBATIONS, Chronicle Books © 2007 and SWEET ON TEXAS:
LOVABLE CONFECTIONS FROM THE LONE STAR STATE, Chronicle Books © 2012.