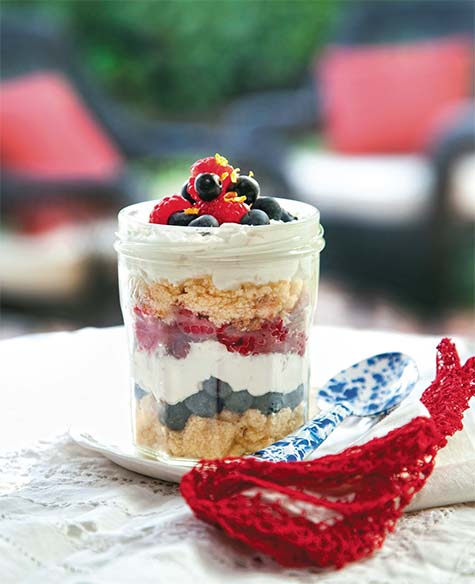 By Denise Gee from Sweet on Texas
Glass canning jars are perfect vessels for showcasing layered salads and desserts. These are so much fun to serve at picnics. Use any mix of fruit you'd like. And, if time's short, use a ready-made pound cake.
Serves 8
LEMON POUND CAKE
1½ cups all-purpose flour
1 teaspoon baking powder
½ teaspoon salt
1 cup (2 sticks) unsalted butter, at room temperature
1½ cups sugar
4 eggs, at room temperature
2 teaspoons vanilla extract
¼ cup fresh lemon juice
1 tablespoon lemon zest
FILLING
¾ cup heavy whipping cream
½ cup sugar
8 ounces cream cheese, at room temperature
1 teaspoon vanilla extract
1 teaspoon fresh lemon juice
1 teaspoon lemon zest
1 cup fresh blueberries
1 cup fresh raspberries
To Make The Cake: Preheat the oven to 350°F. Butter an 8½ x 4½-inch loaf pan and line it with parchment or wax paper. In a medium bowl, stir to combine the flour, baking powder, and salt. In a stand mixer fitted with the paddle attachment, beat the butter at medium speed until creamy. Add the sugar and mix until fluffy. With the mixer running at low speed, add the eggs, one at a time, then the vanilla. Add the dry ingredients to the butter mixture alternately with the lemon juice and zest, beginning and ending with the flour. Mix after each addition until just blended. Pour the batter into the prepared pan and bake for 65 to 75 minutes, or until raised in the center and a toothpick inserted into the center comes out clean. Let the cake cool in the pan for 15 minutes (it will still be warm). Run a knife around the sides of the pan. Turn the cake out onto a wire rack. Peel off the paper.
To Make The Filling: In a medium bowl, beat the cream with ¼ cup of the sugar until stiff peaks form. In another bowl, stir to combine the cream cheese, vanilla, lemon juice, lemon zest, and remaining ¼ cup sugar. Fold the whipped cream into the cream cheese mixture.
In a medium bowl, crumble the pound cake, ensuring that the crumbles remain chunky and not too fine. Line the bottom of 8 medium (16-ounce) wide-mouthed canning jars with about 1 inch of cake pieces, followed by 2 tablespoons blueberries, then some cream mixture, then 2 tablespoons raspberries, then another layer of cake, then more cream mixture. Top with a final layer of berries (and maybe a sprinkling of lemon zest) and cover and refrigerate until serving.
Reprinted with permission from Denise Gee, SWEET ON TEXAS: LOVABLE CONFECTIONS FROM THE LONE STAR STATE, Chronicle Books © 2012. Photographs by Robert M. Peacock.
Denise Gee is the author of PORCH PARTIES-COCKTAIL RECIPES AND EASY IDEAS FOR OUTDOOR ENTERTAINING, Chronicle Books ©2009 and SOUTHERN COCKTAILS: DIXIE DRINKS, PARTY POTIONS & CLASSIC LIBATIONS, Chronicle Books © 2007 and SWEET ON TEXAS:
LOVABLE CONFECTIONS FROM THE LONE STAR STATE, Chronicle Books © 2012.