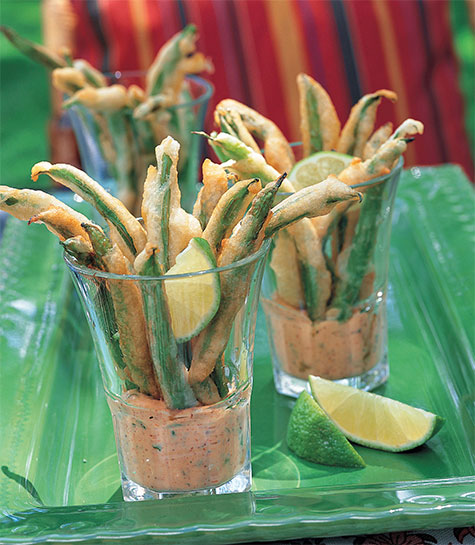 From SOUTHERN COCKTAILS by Denise Gee
Serves 4-6
The feather-light beer batter gives the mild-mannered green beans more definition, while letting their color peek through. The Rémoulade Sauce ramps up the flavor and balances cool with hot.
1 pound green beans
1 cup local beer (not dark)
1 teaspoon salt
Juice of 1 lime
1 cup all-purpose flour
4 cups vegetable oil
2 limes, cut into wedges, for serving
Clip off and discard the stalk ends of the green beans; set aside.
In a large bowl, whisk the beer, salt and lime juice into the flour until smooth. (The mixture will foam slightly.)
Dredge the beans in the batter to coat.
In a deep skillet, heat the oil to 375°F.
Working in batches, gently place about 10 battered beans into the hot oil and let cook for about 1 minute. Using a slotted spoon, transfer the fried beans to a paper bag or paper towel-lined plate to drain and cool. Repeat the process until the remaining beans are cooked.Serve with Righteous Rémoulade Sauce and lime wedges.
Righteous Rémoulade Sauce
Makes 1 ⅔ cups
1 cup mayonnaise
2 tablespoons creole or whole-grain mustard
2 tablespoons ketchup
½ cup finely chopped green onions
2 tablespoons finely chopped fresh parsley
2 tablespoons finely chopped celery
2 cloves garlic, minced
1 teaspoon prepared horseradish sauce
1 teaspoon paprika
1 teaspoon hot sauce
Whisk together all ingredients in a medium bowl. Cover and chill for 1 hour. Serve with Beer-Battered String Beans.
Reprinted with permission from Denise Gee, SOUTHERN COCKTAILS: DIXIE DRINKS, PARTY POTIONS & CLASSIC LIBATIONS, Chronicle Books © 2007, Photograph by Robert M. Peacock.
Denise Gee is the author of PORCH PARTIES-COCKTAIL RECIPES AND EASY IDEAS FOR OUTDOOR ENTERTAINING, Chronicle Books ©2009 and SOUTHERN COCKTAILS: DIXIE DRINKS, PARTY POTIONS & CLASSIC LIBATIONS, Chronicle Books © 2007 and SWEET ON TEXAS:
LOVABLE CONFECTIONS FROM THE LONE STAR STATE, Chronicle Books © 2012.