Courtesy of Kate Nelson, Piecurious Catering and Pie Company
photo by Kelly Yandell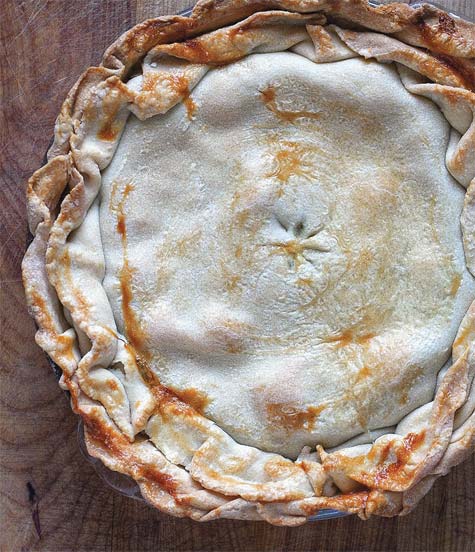 8 servings
As a girl, Kate Nelson loved to travel to Comanche, Oklahoma and the family farm, where her mother Rae had grown up surrounded by horses, cattle and plenty of wild land. The hub of their family gatherings was the home of her Great Aunt Francis. "Nana Fran" was always in the kitchen, along with her sisters Mary and Barbara Jean (Kate's grandmother), creating new recipes with whatever ingredients were around the farm or with le…ftovers from one of their large family gatherings. The recipe that follows is a tribute to these women.
Pie dough for two 9" deep-dish pie plates
1 large bunch of collard greens
2 tablespoons canola oil (or bacon drippings) (divided use)
2 teaspoons diced garlic
2 teaspoons diced shallots, white parts only
1 cup cooked black-eyed peas
1 pound honey-baked ham, chopped or diced
1 tablespoon fl our
¼ cup chicken stock
½ cup milk
½ teaspoon salt (or to taste)
1 teaspoon pepper
A dash of cayenne, if desired
½ cup grated pepper jack cheese
1 egg white, beaten
Preheat oven to 350°F.
Roll out enough pie dough to press into 9" deep-dish pie plate. Roll out the remainder. This sheet will be used to cover pie before baking.
Wash collard greens thoroughly, removing center stems. Tear greens into pieces that are palm-sized or smaller. In a large pot, bring water (enough to cover greens) to roaring boil. Add greens and cook until pliable (about 20 minutes). Drain greens into a colander and set aside.
In a large skillet, heat 1 tablespoon of oil or drippings. Add shallots and garlic and cook on medium high heat until the shallots begin to brown. Add greens and continue cooking until shallots caramelize and greens are completely limp (about 10 minutes).
Pour sautéed greens, garlic and shallots into a large mixing bowl; then add ham pieces and black-eyed peas. Set aside and let mixture cool.
Heat remaining 1 tablespoon of oil or drippings in skillet over medium high heat. When oil is hot, slowly sprinkle in flour, continually whisking until a brown pasty roux is formed. To roux, slowly add chicken stock, stirring continuously. As mixture begins to thicken, add milk and continuing stirring until it is the consistency of gravy. Season with salt, pepper and cayenne. Add gravy to collard and ham mixture and then stir in cheese. Taste and adjust seasonings, then pour combined mixture into pie shell.
Cover with second layer of dough, pinching along the edges to create a tight seal. In the center of the top crust, make a small asterisk design with the point of a knife to create a vent. Lightly brush the top crust with beaten egg white. This will give the finished crust a nice crispness and a golden hue. Bake 30 to 45 minutes or until well browned. Place on cooling rack for 25 minutes before serving. This will allow the gravy to set.
Variation: For a more traditional pie, substitute 1 cup finely shaved peeled carrots (or combination of cooked English peas and carrots) instead of blackeyed peas.