Courtesy of Kate Nelson, Piecurious Catering and Pie Company
Photo by Kelly Yandell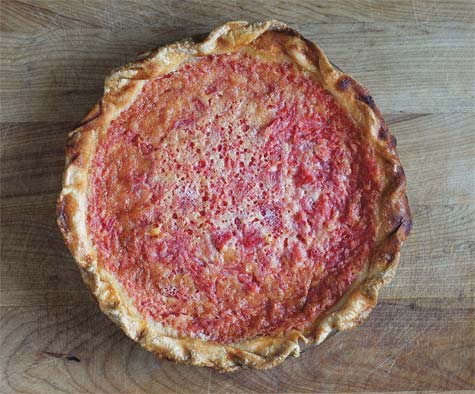 Midwinter, a fresh harvest of ruby-hued grapefruit arrives from the Valley to brighten up the season. In this recipe, Piecurious owner Kate Nelson adds bits of the colorful fruit to her family's classic buttermilk chess pie to give it a tart and tangy twang. This is a pie that Texas citrus fans will love. "A single slice of my mom's pie always puts a smile on my face," says Nelson. "My philosophy is that pie solves all problems."
8 servings
Pie dough for 9" pie plate
2 large Texas grapefruits, washed
3 whole eggs plus one egg white (divided use)
2 cups sugar
3 tablespoons flour
½ cup melted butter
1 cup buttermilk
Preheat the oven to 350°F.
Cut grapefruit in half. Remove individual segments from the rind, cutting away any excess membranes. Reserve the rind. Over a small bowl, tear (or cut) fleshy grapefruit segments into 3 or 4 smaller pieces. Drop each piece into the bowl, reserving both flesh and juice. After all segments are torn, mash any large chunks with fork. Set bowl aside.
Over another small bowl, use a fine grater to create one teaspoon of grapefruit zest from reserved rind. Roll out pie dough and sprinkle the zest evenly across it. Cover with cellophane or wax paper and with a rolling pin, roll over it once, using even pressure. Remove cellophane or wax paper then press dough into pie pan. Set aside while you prepare filling.
In a large mixing bowl, whisk three eggs. To eggs, add sugar, flour, butter and buttermilk, mixing thoroughly after each addition. Fold in grapefruit mash (both flesh and juice) and pour combined mixture into unbaked pie shell.
Whisk remaining egg white and brush onto exposed edges of pie crust . This will help give the crust in a golden brown patina. Bake until surface browns, raises and splits, approximately 30-45 minutes.