Courtesy of Kate Nelson, Piecurious Catering and Pie Company
Photo by Kelly Yandell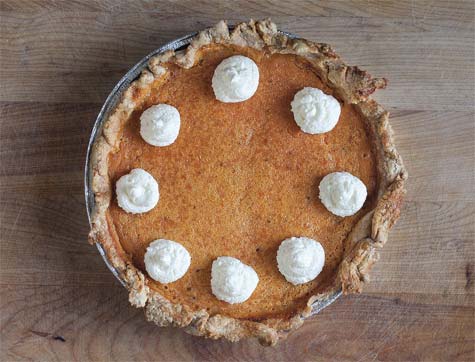 Kate Nelson has a kitchen-full of family recipes passed down from four generations of women bakers, whom she credits with giving her the inspiration to open her pie company. "As soon as I was old enough to climb onto a kitchen stool, I began watching my mom, my grandmother and my great-aunts cook. That's how I learned all their secrets," says Nelson. "I like to mingle tradition with new techniques. And I'm always experimenting with the finds I make at the farmers market." Her carrot and ginger dream pie has the rich orange look of a pumpkin pie but the taste is all its own. To give the pie a festive flair, she tops it with dollops of champagne-laced cream.
8 servings
1 pie dough for 9" pie plate
For Filling
4 egg yolks
1 scant tablespoon ground ginger
½ cup fresh carrot juice
¼ cup fi nely shredded carrots
1 can (14-ounce) sweetened condensed milk
For Champagne Cream
1 cup heavy whipping cream
1 tablespoon champagne, brut
¼ teaspoon cream of tartar
2 tablespoons granulated sugar (or to taste)
Preheat the oven to 350°F.
Roll out a crust and gently press into a 9-inch pie plate. Partially bake, about 5-8 minutes, until slightly browned. Set aside.
In large bowl, whisk egg yolks together until just blended. Stir in ginger, carrot juice, shredded carrot and sweetened condensed milk and mix thoroughly.
Pour mixture into partially baked crust. Bake 20-30 minutes, until middle begins to rise and brown. Finished pie will feel firm but jiggle slightly when moved. Cool for approximately 20 minutes before slicing. While pie is cooling, prepare champagne cream. In a medium bowl, add cream, champagne, cream of tartar and sugar. Blend at a high speed with an electric mixer until mixture stiffens and peaks. Place a dollop on each slice.
Variation: For a gingery twist, add bits of fresh ginger to your pie crust. With a mandolin or grater, grate 10 to 15 paper-thin pieces of fresh ginger. Roll out pie dough and place pieces evenly across dough. Cover with cellophane or wax paper and roll over once with even pressure. Remove the cellophane or wax paper and press dough into pie plate, ginger side up.