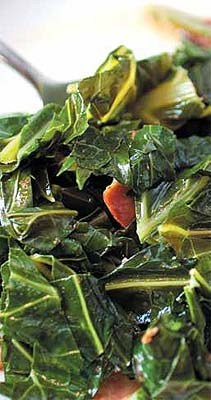 Big bundle of collard greens (Rinsed and chopped, tops discarded)
3 cups chicken stock
½ pound bacon, chopped into 1-inch pieces
Salt & pepper
In large saucepan over low heat, distribute bacon in a single layer and cook for 4 minutes.
Add greens and toss to evenly coat with bacon grease. Add chicken stock, cover and cook over medium heat until wilted (about 15 minutes). Season with salt and pepper and serve immediately.
LAUREN MCCLURE loves food, as evidenced by her ever-expanding palate and waistline. In between meals, she has the great pleasure of being a freelance photographer and writer. She takes pictures of everything from blissful brides to Texas ghost towns, and blogs about her adventures at laurenmcclure.blogspot.com. In her leisure time she enjoys cooking brunch for dinner, perusing her vintage issues of Gourmet magazine and eating peanut butter by the spoonful.